KAYAK.co.uk unveils the most-visited destinations by top European fashion and foodie influencers over the last 12 months – as well as the prices Brits can expect to pay for travel to those cities next year
France, USA and Italy are the favourite destinations of top British fashionistas and foodies

Berlin, Copenhagen and Barcelona are the cheapest must-see cities for British holidaymakers in 2018

May is the ultimate month to travel, according to key British influencers
London, 11 December 2017. When deciding on holiday destinations, many Brits are now drawing on inspiration from social media, closely following their favourite influencers to see which cities and countries receive their seal of approval before finalising travel plans. In order to give British travellers a better idea of which destinations they should consider adding to their holiday lists, travel search engine KAYAK.co.uk has analysed the travel itineraries of more than 200 key influencers around Europe over the last year, revealing the top ten unmissable destinations for foodies and fashionistas in 2018. The travel experts also reveal the flight costs that British holidaymakers should expect for each of the top destinations.
Amongst trendy European foodies and fashionistas, it's perhaps no surprise that the top city when it comes to both food and fashion is Paris, followed by New York and London. These three super-destinations are known around the world as cultural hotspots, with each hosting at least 70 Michelin-starred restaurants as well as making up (along with Milan) the 'big-four' Fashion capitals.
Berlin, Copenhagen and Barcelona: the cheapest food/fashion destinations to reach from the UK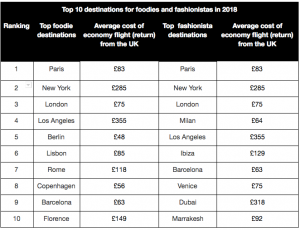 British holidaymakers looking for a bargain foodie holiday will note that Berlin, at £48 return on average, is the cheapest choice, while Barcelona at £63 on average is a steal for lovers of both food and fashion. As well as being the number one destination amongst trendy Europeans, Paris is easy to reach from the UK – with return tickets costing an average of £83, making it the fifth cheapest destination, while long-haul destinations Los Angeles (£355) and New York (£285) are unsurprisingly the most expensive options on average.
Comparing Europe's top foodies and fashionistas, it seems that fashion lovers are more prepared to splash out. Luxury destination Dubai is one of four non-European destinations on the fashionistas' hit-list, while only two non-European spots make the foodies' itinerary.
Looking at the most popular countries overall, France and Italy are the top choices with both foodies and fashionistas around Europe. Third and fourth place are taken by the USA and Spain, with the United States taking the leading edge for food, and Spain for fashion.  The United Kingdom is also present in both lists, coming in seventh for food and fifth for fashion.  
France, USA and Italy are the most popular destinations for British foodies and fashionistas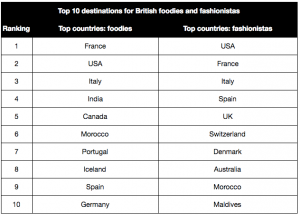 Looking exclusively at the choices of influencers based in the UK, the top choices again are France, the USA and Italy, but a few new countries do appear – for example India, the fourth choice for British foodies, and Morocco, which ranks sixth for foodies and ninth for fashionistas. British foodie influencers were also more likely to leave home in search of new cuisine, with the UK not appearing amongst their top destinations, while it was the fifth-most popular choice for fashionistas.
The most popular months to travel amongst British foodies and fashionistas are May and October. Fashionistas tend to travel more earlier in the year, likely due to the many annual fashion weeks which take place from January through March. Foodies prefer the late summer period from August to September, when the weather remains pleasant but prices begin to fall from the heights of the summer travel season.
Neil Cartwright, KAYAK Travel Expert, says: 'Social media is definitely a new major source of travel inspiration, with many travellers now choosing their next holiday destination only after seeing the 'seal of approval' from their favourite influencers on Instagram. Knowing the places that are popular with well-known foodies and fashionistas can help holiday planners choose where to go to find what's most important to them – as well which destinations are likely to be the trendiest in 2018. Once their flights are booked, travel planners can use our hotel Heatmaps tool to make sure they stay right in the heart of the action, close to the best boutiques or restaurants'.
Note: Destinations based on desktop research of more than 200 European Influencers Instagram profiles between 01.08.2016 and 01.09.2017. Average flight prices are indicated in GBP for a return trip in economy class for one person. Flight searches were made on KAYAK.co.uk between 01.04.2017 and 20.10.2017 for travel between 01.01.2018 and 31.03.2018. Currency conversions apply and are based on average rates for November 2017. All prices are subject to change, may vary or no longer be available.