Flights to New York cost just £141 on the cheapest day, versus £631 on the most expensive

Flights to Sydney can be nearly £900 cheaper on the right day

Lucky travellers to Ibiza on 13 April paid just £11 on average for flights

Hotels can cost ten times as much depending on the date of travel
For immediate release. London, 29 Aug 2018: It is well-known that the prices of flights vary based on supply and demand. This can mean that if travellers want to go on particularly popular days, the price can skyrocket. But conversely, those who are able to pick less in-demand days can score an absolute bargain.
For example, 13 April was the cheapest day of the year to fly from the United Kingdom to Ibiza this year, with flight prices that day costing travellers on average just £11 – a huge bargain compared to the annual average price of £109. Conversely, the most expensive day of the year was 25 May, just over a month later, when Ibiza's opening parties are in full swing. Travellers that day had to pay an average of £285 for their flights, an increase of 160% compared to the yearly average.  
There are more bargains to be had to many of British travellers' most popular destinations. Brits prepared to travel to Mallorca on 11 Jan will have paid on average just £18, 81% less than the annual average of £97. The most expensive day to travel was once again in May, when on the 26th average flight costs were £307.
It is a similar story with Reykjavik, where prices on 14 April were on average just £38 versus an annual average of £121. Flight prices rose to £270 on the most expensive day – 5 August – 131% more than the annual average.
Looking at intercontinental flights, the pound savings can be even greater. For example, flights to New York – British travellers' favourite international destination – cost just £141 on average on 11 January, two-thirds less than the annual average of £391. However, on 29 July, the most expensive day, they rose to £632, nearly five times more expensive than the cheapest day.
On some flights, there can be a difference of nearly £900 between the most expensive and cheapest day of the year. For example, on 9th May, the average flight to Sydney cost just £435. However, just ahead of Christmas on 19 December last year, the flight skyrocketed to a huge £1,313, nearly £900 more than the cheapest day for the very same route.
Savings of over £500 can be had to many other popular destinations. For example, whilst the yearly average cost for flights to Manila last year was £500, they fell to just £301 on 30 October last year,  and rose to £1,071 on the most expensive day of the year, 28 July.
Cheapest and most expensive days to fly to Brits' top 10 international destinations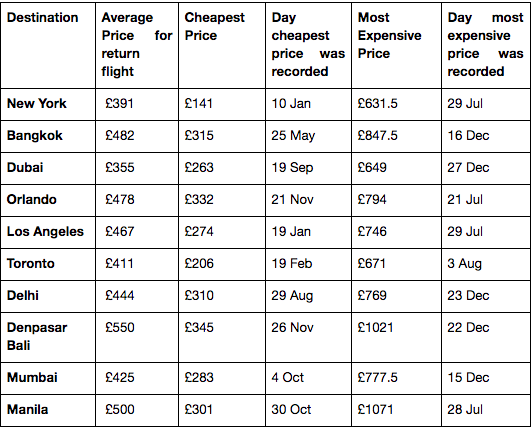 Bag a bargain with hotels
It isn't just on flights where Brits can bag an absolute bargain if they are prepared to travel out of season – it's the same story with hotels.
The annual average hotel prices for popular Prague are £66 a night but rooms were slashed to an average of just £22 on 17 January. However, just a couple of weeks earlier, on 29th December, prices were at their most expensive, rising to £142 on average.
The Spanish resort of Magaluf is another that sees huge price swings. An early summer break can be a bargain, and on 13 May, hotel prices cost just £47 a night – however, they rose to a whopping £398 on 13 August, the most expensive day of the year.  
Looking at destinations outside of Europe, hotels at some destinations can cost ten times as much on the most expensive day of the year compared to the cheapest. For example, on 7 April, the average cost for a night in a hotel in Marrakesh was just £23. However, on the most expensive day (28 July) prices rose to an average of £298 per night – 414% more than the average annual price of £58.
Full tables which show the cheapest and most expensive days, plus average flight and hotel prices for Brits' top 20 intercontinental and EU destinations can be found below.
John-Lee Saez, Managing Director for KAYAK Europe: "It's no secret that travelling out of season can be cheaper, but the data shows that in some cases, changes of just a few days can mean huge differences. In some cases, the most expensive and cheapest days to fly to certain destinations were just a couple of weeks apart. So for savvy travellers who are flexible with dates, and more concerned about seeing the destination than having perfect weather there, the savings can be massive. It really can help you see the world for less.
"On KAYAK.co.uk we have lots of tools to let travellers know the best times to fly, including tools which show price trends and price alerts that show when prices are getting cheaper or more expensive. We have also published the cost data for 40 of Brit's most popular destinations on our site, so travellers can learn the best days to go and the days to avoid for their favourite destinations."
Note to editors: Prices based on searches on KAYAK.co.uk made between 1 January 2017 – 31 July 2018, with travel dates between  1 August 2017 and 31 July 2018. Prices highlighted are based on average price on the cheapest and most expensive days to fly / stay in a hotel. Destinations are the top 20 most popular international and European locations for flights and hotels on KAYAK.co.uk. Prices are not guaranteed. Hotel prices are based on cost per night, whilst flight prices are based on return flights, departing on the highlighted day.