You've read about the top 10 outdoor experiences around the world before, but you haven't seen a list quite like this.
From heli-hiking over New Zealand's glaciers to skiing in Antarctica and BASE jumping over Switzerland's storybook landscape, this is a list of the top 10 epic outdoor experiences for true adventurers.
Franz Josef: heli-hiking to New Zealand's glaciers
Picture an exhilarating helicopter ride and a three-hour hike through jaw-dropping glaciers, and it's easy to see why the Franz Josef heli-hike kicks off our list. Begin your journey amidst native ferns in New Zealand's South Island and make your way to the helicopter sitting in the forest. Soak up the views of frosted mountain tops as you soar over the sugar-white Southern Alps to the glacier. Walk through narrow gorges, slide between walls of ice and crawl inside frozen blue-hued tunnels all within three hours.
Glaciers are like the ocean – moving fast and changing every day – so no two hikes will be exactly the same. That's what makes this one so special.
6,000 metres above Hawaii: skydiving in sub-zero temperatures
Falling from the sky at close to 190 km/h is usually enough to get the heart pumping; throw in an oxygen tank, temperatures plummeting to -25 degrees Celsius and opening the aeroplane door at an altitude of 6,000m and you have yourself a cocktail of cortisol, endorphins and straight-up adrenaline.
Located in Oahu, Skydive Hawaii is one of the only places in the world that offers jumpers the chance to leap from an aeroplane from 6,000m. Since this altitude is above the point where commercial aircrafts need to pressurise cabins, each jumper needs an oxygen mask to combat the thin air.
With options to jump from 3,600 or 4,200 metres, why would someone go through the extra effort to jump from such a grand height? Besides Felix Baumgartner-type bragging rights, the extra height will allow you to indulge in up to 30 seconds more freefall time. To skydivers that's like having one hand on the dragon's tail that they're continually chasing. Once the parachute catches flight, it is an easy glide down onto the golden beaches of Hawaii.
Salkantay to Machu Picchu trek: the Inca trail's steeper sister
Today, Machu Picchu is no secret. Its emerald-clad cliffs, ancient sandstone ruins and cheeky llamas are some of the most recognisable travel images around the globe. The notorious Inca Trail has had millions of footsteps beat its path, but for those who wish to hike to the world-renowned Incan Empire with fewer crowds, the Salkantay Trail is for you.
The hike is hard and at its highest point, you'll be standing 4,600 metres above sea level among bacon-crackling noises of moving ice and soaring snow-capped peaks. You'll come across untouched glacier lakes, cascading waterfalls, Incan ruins, frothy turquoise rivers, passionfruit plantations and wild horses navigating tight mountain crevasses. You'll be rewarded for all the hard work with an opportunity to bathe in hot springs with a beer near the end of the hike.
Diving the Maldives: beyond the surface of high-end luxury resorts
Famed for overwater bungalows, bone-white beaches and 5-star extravagance, the Maldives is an idyllic destination that needs no Instagram filter. Over 1,000 islands are grouped into 26 atolls and each one is well known for its natural and man-made splendour, but the true beauty lies beneath the coral isles.
The waters of the Indian Ocean are home to manta rays, whale sharks, tiger sharks and an array of colourful fish. You can choose to dive over shipwrecks with hammerheads, float over busy underwater metropolises or manoeuvre through caverns and overhangs decorated in vibrant coral. For an unforgettable encounter, book a night dive and see a glowing indigo ocean of bioluminescent phytoplankton.
Trekking among giants: searching for Uganda's gorillas
After a spine-tingling drive on skinny gravel roads, you'll trek through the thriving Bwindi Forest National Park jungle to the world's last remaining mountain gorillas. You'll be on your hands and knees navigating your way through a labyrinth of vines and jumping over verdant bush in search of the silverbacks.
The route and the length of the hike is determined by the gorillas as they freely roam in the wild. You'll zone into their world as they move through the jungle; swinging on loose vines and tugging at bamboo shoots with an immense amount of strength and grace. Watch the dynamics of the gorilla family unveil before your eyes as they go about their day, similar to a family at home in the lounge.
With only a group of eight people permitted to trek to one gorilla family per day, you'll need to book in advance to secure your opportunity.
Cycling Jordan: a new way to see the Middle East
Towering archaeological masterpieces dating back to 300BC, pink sandstone cliffs, Aladdin-like temples and ancient tombs are just a few of the inspiring sights Jordan has to offer.
Ignite your inner Indiana Jones and explore this prehistoric country by bike. Intrepid companies are now offering cycling trips from the shores of the Dead Sea through flat golden desert lands to 2nd century stone amphitheatres and the ancient temples of Amman.
Antarctica: skiing the world's final frontier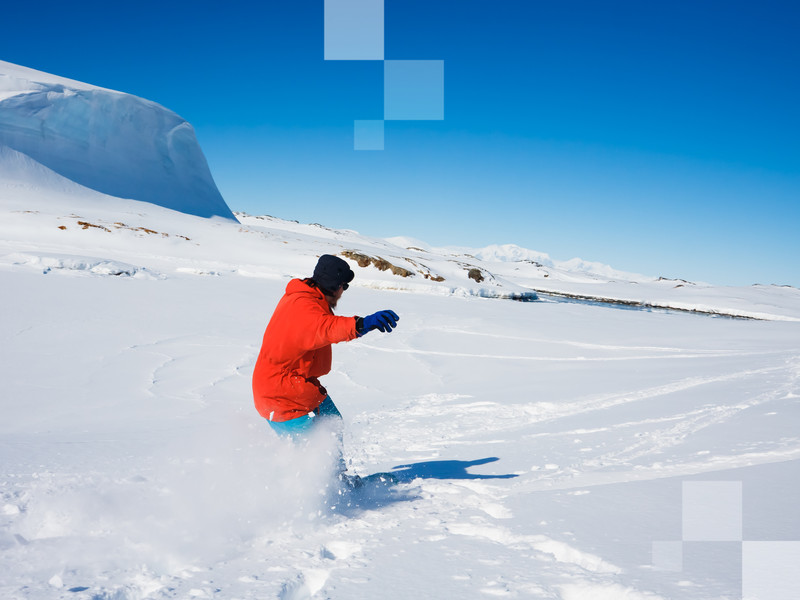 Think you've conquered all the top ski slopes in the world? Think again! Antarctica is officially now on snow enthusiasts' maps. It's where snow reality and fantasy collide.
The terrain ranges from glaciated mountains and vast sheets of ice to pristine slopes and white wilderness. You'll hike up steep slopes to find your own patch of snow paradise, worlds away from the busy ski resorts and packed chairlifts of mainstream snow destinations. Along with pushing the travel industries boundaries, you'll also get to experience Antarctica's raw, exotic beauty and abundant wildlife.
Desert camping: the sunrise, sunset & stars of Namibia
Known as the "land God made in anger" by the local Bushmen tribes, Namibia is a harsh reality at any time of day. The dramatic lilac and blood orange sunrise bring a heat that sends life into the shadows. During a camping safari, you'll wake to the sound of snakes slithering on the dry earth, a distant roar of a lion and the laugh of a hyena.
Spend your days searching for zebras lazing underneath acacia trees, contemplating whether the lake you see is real or a mirage and hiking up the highest sand dunes in Africa. At twilight, the earth glows golden and the sky presents a rainbow of colours just before they make way to an ocean of constellations.
South Australian sea lions: swimming with the puppies of the sea
With giant eyes, cheeky grins and a playful nature, sea lions are the puppies of the underwater world. In Seal Cove off the coast of Port Lincoln in South Australia, you can snorkel with the wild puppies of the sea. Lucky swimmers can be surrounded by up to 40 seas lions within minutes of entering the crystalline water. The playful herd love to mimic your moves so the more you flip and spin underwater, the more they'll follow suit.
BASE jumping in Switzerland: learning to fly
Thousands of travellers journey to Lauterbrunnen in the Swiss Alps each year for one reason: to BASE jump off one of the rocky cliffs into the abyss.
You can jump off an 800-metre high ledge and soar over pine tree forests in a wingsuit, like an alpine swift or a falcon taking flight. The freefall can last up to 18 seconds before you need to pull the parachute. Before you head for the Swiss Alps, make sure you've completed at least 200 solo skydives, as this is one of the minimum requirements before attempting a BASE jump.
Note: These rates are based on the most recent data pulled from KAYAK.co.uk, the cheapest prices are always displayed first, regardless of specific dates mentioned. The prices are quoted in GBP. Flight prices are based on results for a return economy flight search. Hotel prices are for double occupancy, are per night and include taxes and fees. Prices are subject to change, may vary, or no longer be available