We often expect to pay a little over the odds for snacks and drinks whilst travelling on low cost airlines. But the prices for some snacks on board are plane crazy – even as much as over 2,600% more than supermarkets charge.  
The worst offender? Soup. A Cup a Soup sachet can be bought in a supermarket for as little as 12p, but the mark-up on some airlines is staggering. Thomas Cook Airlines, for example, charges £2.40 for the same product – a mark-up of 1,820%. It's a similar story with Flybe, which charges £2.50 for just 70g of soup – a mark-up of 2,646% compared to the supermarket cost for the same brand.
Cashing in on confectionaries
Sky-high prices were also uncovered on everyday snack items. Airlines charge as much as £1 for just 28g of shortbread (£3.57 per 100g) yet the supermarket price is only 26p for 100g – another four figure increase of 1,257%. Chocolate bars were found to be routinely marked up by over 500% – for example they cost as much as £1.56 on board but just 25p at the supermarket. The price of other treats also isn't so sweet, with a 160g bag of gummy sweets costing just 77p at the supermarket but £2.34 for the same brand on Ryanair – more than three times as much.      
Getting carried away with drinks prices
Even non-alcoholic drink prices are sure to give you a financial hangover. A small bottle of orange juice (250ml) costs as much as £2.70 on low cost airlines, yet just 65p per litre at a supermarket (1,562% mark-up). Sparkling water prices could be leaving travellers fizzing the most, with Flybe charging £1.40 for 150ml – a 2,292% mark up. Meanwhile a small (250ml) can of cola was found to cost £1.96 on Ryanair – versus just 25p at a supermarket for a 'proper' size 330ml can.
Booze and lose
The price of drinks is anything but relaxing. A small 330ml can of continental lager costs up to £4.20 on low cost airlines – yet can be as cheap as 83p for a larger, 440ml can at a supermarket. Wine was also found to be up to 528% more than supermarket prices.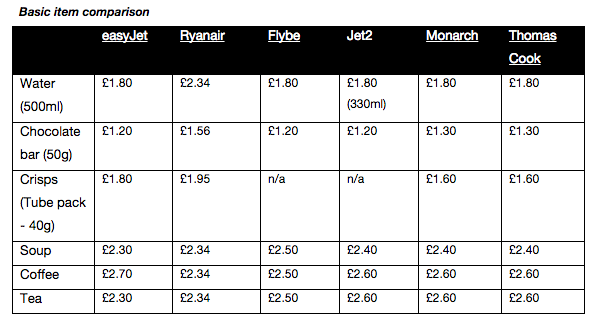 Our tip?
We know airlines are providing a service when it comes to food and drink on board, which accounts for some of the mark-up we see. But it pays to remember you are allowed to take food items through security, so plan ahead and take your own snacks onto the plane. You can also get around the sky-high in-flight prices by purchasing drinks in the terminal after you've been through security, and taking these on the flight with you too.
Note: Prices of all items across all airlines (and the mark-up) are available upon request. Airline prices are correct as of 22-24 February 2016, based on inflight menus on the airlines' websites. Ryanair prices were supplied in Euros. Conversion rates correct as of 22/23 February 2016. Supermarket prices were based on the best prices found in the most popular / main supermarkets in the UK and were correct as of 24 February 2016. In some cases, prices are based on multi-pack purchases.