KAYAK.co.uk reveals how the preferences of British travellers have evolved over the past three Easter long weekends.
Dubai and Amsterdam firm favourites for Easter, and Malaga moves up in popularity.
Istanbul is a trending Easter getaway – flight searches have jumped 160% year-on-year.
British travellers are set to explore more exotic places for the festive weekend with Abu Dhabi and Doha also trending.
Well-planned Brits search for their Easter holidays more than half a year in advance.

 
London, March 8: For many, Easter is the first extended break of the year – and according to new data from the travel search engine KAYAK.co.uk, an increasing number of Brits are using it as an opportunity to go abroad to far-flung destinations such as Dubai and Istanbul.
Top destinations 30% more expensive on average this Easter
The data shows that return flights to the top ten most popular destinations are around 30% more expensive for British travellers this year when compared to top spots for Easter 2017.
Seeking their first proper hit of the sun for 2018, travellers are prepared to take a long flight, and pay more, in return for guaranteed warmth in millionaires' playground  Dubai, which is on average 49% more expensive this year than last. Alongside Dubai, Malaga and Alicante are also gaining popularity – but also at a cost – with an increase in flight price of 40% and 42% respectively.  
While some destinations have been top picks for the past three years, notably missing this year is Reykjavik, which was the fourth favourite for the past two years in a row. People are instead turning to the Paris, or the city between two continents, Istanbul, as the Scandi-cool trend dies down.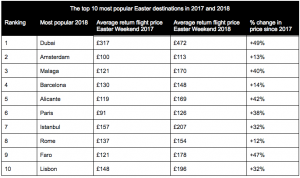 New destinations are trending on the Easter travel agenda in 2018
Istanbul is the destination that is trending the most by far in 2018, with a triple-digit increase in searches of 160%, compared to 2017. Alongside popular Dubai, nearby Abu Dhabi and Doha will welcome more travellers from the UK this year, with a 67% and 60% increase in searches respectively for the Easter weekend. Other standouts are Bucharest, trending for the past two years, and Geneva, for which searches are up by 71%. The latter could be thanks to a good ski season across Europe, encouraging snow bunnies to hit the slopes one last time this winter.
These more exotic destinations contrast greatly with 2017, when British sun-seekers were looking for Mediterranean getaways like Thera, Crete, and Thessaloniki, and in 2016, when European city breaks dominated the trending rankings.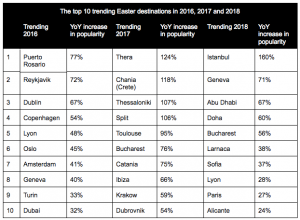 A well-planned Easter holiday
Most British travellers started planning their Easter trips around seven months ago on average – showing how far in advance Brits are now planning their Easter Weekend getaways. The majority of travellers plan a four-day break that takes advantage of the bank holidays, departing on Good Friday and returning on Easter Monday.
Neil Cartwright, travel expert at KAYAK, comments: "We have noticed a trend in recent years for many Brits to go on more, shorter holidays throughout the year rather than one long summer holiday. Our data shows that for many British travellers, Easter is now a key time for fitting in one of these shorter holidays. And rather than leaving it to the last minute, Brits are planning well in advance in order to secure travel deals on the Easter weekend getaway. For those who haven't booked anything yet, KAYAK tools like Explore can help give a boost of inspiration – users can simply enter their budget and Explore will tell them where they can go for this price."
Note to editors: Data is based on return economy flight searches on KAYAK.co.uk between 19.02.17-19.02.18 for travels between 29.03.18-02.04.18, searches between 19.02.16-19.02.17 for travels between 13.04.17-17.04.17, searches between 19.02.15-19.02.16 for travels between 24.03.16-28.03.16, and searches between 19.02.14-19.02.15 for travels between 02.04.15-06.04.15. Prices may change and offers may no longer be available.