Do you feel like everyone around you is jetting off every few weeks while you're stuck at home twiddling your thumbs? How are they all doing this? Are they rich? Do they earn more than you? Usually not. So how do they manage to travel so often? Most of the time it comes down to some simple tricks that have turned your friends and colleagues from average searchers into flight-deal-hunters extraordinaire!
Sure, most of these seem like common sense, but you'd be amazed at how many people lose patience and miss valuable savings, or search in the wrong way and only see the last minute, much more expensive, flight deals. Try these six simple tricks and graduate from average to extraordinary. Happy searching!
1) Too many cooks in the kitchen
You have more tabs open than you have fingers and toes, and you're comparing dozens of different websites: travel agencies, airlines, hotel sites and car hires galore. After a half-hour of comparing prices and searching for savings, you get frustrated and fed up. It's overwhelming, and the prices are way too high, and the dates don't match, and, and, and….. So, why don't you make your life easier and let us search for you?! KAYAK searches hundreds of travel sites at once so that you don't have to. Plus you can combine and compare all your different searches within the website or on the app, giving you a super easy overview of everything in one place. It's as easy as pie. Try KAYAK now and find the best deals for you on flights, hotels, cars and more.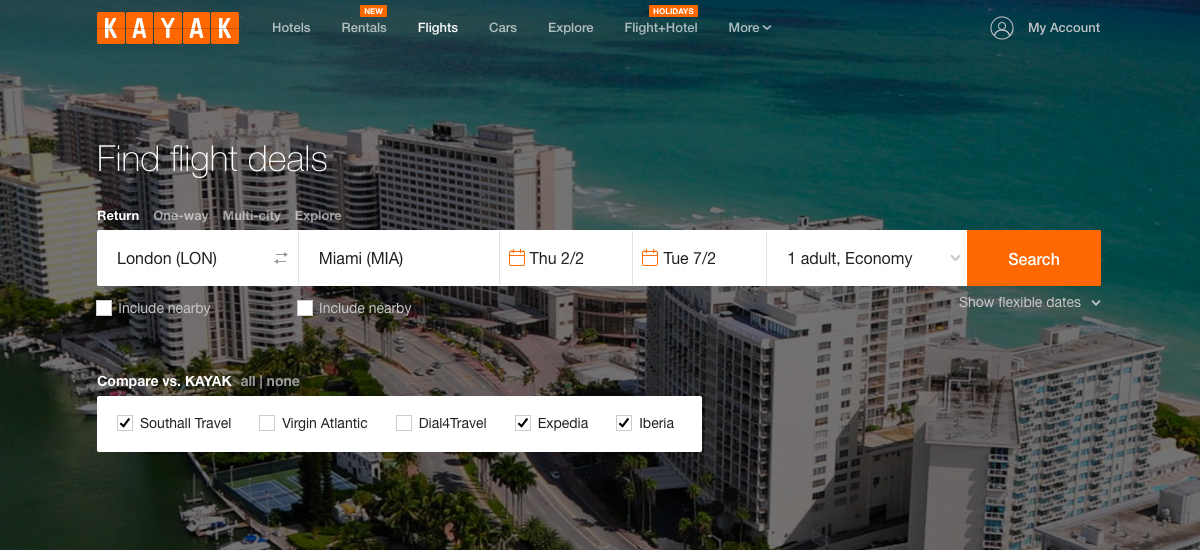 ☺ Keen on going to Florida? Discover 10 Champagne destinations on a lemonade budget!
2. Price Forecast – Should I stay or should I go now?
Should I book now or should I wait? Is the flight price going to drop in the next few days or might it increase? And the most crucial question for the deal hunter – Is this the best price I'm going to get? It's for this exact reason that KAYAK built its Price Forecast tool. Using huge amounts of historical data, we're able to make predictions on whether or not the price for certain routes will go up or down within the next seven days. Then, we suggest whether you should book your flight now or if you should wait and book when the prices drop. Make sure to look for Price Forecast in the top left-hand corner when you're looking at flight search results on KAYAK.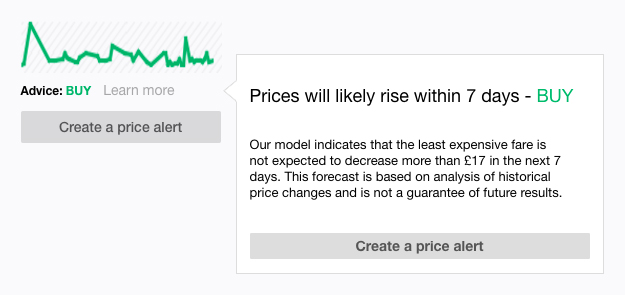 ☺ Hunting for a short and cheap getaway? Follow these steps to make it happen.
3. Set up a Price Alert and save time
So that you don't have to spend hours every day hunting for cheap deals, KAYAK lets you set up price alerts which send you a notification when your desired flight gets cheaper. You can also set up price alerts for hotels; and not just for a specific flight or hotel but also for destinations. Whether your dates are flexible or particular, Price Alerts does the work for you.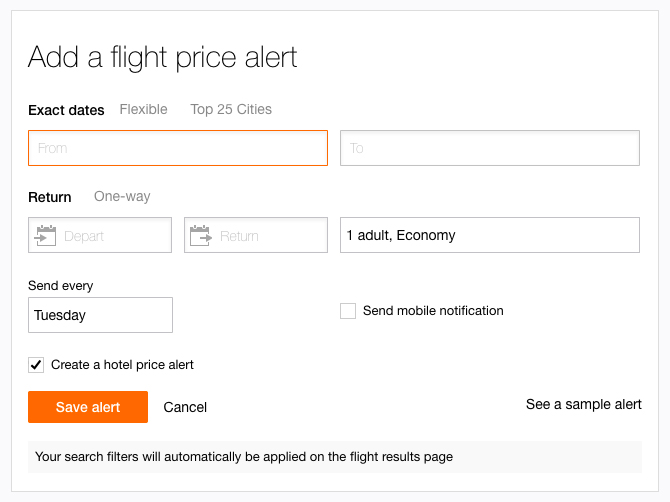 ☺ Did you know you can get hotel price alerts as well? Discover more tips on how to find the perfect hotel!
4. Get flexible and make wiggle room
The most important secret when it comes being a flight deal ninja is actually very simple: Be flexible. If your travel dates aren't set in stone, and you have a little wiggle room available, chances are you can catch a great flight deal. Usually, being flexible means spending hours comparing different flight options, but here is where KAYAK comes in: You can compare flights to your desired destination
a) within +/- 3 days of your desired date range
b) over upcoming weekends
c) with the flex month price calendar.
With the help of those convenient flight tools, it's super easy to find the cheapest flight. (A quick note: To use the flex month calendar view you have to be logged in to your KAYAK account).

☺ No matter your what you're after, here is how to find the cheapest flights!
5. Explore: Your budget's best friend
Are your friends and colleagues going to places you have never heard of? Exotic destinations with names like Bergerac, Ancona or Castellon de la Plana? That might be because the hardcore bargain hunters open themselves up to the whole world and not just the most popular destinations. Imagine there was a way you could see everywhere you could go on your budget. Well, there is! Simply choose your budget and Explore will show you all the places you can go; there is a whole world out there of amazing deals and undiscovered destinations. Explore will also show you when there are great deals on top destinations. Have you been to Copenhagen yet? What if Explore tells you that you can fly there for only £20?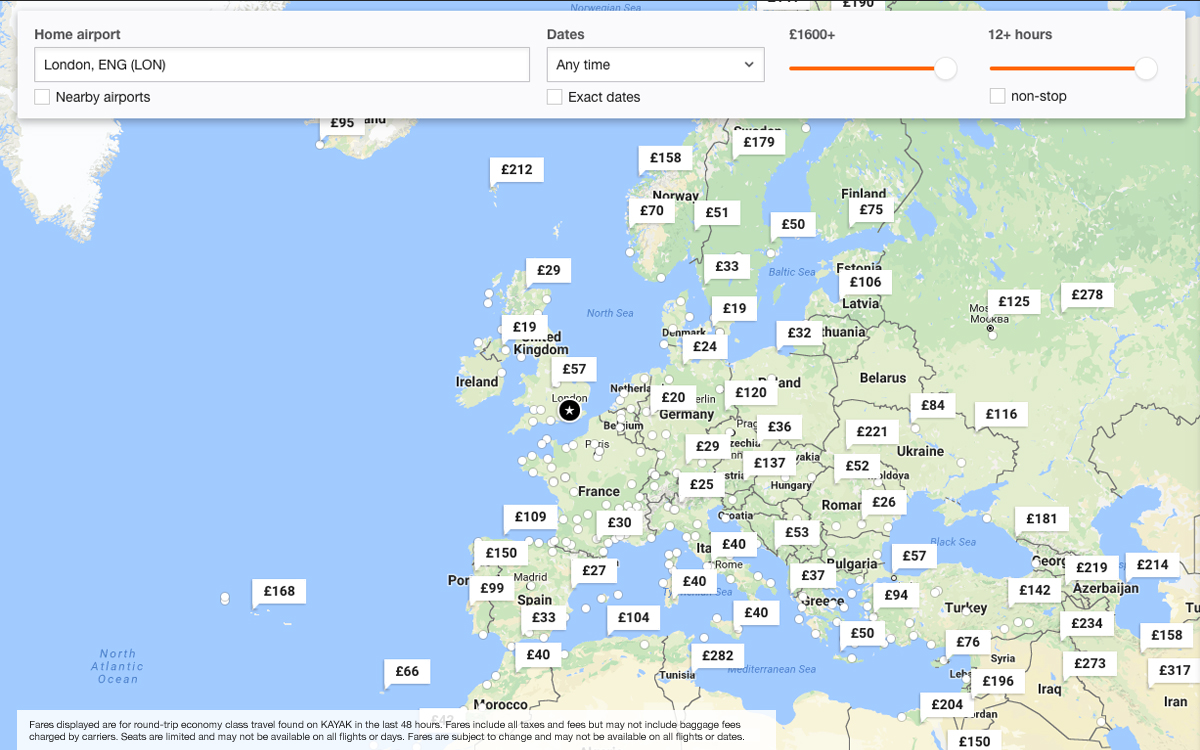 ☺ Wanna become an Explore Pro? Follow these easy steps to get the most out of it!
6. The fee calculator: No alarms and no surprises
Have you ever been hoodwinked by all those additional fees you didn't think or know about when considering flights? Payment fees, bag fees and all that small-print stuff can add up pretty quickly and make a sizable dent in your savings account. To make the total cost transparent from the get go, KAYAK offers both Payment Fee and Baggage Fee calculators for flights. Before you select the best flight option, select your preferred payment method(s) and the number of bags you want to check. The prices will adjust accordingly. You can also run a new search with these settings selected and see if you find another option more to your liking. No nasty surprises at the end!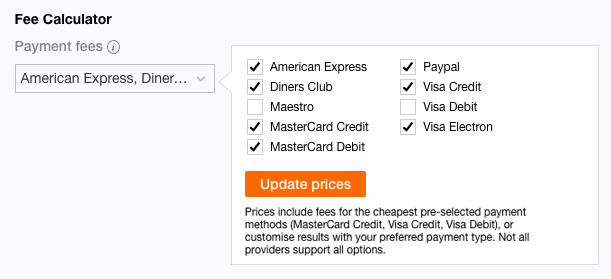 ☺ Want to know more about the payment calculator? Here's some more in-depth info.
Well, now you are properly prepared and are ready to put your new flight-deal-hunter skills to the test. Get hunting now!
Note: Mentioned rates and screenshots are based on search queries made on KAYAK.co.uk on January 23th, 2017. The prices are quoted in GBP. Flight prices are based on results for a return economy flight search. Prices are subject to change, may vary, or no longer be available.