Need the flights? Well, we've got the tools!
Here are KAYAK, we're all about creating the best tech to help you make the smartest travel choices. Whether you need destination inspiration or know exactly where and when you want to travel, we've got the clever tools to make it happen. Here are four different scenarios and four different tools that can help you save on your next trip.
Scenario 1: You want the cheapest flight, and it really doesn't matter where you're going
With KAYAK Explore, you simply choose a departure airport and your travel dates and within seconds you'll see all the different flight options and prices on an interactive map. Now, you can actually see which are the cheapest locations from your chosen airport. In case you're still not sure how to use Explore, you can find a step-by-step guide here.
Scenario 2: You know where you want to go, and it doesn't really matter when you do
Here is one key tip to finding the cheapest flight: be flexible. On KAYAK.co.uk you can compare prices within a flexible window that spans an entire month, making it easy to see when is the best time to book.
Go to www.kayak.co.uk/flights and enter your details. Do you want to be even more flexible? Just tick the "Include nearby" option that'll include prices for nearby airports. And when selecting your dates, you can choose to search prices for an entire month, or within one to three days of your ideal dates.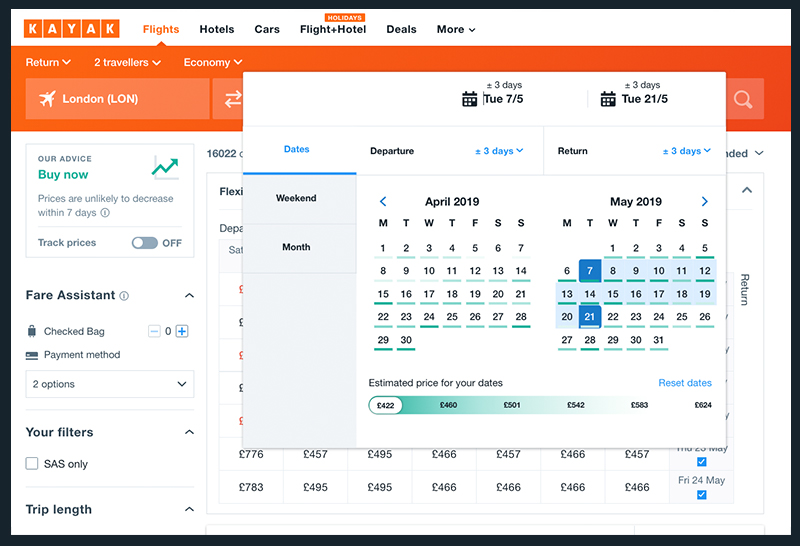 Once you hit search, you will see a practical overview of all your options, with the cheapest flights highlighted in dark green. Now it's completely up to you to adjust your trip length, include a layover, or select a preferred flight time.
Of course, you can repeat this procedure for any other month to compare prices.
Just click on a departure date that suits you and then choose a return date from the practical overview. Once you have chosen your return flight, you will see all the flight details including the airline, flight times, and layovers.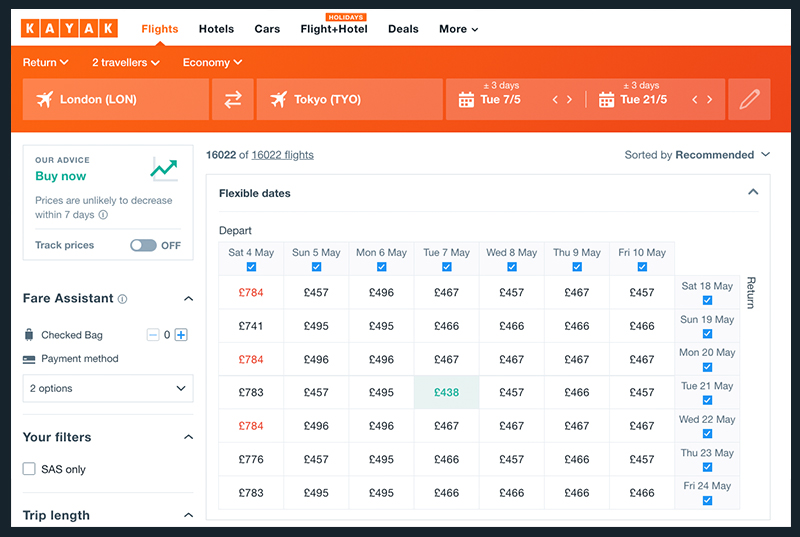 Scenario 3: You can't be bothered searching for flights, you just want information on the cheapest ones
Want us to do the work for you? Enter Price Alert. You can create new alerts under "Email & Alerts" once you have logged in to your KAYAK Account. Just select a particular destination and enter a departure and return date.
You don't know your dates yet? No problem, just create a price alert for a specific destination. You can even create an alert for our Top 25 cities to receive a daily overview of the best deals for the top destinations.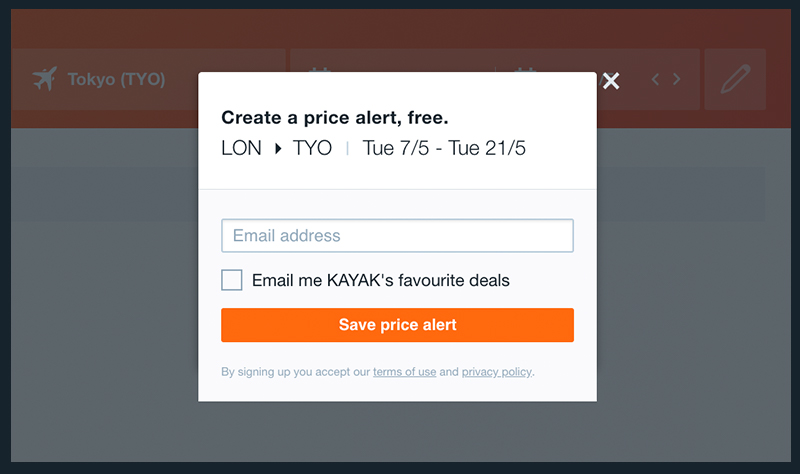 Scenario 4: You know when you want to go but you're not in a rush to book
Ever find a flight and wonder whether you're better off waiting a few more weeks to see if the price drops? That's why we created Price Forecast. When you've run a flight search, take a look at the Price Forecast box on the top left of the screen and it'll tell you whether you're better off booking now, or being a little patient and waiting for those prices to drop. Clever huh?
*Our purchase advisory is based on an analysis of current and past prices by our data scientists. But just like weather forecasters, Price Forecast can't be 100% certain.

With all these features under your belt, you're well prepared to go on your mission to find the cheapest flights. So head on over to KAYAK and get searching.
DISCLAIMER: The images and fares presented in the screenshots don't constitute the current prices.