Are you constantly on the hunt for new places to discover? Do you wish the hidden treasures of the world were right at your fingertips?
But, like always, the cost of getting to those exotic and far-flung reaches would most likely leave you destitute upon arrival. Why don't you try shifting your focus and open your eyes to the mysterious pathways many low-cost carriers fly? There is an abundance of criminally cheap flights that can bring you to places as yet unknown to you. Unknown, yet wonderful. Open your eyes and step out into nowhere land for very little money, indeed!
Cheaper than staying home: Timisoara, Romania's culture capital
While the rest of Romania is becoming more popular by the year -and with good reason- picture-perfect Timisoara, situated in the west of the country, is still largely undiscovered. A combination of many beautiful parks, stunning architecture, a booming (all)nightlife, and more (excellent) coffee houses than even Vienna has, awaits you in Timisoara. If you want a weekend break that also gets outside of the city, you can hire a car and drive to the amazing Bigar Waterfalls in the south-east of the country. While staying in Timisoara, you can find top-notch accommodation like the Hotel Timisoara, which is an excellent rated 4-star hotel.
KAYAK Pro Tip
To discover new places you can travel to on a tight budget, try out KAYAK Explore: Select your home airport, enter your budget (try scaling it down to £50 now to give you an idea of what's on offer) and let the magic happen.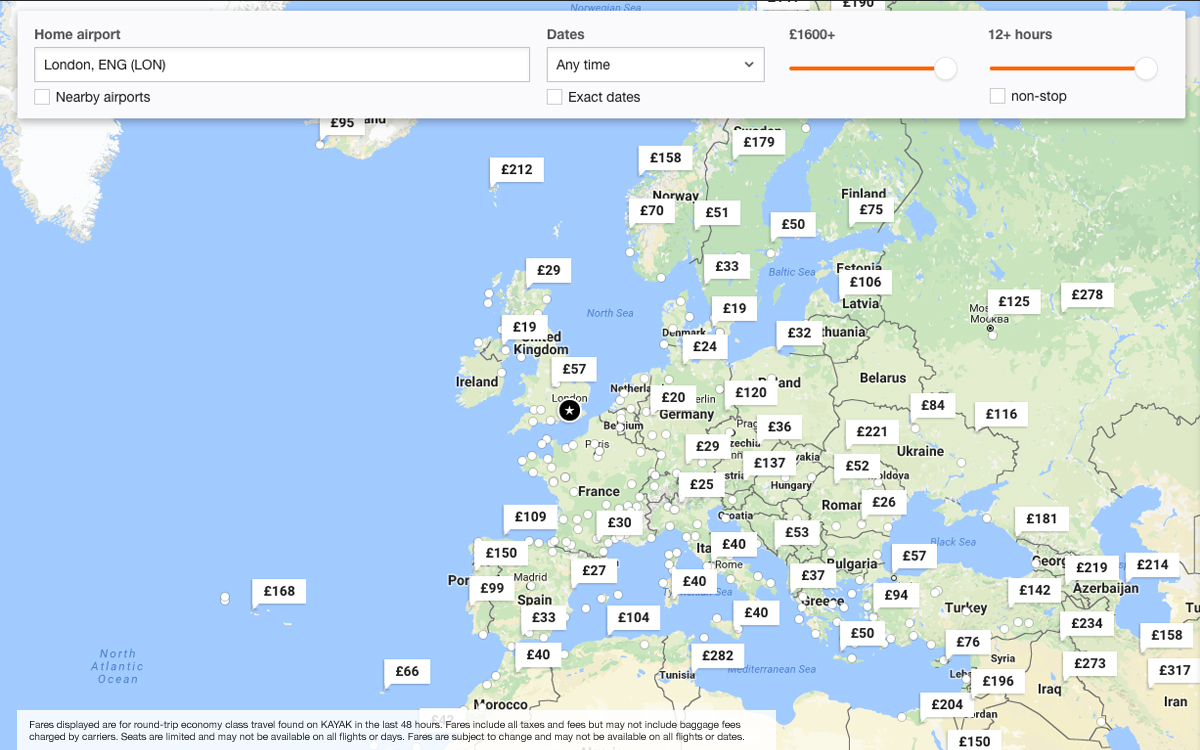 Castellón de la Plana – Beachy, Beachy Beach
Does heading off to Costa del Azahar, the orange blossom coast, sound like something you might be into? That's something you can make happen, easy peasy. (This sounds crazy to say, but…) If after a few days of endless sun and lazy beach action you get bored, you can also hire a car and go on a road trip inland or along the coast, or spend a day at the world-class water park in Benicàssim.
Summer feelings on a budget at the Mediterranean Coast via Flights to Béziers
Béziers is one of the oldest cities in Europe. The Mediterranean Coast is at your fingertips and laneways galore snake between quaint, old buildings. The beach is just a short jump away, the weather is superb throughout the summer, and the coast is littered with beautiful towns. You'll be happy strolling the streets or hiring a car and exploring the coast.
Winter skiing or summer hiking in Allgäu-Memmingen
Memmingen. It doesn't sound as sexy as its neighbours, Munich and Innsbruck, but from Memmingen, you can launch into all the amazing things to do in its surroundings in the South German region of Allgäu. How does a spot of skiing sound to you? Garmisch-Partenkirchen, a fantastic mountain resort town, and Zugspitze, Germany's highest peak are only a 90-minute drive away! In summer you can enjoy the tremendous Allgäu hiking trails.
A touch of history: Flights to Reus for not much
Is it that almost tangible sense of history that you love about Rome? Then Tarragona in the northeast of Spain is a destination for you! I mean, just have a squizz at the picture above. Interest piqued? There's a bus that goes directly from Reus Airport to Tarragona. And once you're all-historied-out the beach is just a stone's throw away. And the price tag? Cheap as chips!
Let loose at Holland's best amusement park: Visit Eindhoven
The truth is out there. Do you believe? Then welcome to Eindhoven, the Dutch city with a real, live UFO…… Ok, it was actually constructed by humans as a science museum in 1966 and these days The Evoluon it is used as a conference centre, but it's well worth a visit and maybe a (purposefully) blurry photo with which to spook your friends. The Van Abbemuseum of contemporary art is also well worth a look and if the fine lines of Dutch design are more your thing make sure to visit in October when Eindhoven plays home to Dutch Design Week. And if design, art and architecture make you yawn, then Efteling, the amusement park of Holland, is just around the corner! A fantasy-themed, fairy tale fun park resplendent with more rides, roller coasters and haunted houses than you can shake a stick/wand at.
City/beach trip to Gdansk
Whether you like to get lost in the city or you are searching for an affordable place at which to spend some time at the beach, Gdansk, a resplendently copper-topped city in Poland, has it all! If you want a place right at the beach, check out places like the Hotel Mercure Gdansk Posejdon which has an 'excellent' rating and is perfectly located.
Wine tasting in Bergerac
Not the maverick TV detective of the 80s, this Bergerac is the second largest wine region in France. So, grab a cheap ticket and get on the "Route de Vins". Start in the medieval town of Bergerac itself and explore the region between here and St. Emilionand, indulging in vineyards, castles, rolling hills, the local food and, of course, a glass or two…..
Super cheap party weekend in Brno
Forget Prague. Did you know Brno is the Czech Republic's second largest city? And did you also know that a party trip to Brno is even cheaper than the equivalent trip to Prague? And does that mean the fun times are lessened in any way? The answer is a big fat NO! I mean, when the official Brno website's slogan is "Tourists who don't experience Brno by night don't experience Brno!" you start to get the idea. So, get to Brno stat. The flights are cheap, the food is proper cheap (about £5 for a good meal) and the beer even cheaper (less that £1 a pint)……..
KAYAK Tip: Do you want your accommodation to be smack bang in the middle of the action? Search via KAYAK Heat Maps and filter for Nightlife!
For the inner child: Visit Billund (LEGOLAND)
Head to Billund in Denmark, where you can become a kid again! Why? Because this is the home of LEGOLAND! Whether you have a family or are just a big kid at heart, plus getting from London to Billund is really affordable. If LEGOLAND isn't going to entertain you the whole weekend or if you need a balance to the bricks you can check out the Sculpturepark, Billund Brewery or take a drive to the oldest town in Denmark – Ribe. If you want to see and feel the sea breeze on your face, you can also visit the city of Aarhus.
A few more wines along the way in Limoges
Not too far away from Bergerac, the next airport to land at for a bargain price is Limoges. Limoges, a beautiful, medieval city, is primarily famous for its ornate, classical-style china, but is also a great spot from which to conduct wine tours of the region. If you are fancy taking a drive and exploring the region on your own, hire a car and head to the stunning harbour city of La Rochelle? From here you take to the sea even further by taking a trip out to the island of Ile de Ré.
Surfing in Perpignan, France
Perpignan is located on the east coast of France, not far from the Spanish border. Along the coastline, you will find a brace of top surf beaches such as Argelès-sur-Mer, Narbonne, Collioure or Saint-Cyprien.
The misty mountains of Transylvania in Cluj-Napoca
Does the idea of Transylvania get your blood pumping? Then head to Cluj-Napoca. Discover the Carpathian mountains and the region that inspired the story of Dracula. Besides the dramatic cities and equally stunning natural surrounds, you can experience a wealth of great adventure in this region of Romania, the home of the Prince of Darkness.
Luxury for less in Poland's south in Rzeszow
The Polish food alone is delicious enough to warrant this trip, but the price doesn't hurt either. Enjoy the old town of Rzeszów by strolling around and stopping at intervals to snack on Pirogies. Just 17 km from Rzeszow is Łańcut Castle, straight out of a fairytale. And if you fancy pampering yourself like a fairytale prince(ess), book a room at the  Hotel Rzeszów, complete with gym and day spa. Or book yourself the ultimate treat at the stunning 4-star hotel, Grand Hotel Boutique.
Life is better on the beach at Deauville
Fancy a beach trip and a spot of boat spotting? Then it's about time to book your flight to Deauville, Normandy, in northern France. Besides the beautiful architecture stationed around the boat-filled port and marina, Deauville is famous for its horse racing. If you a walk beside the seaside take a stroll to the gorgeous fishing village of Trouville. Honfleur, beautiful enough to be a subject for the painting of Monet, is also just around the corner.
Natural beaches in Ancona
Going to Italy is always a good idea. But that doesn't have to mean going to Rome or Milan. In Ancona, you can find everything you need for a perfect hideaway: beach, harbour, basilicas and cathedrals, pines trees… and you already know the food will be spectacular. If you really want to commune with nature make sure to visit Mount Conero Natural Reserve.
Mixing monkeys with a spectacular view in Gibraltar
You love animals, specifically monkeys, but a trip to Asia, Africa or the Americas is well outside budget? Then you should be keeping an eye out for cheap flight tickets to Gibraltar! Apes' Den, in the Upper Rock Natural Reserve, is one of the most famous attractions of this British overseas territory and definitely worth the visit. The view, the Barbary Macaques – it's just terrific! And by the way, Marbella and Malaga are just a spit away so make sure to hire a car and do a road trip. If you're looking to save even more while exploring the region, staying just outside of Gibraltar makes the trip even cheaper, e.g. in Algeciras or in San Roque.
Note: These rates are based on search queries made on KAYAK.co.uk on January 30th, 2017. The prices are quoted in GBP. Flight prices are based on results for a return economy flight search. Hotel prices are for double occupancy at base price. Prices are subject to change, may vary, or no longer be available.