Let's say you have a trip planned. You know when you're going. You know where you're going. But when should you buy your tickets?
Well, you don't need to guess any longer – we've sifted through all our data, and we've come up with a definitive guide to let you know when to book to maximise your savings to some of our top destinations. And the good news is, you may be able to save up to 80% on your travel just by knowing when is best to buy. Read on:
Mid-haul flights: book 1-2 months in advance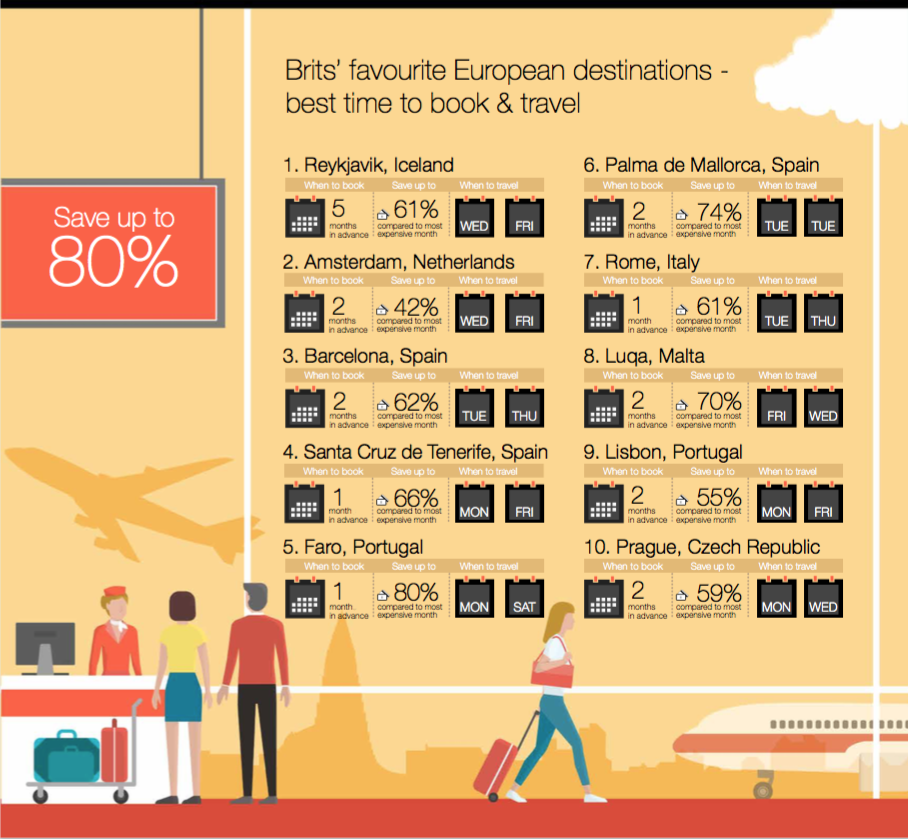 Generally speaking, the best prices for mid-haul flights are usually found one to two months in advance of your trip. The biggest savings can be made when flying to the popular destination of Faro in Portugal, where flights are 80% cheaper when booked one month in advance compared to the worst time to book. So UK travellers should remember: – patience isn't just a virtue, it's also a cost saver.
Savings of 60-75% can also be made by waiting until 1-2 months ahead when travelling to Mallorca, Tenerife and Rome. However, more forward planning is required for certain destinations to get the best deals. When it comes to the increasingly popular destination of Reykjavik for example, five months in advance is the best time to book, which offers savings of up to 61% at an average price of £69.
Long-haul flights: book 2-4 months in advance
When it comes to farther-flung destinations, our analysis shows that in most cases, the magic period is between two and four months in advance of the departure date.
For certain popular international locations, you can huge savings make just by waiting until two months before departure to book. Hold on to your trigger finger, and you might just save 40% or more on a trip to Orlando, LA, or Bali.
Again, there are some exceptions. Heading to New Zealand? Better make your plans early – the best deals to Auckland are found seven months ahead of time.
When to travel – stick to weekdays
This probably comes as no surprise, but it's nice to see some confirmation – weekdays are the cheapest days to travel. With most of you booking holidays around your work schedules, it's not a massive shock that Fridays, Saturdays and Sundays are the most expensive days to fly. That said, if you're able to afford a bit of flexibility, you may be able to take advantage of some super savings.
According to the analysis, weekday travel beats the weekend in both long and short flight categories, with the best departure and return days fluctuating between Tuesday and Thursday.
Booking accommodation: book 1-2 months in advance
As with flights, there are great savings on offer when booking 3 or 4-star hotels if you know when to strike. On average, one to two months before arrival is the best time to book for most of the top destinations.
Benidorm, Dublin and Krakow all offer tremendous savings when booking two months out, while Venice, Amsterdam, and Paris's best prices are available just one month in advance.
Destinations further afield can have quite different levels of flexibility. For example – ultimate savings are only achieved when booking six months ahead of time for Cancun, while one to two months are all that is required to save big for New York, Orlando or Singapore.
The cheapest destinations to fly to in 2017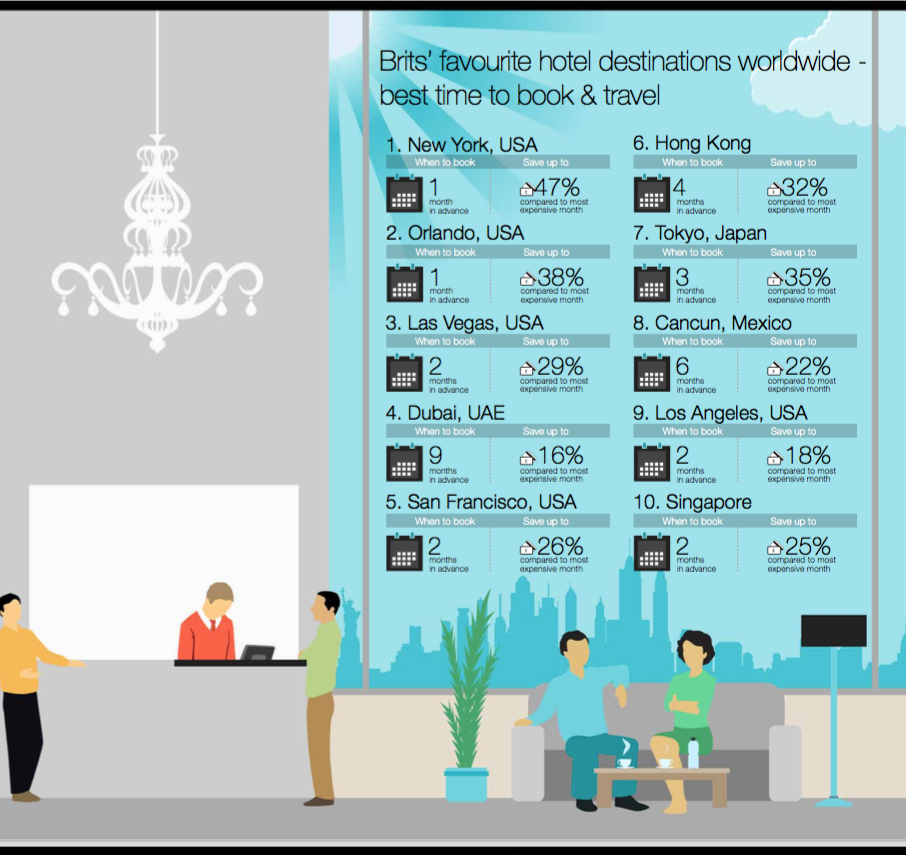 Finally, for all of you simply looking for the cheapest destination for your holiday in 2017, we've got you covered. Based on our analysis, the cheapest location on the continent is Madrid, while it's only a short hop, skip and a jump to Marrakech for the least expensive option outside of Europe.
And if any of you are hoping to plan your trip soon, there's good news – for both destinations the best airfare can be secured just one month prior to departure – so what are you waiting for?
To see the entire 'When to book' guide, complete with colourful and beautiful data displays, click here.
And for the real travel gurus, go ahead and sign up for a Price Alert from KAYAK – the best way to stay on top of daily price shifts so you can make sure to get the best deal.
The analysis is based on return flight and hotel searches and clicks on KAYAK.co.uk from all airports in the UK for any travel dates in 2017, evaluating the most popular destinations searched for in Europe and internationally. Prices for hotels are considered for 3 and 4-star hotels only and are per room per night. Seasonality is not considered for the analysis as the travel period considers 2017 as a travel year. Prices are subject to change, may vary or not be available anymore. Indicated savings are not guaranteed.