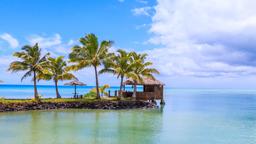 Hotels near Apia Faleolo airport
Search hundreds of travel sites at once for Apia Faleolo airport hotels
Best hotels near Apia Faleolo airport
Based on 1 reviews
Cleanliness
8.5
Facilities
8.5
Food
3.0
Location
10.0
Overall
6.5
Cleanliness
8.5
Facilities
8.5
Food
3.0
Location
10.0
Overall
6.5
---
Pros:
Breakfast was lovely, location was stunning, snorkeling was amazing - loved our time at Sa'moana!
Cons:
Pool was beautiful but very slippery. It was emptied and water-blasted while we were there but this did not do much to fix the issue.
Pros:
Everything, remote place with cute bungalows in different sizes, beach, reef and wafes, super clean inside and throughout the garden, delicious fresh food, most welcoming staff and at night you will only hear the ocean and maybe some fruit bat. If you are looking to relax this is perfect, but I have to mention that I visited in low season. It is far off and the road not good, you will need a car or an expensive taxi to get there. Also it is very safe but still better to lock your valuables away.
Pros:
The location is amazing. Waking up every morning to the view of the ocean and the sound of the waves was magical. The food was delicious, healthy and reasonably priced. Not only that, the service was great. All of the staff were so welcoming and friendly and felt like friends by the end of our stay. The snorkeling was great, as was the paddleboarding and kayaking. There are also some incredible walks around the hotel. The road in is a bit bumpy but you are forewarned about this by the hotel. An SUV would be the best option, but this is the case in all Samoa if you plan to do a bit of sightseeing. It was so lovely to see the community getting together and filling in the potholes, but due to typical island weather being unpredictable, rain will do it's thing. We will definitely be back with friends. I was very sad to leave
Pros:
The food, the restaurant set out and the workers are very friendly. The view is just stunning and breath taking.
Cons:
Nothing. Everything was perfect
Pros:
The location was amazing The Lava Pool was great fun/ snorkelling Loved the outdoors shower experience
Cons:
Would've really liked an airconditioner
Pros:
Liked the location and the staff was very helpful and nice
Cons:
The street leading to the facility is so bad that it's hard to get there. The food was average
Excellent well-equipped spotless rooms kept spotless and fresh by helpful housekeeping staff. Fabulous infinity pool cleverly built into (or out of) a cleft in the natural rock on the beach. It is a long way down a rutted road on a scooter with an unfriendly dog half way down. No ability to accelerate away. Just shout it down. Catering falls a long way short of the quality of the facilities and indeed housekeeping. 5 grain bread for toast at breakfast on day one gave cause for optimism but the roughly chopped, unpeeled fruit was a better guide of what was to come. Tough beef curry with a roti the texture of hard-tack. Ran out of french fries; ran out of Vailima beer. However worst aspect was the 'Survivor' inspired use of numbered wooden spoons to control and record food and beverage requests. Despite evidence of a sophisticated point of sale computer system. This unnecessary contrivance ensured that at check-out I received two chits for services I had not requested nor received. Quickly sorted, but completely unnecessary.
Based on 2 reviews
All
Families with young children
Young couples
Cleanliness
6.0
Location
7.0
Overall
6.0
Staff
7.0
Value for money
5.0
Cleanliness
10.0
Location
6.0
Overall
7.0
Staff
6.0
Value for money
8.0
Cleanliness
2.0
Location
8.0
Overall
5.0
Staff
8.0
Value for money
2.0
---
Nice big beds in a stand alone villa were the highlights no real cons just average
Based on 4 reviews
All
Families with older children
Families with young children
Young couples
Cleanliness
4.5
Comfort
4.0
Facilities
4.0
Location
6.5
Overall
5.0
Cleanliness
2.0
Comfort
4.0
Facilities
4.0
Location
6.0
Overall
2.0
Cleanliness
8.0
Location
8.0
Overall
8.0
Staff
8.0
Value for money
8.0
Cleanliness
6.0
Location
6.0
Overall
6.0
Staff
8.0
Value for money
6.0
---
Bought cleaning products myself and cleaned out the whole kitchen & bathroom on the 2nd day when it was clear housekeeping hadn't been. Was very busy with our family events since arrival but on the 4th day I'd had enough. Place hadn't been cleaned or bed sheets changed at all, no fresh towels since we arrived, no tea towels to begin with, only 2 cups for a place to sleep 6 or more, whole unit hadn't been swept or vacuumed, rubbish underneath the cushions, the sofa and armchairs are so dirty they're not fit for human use, window slats were thick with dust, the list goes on and on. Simple things like the kitchen rubbish lid was disgusting. Ceiling fan thick with dust & dirt it looked liked it'd never seen a duster ever. TV didn't work. Mouse droppings in the cupboards. Ants everywhere. After airing my complaint on the 4th night and having our unit cleaned sometime later, I was told there were only 2 cleaners for the whole complex. Enough said !!!
Maybe to have air con on 30mins before check in as we walked into a really hot room.
The staff was very accommodating, which I very much appreciated. Room service was excellent. The walk in to the Apartments were beautifully designed, especially the stair case. The rooms were very clean. The property itself was lovely and very quiet. not to mention the most magnificent view from the pool. The main issues were the a/c units, none had remotes present in either the Apartment or villa (booked both), so that was a bit of a hassle. I don't think if you have young children/ elderly that this would be an ideal place. All apartments/ villas are tiled and I was worried about the young ones slipping (samoa rains a lot). And issues with the bathroom (villa) being on the second floor (young ones/elderly) wheel chairs wouldn't have clear access. Lastly would be the parking/ finding clear parking near your room. I'd definitely come again, it was a great stay :)
Pros:
The staff were friendly. The Fiafia night was excellent.
Cons:
Hotel not expecting us even though we had booked and paid in advance. Room not ready for our arrival and had to wait for them to make up the apartment. Missing louvres in the windows, light bulbs not working, broken light fittings, general state of disrepair and lack of maintenance. Swimming pool was dirty (could not see the bottom) and my son got so many cuts and bruises from rough finishing in the pool that we stopped him from swimming there. I travel a lot, and for the price we paid, this was very poor value for money. I would not recommend it except for the excellent Fiafia night (although you don't have to stay there to go to the Fiafia night)
FAQs when booking a hotel near Apia Faleolo airport
How much is a cheap hotel near Apia Faleolo airport?
How much is a cheap hotel near Apia Faleolo airport for tonight?
How can I find hotels near Apia Faleolo airport?
Where to stay in Apia?
Our map will help you find the perfect place to stay close to Apia Faleolo airport by showing you the exact location of each hotel.