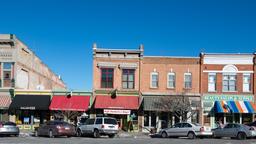 Ogden car hire
Search hundreds of travel sites at once for car rental deals in Ogden
Ogden car hire information
| | |
| --- | --- |
| Pick-up location | Ogden |
| Hire locations | 6 |
| Airport locations | 1 |
Ogden car hire reviews and directory
Enterprise

9.2 Excellent (2 reviews)
╳
Enterprise reviews
Car hire locations
Enterprise
Locations in Ogden
3565 Riverdale Rd
+1 801 399 5555
| | |
| --- | --- |
| Monday | 08:00 - 17:00 |
| Tuesday | 08:00 - 17:00 |
| Wednesday | 08:00 - 17:00 |
| Thursday | 08:00 - 17:00 |
| Friday | 08:00 - 17:00 |
| Saturday | 09:00 - 12:00 |
| Sunday | 00:00 - 00:00 |
633 Washington Blvd
+1 801 399 5555
| | |
| --- | --- |
| Monday | 08:00 - 17:00 |
| Tuesday | 08:00 - 17:00 |
| Wednesday | 08:00 - 17:00 |
| Thursday | 08:00 - 17:00 |
| Friday | 08:00 - 17:00 |
| Saturday | 09:00 - 12:00 |
| Sunday | 00:00 - 00:00 |
10.0 Excellent
17 Jul 2019
Pros:
Very friendly and attentive staff. No waiting at pick up and drop off. Nice vehicle.
╳
Budget reviews
Car hire locations
Budget
Locations in Ogden
3664 Riverdale Road
+1 801 334 7715
| | |
| --- | --- |
| Monday | 08:00 - 18:00 |
| Tuesday | 08:00 - 18:00 |
| Wednesday | 08:00 - 18:00 |
| Thursday | 08:00 - 18:00 |
| Friday | 08:00 - 18:00 |
| Saturday | 08:00 - 15:00 |
| Sunday | |
10.0 Excellent
30 Jul 2019
Pros:
It was a quick and easy process to get the vehicle that I had reserved. I would use them again in the future.
Cons:
Not much. It would be nicer if it was closer to my house, but that cant be fixed to easily
Pros:
The vehicle was roomy and the pickup and return were both very quick.
Cons:
The vehicle was dirty inside and out when we picked it up. Also it was very difficult to reach someone in this office by phone! I always had to leave a message in another office and have them call me back.
10.0 Excellent
17 Nov 2015
Pros:
Great rate. Easy pick up and drop off.
Why can't
Pros:
Great value for the cost. We enjoyed the automatic windshield wipers and the sound system.
Cons:
It seems it is virtually impossible to get a real person on the phone for customer service. Although we rented this Ford Van for a camping trip, it seems Budget makes it impossible to remove the rear seats for camping equipment. This made it difficult to load and unload. According to the manual it should be possible to remove the rear seats, but Budget seems to put the Kaibosch on this.
Dodge Durango
Pros:
Rental was comfortable with good ground clearance.
Cons:
Control panel too awkward and too many steps to do a simple function. Car was dirty from prior user. Too expensive.
10.0 Excellent
6 Aug 2016
Excellent Service
Pros:
I really felt that the people at budget emphasized excellent customer service. They were quick, courteous and well priced. I rented 2 times in a 10 day period and both times had a nearly new vehicle (the first car had only 136 miles on it!). I will defiantly use Budget again in the future.
First car stunk!
Pros:
Replacement car was excellent. No hassles, great car Check in was great
Cons:
First car stunk of smoke and was not clean. Customer service call center was ridiculous. Could not think outside of box, did not have correct information, spoke very poor English
Cars were filthy. First one I received reeked like
Pros:
That they didn't fight exchanging cars. They should have offered upgrade after refusing 2nd dirty car.
Cons:
Cars were filthy. The car I kept for the longest time, I actually took through the car wash and vacuumed and wiped out. They were not that friendly. I bought insurance through the Kayak website and Budget said they don't accept it. What's the point???
Pros:
Price was reasonable.
Cons:
When I made the reservation I was told they would pick up and drop me off in a 5 mile radius. That was not true and they refused. I had to find alternate transportation. The car had a very noticeable vibration on 60, 70 and 80 miles per hour. This is not good when average travel speed was 75. Front windshield inside was so dirty I had trouble seeing at night and when the sun was setting. Upholstry was dirty also. Difficult to reach the actual store. Customer service did not have the direct phone number.
10.0 Excellent
24 Nov 2016
Best car rental place..
Pros:
The staff were friendly. The price was perfect and the car was perfect. Overall my experience was perfect. Better than Enterprise. Enterprise recommend them..
Cons:
I liked everything.
╳
Hertz reviews
Car hire locations
3909 Airport Road
+1 801 316 2843
| | |
| --- | --- |
| Monday | 09:00 - 17:00 |
| Tuesday | |
| Wednesday | |
| Thursday | |
| Friday | 09:00 - 17:00 |
| Saturday | |
| Sunday | |
Pros:
When I finally found a place to turn in the car, the staff was very friendly, but powerless to do anything but have me give them the keys.
Cons:
I was supposed to take it to the local airport. Guess what? They are not at the local airport and when I called the 1-800 number the address they had was the local airport. When I told them there was no place to turn in the car they didn't have an answer or suggestion for me. When I asked for a local number for me to call a local Hetrz place, they didn't have that either. I found a place nearby and took the car to them. They said they were the dropoff location for the airport. I told them they need to let the Hertz 800 number know because as far as the Hertz 800 number is concerned the airport is the dropoff location. They said they have been trying to change it for years. When I explained the problems encountered when I picked up the car they said there was nothing they can do; that all they do is check the condition of the car and send a statement to the pickup location for them to send me the final bill. I still haven't received a final bill and have no idea what battle lies ahead.
The building that wasn't there!
Pros:
There wasn't a single moment of enjoyment dealing with your company.
Cons:
The location for pickup did not exist. I called the number twice with no answer or help. I called a second location with no answer or call back. I was 2.7 miles away from the second location listed on foot which would've made for a 45 minute walk, when I only had twenty minutes to get to the rental car dealer. Left a message to cancel reservation and still to this day I have not heard back from your company. I have notified my credit card company to hold payment, since the only service your company offered was taking my money. Your service disgusts me and I'm ashamed a long standing company with such a high reputation could bring it down so quickly. You should change your slogan to: "I'm sorry for the inconvenience, but dealing with us will be painful and it Hertz." "So rent a car that won't be there, cause this is how we roll!" Sincerely, The guy you screwed over.
Avis

3079 Wall Avenue
+1 801 392 2847
| | |
| --- | --- |
| Monday | 09:00 - 17:00 |
| Tuesday | 09:00 - 17:00 |
| Wednesday | 09:00 - 17:00 |
| Thursday | 09:00 - 17:00 |
| Friday | 09:00 - 17:00 |
| Saturday | |
| Sunday | 09:00 - 17:00 |
Easirent

Easirent
Locations in Ogden
Ogden Municipal Airport
| | |
| --- | --- |
| Monday | 00:01 - 23:59 |
| Tuesday | 00:01 - 23:59 |
| Wednesday | 00:01 - 23:59 |
| Thursday | 00:01 - 23:59 |
| Friday | 00:01 - 23:59 |
| Saturday | 00:01 - 23:59 |
| Sunday | |
26 travellers who hired a car in Ogden gave the car agency they used an average rating of 7.1
Car hire locations in or near Ogden
When to book a car hire in Ogden
Average daily price per month
Car hire prices as pick-up date approaches
Top tips for hiring a car in Ogden
Book your car hire in Ogden at least 1 day before your trip in order to get a below-average price
FAQs about hiring a car in Ogden