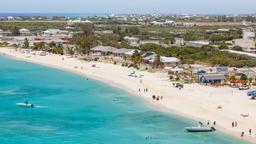 Hotels near Grand Turk Intl airport
Search hundreds of travel sites at once for Grand Turk Intl airport hotels
Best hotels near Grand Turk Intl airport
Based on 50 reviews
Cleanliness
9.3
Comfort
8.8
Location
9.1
Services
8.4
Staff
9.2
---
Pros:
The proximity to the beach was great, everything is near by. The location was definitely my favorite part - it was such a relief to be able to go back and forth between the beach and our room to get changed and head back out. The staff is also very friendly, they make you feel very welcomed and offer you a lot of help when wanting to do anything on the island. They really do want you to have a great time and were readily available during the day with answers to any questions we had.
Cons:
The "beach view" balcony has no beach view at all, there are trees completely blocking the beach. We purposely paid extra to have a beach view and to not even have that was definitely a disappointment. Truthfully, we would have stayed anyways but just in a less expensive room. The staff does not tell you that you are alone at night - we learned on our own that at night only guests are in the hotel, which truthfully is not that secure. Anyone with a rock could break in to the hotel by breaking the glass. It should be made known to the guests that there is no security at night other than the locks on the door.
Based on 36 reviews
Cleanliness
8.4
Comfort
8.8
Location
9.5
Services
8.2
Staff
8.3
---
Pros:
So what did I like everything lol the service(Betty was awesome) the view the food (Kevin on bbq night) it was a great stay and can honestly say the most helpful hotel staff I have ever encountered. Loved it
Cons:
Price everything is exspensive but that's not there fault they have to import everything and there's a 12% gov tax
FAQs when booking a hotel near Grand Turk Intl airport
How much is a cheap hotel near Grand Turk Intl airport?
How much is a cheap hotel near Grand Turk Intl airport for tonight?
How much is a cheap hotel near Grand Turk Intl airport for this weekend?
How can I find hotels near Grand Turk Intl airport?
Where to stay in Cockburn Town?
Our map will help you find the perfect place to stay close to Grand Turk Intl airport by showing you the exact location of each hotel.