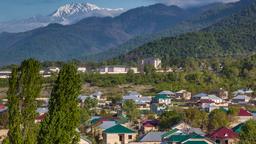 Hotels near Gabala Intl airport
Search hundreds of travel sites at once for Gabala Intl airport hotels
Best hotels near Gabala Intl airport
Based on 291 reviews
All
Families with young children
Families
Couples
Groups
Solo travellers
Business travellers
Cleanliness
8.4
Comfort
8.4
Location
7.9
Overall
5.0
Services
8.3
Cleanliness
7.0
Location
3.0
Overall
5.0
Staff
5.0
Value for money
5.0
Cleanliness
8.3
Comfort
8.4
Location
7.9
Services
8.2
Staff
8.7
Cleanliness
8.2
Comfort
8.3
Location
8.1
Services
8.4
Staff
8.8
Cleanliness
9.0
Comfort
8.8
Location
7.6
Services
8.7
Staff
9.0
Cleanliness
8.3
Comfort
8.3
Location
7.8
Services
8.1
Staff
8.9
Cleanliness
9.1
Comfort
9.7
Location
8.4
Services
9.1
Staff
8.8
---
Pros:
Fantastic Turkish bath and sauna and a swim in the pool included in my room stay. The grounds are soul-satisfyingly beautiful. The pond, waterfalls, islands with little tables to sit at, walnut trees.... Even a little dove house where you can sit and watch the birds! The food was also great! I ordered the mushroom soup both evenings with my meal. 😋
Cons:
A little more coffee in the room would have been nice. Some of us foreigners drink a lot of coffee...😊
Pros:
- Location being in middle of forest & greenery all around. Convenient for people who have their own conveyance. - 3-4 kilometers drive before reaching Resort is simply awesome as road is passing from thick forest & covered by trees. - Breakfast - Pool & SPA - Ample parking
Cons:
- Bed & Bedroom furniture. Carpet was dirty with so many spots. Mattress need to be replaced with good quality. Furniture was with scratches.
Pros:
Breakfast was awesome. Staff is great, kind, friendly. You don`t need to go out to eat and rest. Service at the restaurant and meals were amazing. Prices are suitable. You can rest your mind while having a cup of tea and enjoy the view.
Cons:
It was a little bit far from the highway.
Pros:
The hotel is primarily for those who's in search of harmony and peace, who'd like to enjoy the calm of the nature and picturesque views of mountains.
Cons:
Some of the room facilities/furniture need to be replaced
Pros:
Breakfast and friendly staff. Location is far from city center, but can be reached by local Taxi Services.
Cons:
There was not any entertainment during our stay (as staff mentioned, it is due to the pandemic), so was a little bit boring..
Pros:
Top vacation since 2015 for my family
I faced problem with the AC and hot water in the shower room and problem not solved till the manager interfered. The hotel not maintained well.
· The breakfast was good, big swimming pool, nice green area · The star of the hotel is 3.75/5, there is no safety person in the swimming pool, and no towels. toilet is very old and specially shower bath area, very old furniture, rooms and toilet smelly, towels in bathroom some are teared there is no water or elect. kettle in the room (you have to request and they bring you old plastic one ,when asking for extra water they said it will be charged. very bad service ), toilet without hand water sprayer, which is very essential for Muslim visitors, lake is very dirty looks very old, lighting is very bad in the courtyard also in the room....staff are not educated how to welcome the visitors and make them happy. also far from the city (around 20 minutes by taxi with 25 to 30 manat) and every thing, which you need to buy your things before you come in hotel.
Based on 394 reviews
All
Families
Couples
Groups
Solo travellers
Business travellers
Cleanliness
8.2
Comfort
8.2
Location
8.3
Services
8.0
Staff
8.7
Cleanliness
8.5
Comfort
8.4
Location
8.6
Services
8.2
Staff
8.9
Cleanliness
7.9
Comfort
8.1
Location
8.2
Services
7.8
Staff
8.5
Cleanliness
8.1
Comfort
8.2
Location
8.0
Services
7.8
Staff
8.6
Cleanliness
7.1
Comfort
7.6
Location
7.6
Services
7.6
Staff
8.0
Cleanliness
8.5
Comfort
9.1
Location
9.3
Services
8.8
Staff
9.4
---
Pros:
Staff were so nice and friendly. All very clean and tidy. Would definetly come back again. Food was amazing too. Specially thanks to Togrul chief for delicious cakes:))
Cons:
Let me think..... Nothing!
Pros:
Pool was good. They had nice fitness facilities and sauna
Cons:
The hotel is 3 stars and is affordable if you're looking for some place to rest on budget. Hotel facilities are generally ok for a 3 star Hotel. However, it also needs a renovation as firtinure in the room was old. We stayed for 4 days and on day 3 their air conditioning stopped working and they could not fix it because it was a centralized system. In a summer heat without aircontioning - you can imagine the rest. Moreover, the staff isn't really helpful. If you'd like to use sauna faxilities, you have to tell them at least in hour in advance for them to prepare the facilities. They told me the sauna will be ready in 30 minutes, but I had to wait for an hour for it to be resdy. The food was generally ok, but the problem is that they give you a large menue to choose from, but half of the food in the menue is never there. Restaurant staff is very unprofessional. Each time we ordered something with them we had to wait for at least 30-40 minutes for the food to finally arrive. Last time we waited for 1 hour for our food to arrive and I finally had to air my grievances with the administration of the hotel about these food delays. NO hot water in the toilet. Very unconfortable if you are with kids and family. Last but not least, MUSIC was awful. Every evening they play live music and choice of music was simply terrible. How much can you listen to the same techno style music and low quality live singing of some locals. And the problem was the the music was non stop and usually lasted till midnight. I also at some point had to point out to them that usually live music in such places had to stop and 11.00 p.m. and not beyond that. Terrible experience with music as well.
Pros:
Professional and polite staff, wonderful views, great and clean pool(it was the main reason of choosing this hotel), near by restaurants with delicious foods and many other reasons :) Strongly recommend
Cons:
There are two types of rooms, first with view on road, other view on pool. Both of them have great panorama on hills, but with road view some noise from cars, on pool view noise from restaurant till 23:00.
Pros:
This is the awesome place for rest with family and friends . They have friendly Personel , comfortable rooms , clean and big swimming pool also they have delicious food 😊😊👍🏻👍🏻👍🏻⭐️⭐️⭐️⭐️⭐️
Pros:
We liked totally everything 🙂 we'd like the spa is open after the quarantine.
Cons:
We liked everything but we wish the sousages were "Halal". Because when we asked about it, they said that it's not halal. But other things were really good and delicious.
Based on 816 reviews
All
Families
Young couples
Couples
Groups
Solo travellers
Business travellers
Cleanliness
8.1
Comfort
8.2
Location
8.2
Overall
6.5
Services
8.1
Cleanliness
8.1
Comfort
8.1
Location
8.2
Services
8.1
Staff
7.9
Cleanliness
8.0
Location
8.0
Overall
6.5
Staff
3.0
Value for money
8.0
Cleanliness
8.0
Comfort
8.0
Location
8.1
Services
8.0
Staff
8.1
Cleanliness
8.5
Comfort
8.6
Location
8.1
Services
8.1
Staff
8.3
Cleanliness
8.2
Comfort
8.4
Location
8.2
Services
8.2
Staff
8.4
Cleanliness
8.7
Comfort
8.5
Location
8.8
Services
7.7
Staff
7.9
---
Pros:
Breakfast was awesome and food was cheaper
Cons:
Location not in good tourist place
Pros:
It was one of the perfect experience of my life. loved the emviroment and staff. Everything was good enough. Highly recommend this hotel if you want to visit Gabala.
Cons:
Actually there was not the things that i did not like. Everything was in high standarts.
Pros:
Everything was super. Staff was very helpful and polite. Breakfast was good.
Cons:
Only thing I didn't like is that toilet. Since there was no place for water to flow in the toilet, the water spilled on the floor of the toilet was like a pond. The toilet tap also leaked.
Pros:
I like cleaning facility
Cons:
staff very bad breakfast very bad room service very bad
Amazing rooms. Clean rooms. Breakfast was very good. Also they have free turkish bath ,steam and sauna. Also spas and massages are available at a price. Staff not at all welcoming; few of them dont even know to smile!!! Property also has very nice swimming pool. Worth for money. Air con was an issue ;i think its in almost all of azerbaijan properties. During winters ac only warms the room but it cant cool the room. Which is not fair since everyones preference is different.
The hotel is a good property and centrally located. The room I booked was a small double room, which was of a decent size. The bedding and bathroom was clean which made us comfortable. The carpet definitely needs a shampoo as its quite used and has stains. The service level in the hotel needs an improvement - there was no one to attend or serve at the in-house restaurant. Somehow managed to get someone from the bar to help out. Overall decent stay but probably needs a better service level for the value paid.
FAQs when booking a hotel near Gabala Intl airport
How can I find hotels near Gabala Intl airport?
Where to stay in Gabala?
Our map will help you find the perfect place to stay close to Gabala Intl airport by showing you the exact location of each hotel.