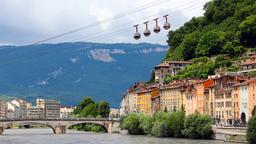 Hotels near Grenoble airport
Search hundreds of travel sites at once for Grenoble airport hotels
Best hotels near Grenoble airport
Based on 264 reviews
Cleanliness
6.7
Comfort
6.3
Location
7.4
Services
6.2
Staff
8.7
---
Based on 631 reviews
Cleanliness
6.4
Comfort
6.2
Location
7.2
Services
5.6
Staff
7.7
---
Pros:
No. Maybe that hotel were at right adress.
Cons:
That is worst place I've been before. Place were not waited on me. They gave me place in 1* Prima or somthing like that, becose they has confereces on place at this time. Could room with broken toilet.
Cons:
This hotel should be demolished because it is demolishing the reputation and name of campinile. It is hard to belive your company would put guests into such a property with 4 in a very small room. With wallpaper peeling off the wall. With inadequate towels for 4 guests. With a hot kettle for making tea and coffee positioned ona shelf over a childs bed where it could fall over and burn the child-incredible. This is a dirty hotel. I cannoy belive the french government department who inpect your premises have passed this place fit for guests. You are a big company and you have obviously decided not to spend money here. We I am responding and it is very unlikely I will spend anymore money with your company. I will lokk at the other chains for accomadation. And finally as far as I am aware I booked a double bed with 2 child places but was given a room with 2 single beds and 2 child beds that was so small we had to step outside to let them in 1 at a time.
Pros:
close proximity to airport
Cons:
poky over-hot room with no opening window, supposed to sleep 4 but if there had been 4 of us we'd have walked on top of one bed to get round the room; horrid bathroom with moldy peeling wallpaper and less than clean towels
Cons:
Room a little grubby
Pros:
proximity to Airport and friendliness of staff
Cons:
It was too far from the town and too close to another very noisy hotel. Also, my 9 year old daughter found a used condom on the grass outside of our room. The shutter on our room was broken and failed to open, however, the staff moved us very quickly to another room when we complained.
Cons:
Strong smell of smoke. In dire need of even the most basic upgrade. Shabby and run-down. Unfriendly staff when we attempted to organise an evening meal- our only experience of this during our entire holiday in France. Hotel was in the middle of a remote industrial estate- even our local taxi driver had problems finding it! As a result we cancelled our stay on the return journey.
Pros:
The staff were friendly. We arrived quite late but this was not a problem. The bar had closed but we could still get beer and other drinks. The rooms are well equipped, with tea and coffee provided, also soap and shampoo which was great.
Based on 615 reviews
Cleanliness
5.7
Comfort
5.6
Location
7.1
Services
5.4
Staff
7.2
---
Cons:
Dirty, smelly, cramp room!
Cons:
small room and very dirty
Pros:
After a long journey, it was easy to find as it was near the motorway exit.
Cons:
Due to it not being staffed at night, there was a lot of noise from a group of children. The person from the hotel opposite had little power to kep them quiet.
Pros:
This is really basic, but in fairness, clean, compact (very) and ideal for the purpose we had. Good location for Grenoble airport, and choice of a pizzeria or Camponile restaurant next door.
Pros:
Good price, easy to find, could fit 3 in a room.
Cons:
A bit noisy, the walkways cause some noise when people walk past outside.
Pros:
the frienly staff .
Cons:
the outside of the building is very dingy, with some broken outside roomdoors , so you get feelings you are in a poor and dangerous part from the city.
Cons:
Main lobby was dirty and also outside of the room was dirty-
Pros:
to to get a bed near the wintersport
Cons:
It attracts a poor quality of guest. Many were very noisy during the night.
Pros:
Staff were helpful and approachable
Cons:
Unfortunately, the rooms were very very cold. The heater in one room did not work, the staff changed this but the heater was not powerful enough to keep either of the two rooms warm.
FAQs when booking a hotel near Grenoble airport
How much is a cheap hotel near Grenoble airport for tonight?
How much is a cheap hotel near Grenoble airport for this weekend?
How can I find hotels near Grenoble airport?
Where to stay in Grenoble?
Our map will help you find the perfect place to stay close to Grenoble airport by showing you the exact location of each hotel.