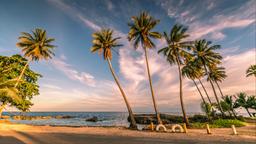 Hotels near Madang airport
Search hundreds of travel sites at once for Madang airport hotels
Best hotels near Madang airport
Based on 73 reviews
All
Families
Couples
Groups
Solo travellers
Business travellers
Cleanliness
8.4
Comfort
8.5
Location
9.2
Overall
8.5
Services
7.8
Cleanliness
7.7
Comfort
8.1
Location
9.2
Services
7.1
Staff
7.3
Cleanliness
8.8
Comfort
8.5
Location
9.2
Services
8.1
Staff
8.5
Cleanliness
8.5
Comfort
8.5
Location
9.2
Services
7.5
Staff
8.8
Cleanliness
8.1
Comfort
8.8
Location
9.1
Services
8.2
Staff
8.1
Cleanliness
8.8
Comfort
8.6
Location
9.1
Services
8.2
Staff
8.0
---
Pros:
It was all good, like home away from home
Cons:
The room was a little bit old with holes in parts of the wall and paint was peeling off (room 2013) Air con was not working in room 2008
Pros:
The beautiful gardens and sea view
Pros:
Breakfast was satisfying and staff service was excellent
Cons:
The water pressure in the room
Cons:
Shower room need maintenance
Pros:
Breakfast just enough and was complimentary.Liked the food as it included fruits
Cons:
Flies were seen around the table as the place was open
Pros:
Location and poolside and dive shop are really good .
Cons:
No proper food, no proper service and no hospitality at all. Making people fool to give rating in their website. We booked 2 bungalows water front by online through Booking.com and reached there our confirmed booked room they provide already some other guests. They have given us just 2ordinary rooms but bathroom too bad for both the rooms, NOT clean at all. Life was like hell in the New year day without any service and food. we won't recommend any friends to go there to stay! They charged more than what shown in the Booking.com after revised booking as per new room allotted. This is too bad, I am one of the good customer of Booking.com, this is 1st time I faced the too bad experience with family and friends. Pls refund my extra room rent what they have collected from me. I request Booking.com to do the audit for this transaction and do the needful. Please
Pros:
Most of all, I like the environment there with its friendly staff and the outmost service provided.
Cons:
Nothing seems to be on my mind that I can recall that I didn't like.
Pros:
I didn't have breakfast, don't not whether there was complimentary breakfast or not.
Cons:
Waited too long at the airport for pickup the day I arrived in Madang airport.
Pros:
Enjoyed the stay! Great location
Based on 53 reviews
All
Families
Couples
Groups
Solo travellers
Business travellers
Cleanliness
7.9
Comfort
7.5
Location
7.7
Services
6.8
Staff
7.9
Cleanliness
7.7
Comfort
7.3
Location
8.0
Services
6.4
Staff
7.7
Cleanliness
8.3
Comfort
7.7
Location
8.0
Services
7.2
Staff
8.6
Cleanliness
7.8
Comfort
7.5
Location
7.2
Services
6.9
Staff
8.1
Cleanliness
7.8
Comfort
7.7
Location
7.7
Services
6.6
Staff
7.2
Cleanliness
7.3
Comfort
6.9
Location
7.5
Services
6.7
Staff
7.7
---
Pros:
I like the location
Cons:
The iron in the room was broken and the inside of the electric jug was very dirty, had to thorougly clean it out before use. It seems house keeping does not check on this things
Pros:
Actually I provided my own meal so I won't say something about that, thanks
Cons:
Since I was alone thought of inviting my friend to come over, stay in the room and even spend time at the pool but because of the rules there I just obeyed it. To be honest I was bored.
Cons:
Rooms not clean and beddings where not change regularly
Pros:
It was very helpful to me when doing official work on compliance inspections. It really helped in saving the inspection budget. And the service was of high. Money Worth!
Cons:
Don't see any of bad..
Pros:
The delux apartment that i booked for 9 nights was great, self contained and very spacious, also had my own parking area. The bed was very comfortable and the kitchen had all the utensils. The hotel is located at the heart of madang and about 3mins drive to the shopping centers and the beach (masin gun & Kalibobo light house). The hotel location is very convinient and the staff are very friendly.
Cons:
Everything the hotel had and offered were of expectations.
Based on 1 reviews
Cleanliness
10.0
Comfort
10.0
Facilities
10.0
Location
10.0
Overall
10.0
Cleanliness
10.0
Comfort
10.0
Facilities
10.0
Location
10.0
Overall
10.0
---
Pros:
The premises are really beautiful and the location is ok to have a walk around.
Cons:
The economy rooms are literally as big as a regular bathroom, which would have been acceptable if you pay 20-30 USD per room, but for 70 USD this is a pure robbery. NOT RECCOMMEND this type of room. For this reason, we upgraded to the garden terrace room, which was marvelous (but still overly expensive).
FAQs when booking a hotel near Madang airport
How much is a cheap hotel near Madang airport?
How much is a cheap hotel near Madang airport for tonight?
How can I find hotels near Madang airport?
Where to stay in Madang?
Our map will help you find the perfect place to stay close to Madang airport by showing you the exact location of each hotel.