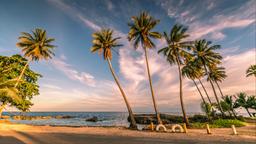 Hotels near Madang airport
Search hundreds of travel sites at once for Madang airport hotels
Best hotels near Madang airport
Based on 57 reviews
Cleanliness
8.4
Comfort
8.6
Location
9.1
Services
7.9
Staff
8.3
---
Pros:
The Breakfast was excellent and the Location was safe and amazing view and so quite. I will also do awareness to recommend Madang Resort the right choice for Holiday once you explore Madang Province. Amazing Resort to Stay, Potts Doi
Cons:
Nothing that I didn't Like, everything was so excellent and I felt home. Very Amazing place.
Pros:
The friendly staff, hotel environment, such an amazing tranquil atmosphere.
Cons:
The room given seemed like it wasn't used for quite awhile, it had cobwebs in the shower rooms and the toilet seat had dust settled on it and the bedding had gecko poops on it. Had to call for room cleaning before I could settle in, even than only the floors were swept and the bedding changed, I had to dust the toilet seat and sink area myself.
Pros:
No milk avis ripped us off took money never returned it yet medication stolen out of the room
Pros:
The whole stay from staff to rooms and the up keeping the area was excellent. The special room rate for me and my family was good. The friendliness of the staff the changing of weddings, towels room cleanliness was greatly improved. My family and I come to Madang once a year from the 90s. Your hotel has been our home away from home. We have seen great improvements. May God bless you as you continue to serve Madang PNG and the world.
Cons:
So far there is no dislike.
Pros:
Swimming and also eating at the restaurant. The pizza was so delicious.
Cons:
There was no midical supply.
Based on 43 reviews
Cleanliness
8.1
Comfort
7.7
Location
7.5
Services
6.9
Staff
7.9
---
Pros:
The owner was friendly the first morning and apologized for the internet issues. Airport transportation was great and friendly...thank you!
Cons:
1. Internet wasn't working and I couldn't even use WhatsApp... 2 . Lighting in my room was so poor that I asked dor another table lamp 3. Breakfast was served without asking what I want or how I like the eggs cooked. 4. There was 3 air conditioning units in the apartment and two of the three did not cool at all. 5. Rang the bell several times and waited 20 minutes at the front desk to check out at 6 am (even the security guard came and he also rang the bell) and when a lady eventually appeared she did not even bother to say good morning or sorry that you had to wait.
Pros:
Exceptional location. Free parking for guests. Friendly staff on site to assist. Great pizza and the beers were cold. :)
Pros:
Everything! This place is the best in town and staff are incredible. They pick us in the airport when we arrive and take care of us like family. The restaurante is very good and food is very tasty. Totally worth it. Breackfast is excelent. wifi is very good. rooms are clean and big. Showers are amazing! In the check out, Francis, one of the staff took us to the PMV to Goroka and made sure that everything would be ok with us until we arrive in Goroka. That's the kind of place you can 100% trust. Thank you so much.
Pros:
Location was convinient, friendly staff, the delux apartment was great (self contained, kitchen, bathroom, living room and etc.). The bed was very comfy.
Cons:
Everything the hotel had and offered were of expectations.
Pros:
The location of the hotel. Walking distance to town and the beach.
Cons:
There was no standby generator and the air conditioning of the living room area of the apartment was not working.
Pros:
The rooms were good size spacious and lots of working area. Also good food variety.
Cons:
On on arrival I was given wrong room downstairs not as preferred. Was charged for breakfast told complimentary covers one. Later corrected when matter raised to duty manager. Pool dirty. NO EFT for westpac bank. Was not given pizza and drinks on request to charge to room order was disregarded. No standby generator during blackouts. Poor communication clearly seen. Checked out early on 23/11 with no refund. My first and the last.
Pros:
The delux apartment that i booked for 9 nights was great, self contained and very spacious, also had my own parking area. The bed was very comfortable and the kitchen had all the utensils. The hotel is located at the heart of madang and about 3mins drive to the shopping centers and the beach (masin gun & Kalibobo light house). The hotel location is very convinient and the staff are very friendly.
Cons:
Everything the hotel had and offered were of expectations.
Pros:
Good location , friendly staff
Cons:
Kitchen tap broken , air con not blowing cold air In bedrooms
Based on 1 reviews
Pros:
The premises are really beautiful and the location is ok to have a walk around.
Cons:
The economy rooms are literally as big as a regular bathroom, which would have been acceptable if you pay 20-30 USD per room, but for 70 USD this is a pure robbery. NOT RECCOMMEND this type of room. For this reason, we upgraded to the garden terrace room, which was marvelous (but still overly expensive).
FAQs when booking a hotel near Madang airport
How much is a cheap hotel near Madang airport?
How much is a cheap hotel near Madang airport for tonight?
How can I find hotels near Madang airport?
Where to stay in Madang?
Our map will help you find the perfect place to stay close to Madang airport by showing you the exact location of each hotel.