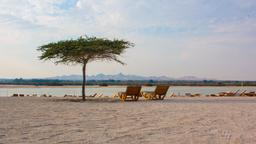 Hotels near Sir Bani Yas Island airport
Search hundreds of travel sites at once for Sir Bani Yas Island airport hotels
Best hotels near Sir Bani Yas Island airport
Based on 283 reviews
Cleanliness
9.4
Comfort
9.4
Location
9.3
Services
9.3
Staff
9.5
---
Based on 152 reviews
Cleanliness
9.2
Comfort
9.3
Location
8.9
Services
9.0
Staff
9.3
---
Based on 279 reviews
Cleanliness
9.0
Comfort
9.0
Location
8.9
Services
8.6
Staff
9.3
---
Pros:
clean, quite, luxury
Cons:
the price is too high daily there is a 185 tourism fee, the resturants are very very expensive
Pros:
It's a perfect resort surrounded by animals. My son is only 17 months old and he enjoyed watching animals so much. There are various activities available and you will not get bored for sure.
Pros:
Staff at the hotel were very friendly and helpful. Safari trip and the guide were excellent in communicatig
Cons:
Resturents were not good, and very expensive. There were many security restrcitions. Beach was not nice since its on reclaimed land. Airplaine not avalible on daily basis, and the airtrip is limited only to Abu Dhabi Airport
Pros:
The staff are fabulous, the excursions excellent.
Cons:
We think it is too expensive for what it is.
Cons:
Very costly beverages, lack of communication between hotel services,
Pros:
Relaxing and high standard of hospitality with excellent facilities such as swimming pool, wild safari, kayaks boat and mountain bike. Very luxury rooms with excellent choices of restaurants.
Pros:
Our room was beautiful, fresh flowers and fruit and loved the light dimmers and celing fan. The infinity pool was another great feature although it would be nice to have an area for sunbathing on the beach too. Maybe this will be introduced later as it seems the hotel is still being developed. We loved the game drive and was worth getting up for the 6am one.
Cons:
In general the service was bad. On at least four seperate occasions our order was taken and completely forgotten about. Also we were told on our first night at 9.15 that we could not have a table outside at the seafood restaurant as they were all booked, even though the hotel was extremely quiet. These tables were not occupied later. I think that even though they told us last orders were 10.
Pros:
The hotel staff was very well taken care of us. The location is uniqe. The pool is very nice.
Cons:
The restaurants , including the breakfast buffet , can not be called as 5 star level ( max. 3 ***+ ) The beaches are poor and ugly.The organisation of activities is very poor because man power shortage.
Pros:
Bysicle and Game Drive Activity
Cons:
We cannnot sea fish in the beach, but schnochel is difficult for child
FAQs when booking a hotel near Sir Bani Yas Island airport
How much is a cheap hotel near Sir Bani Yas Island airport?
How much is a cheap hotel near Sir Bani Yas Island airport for tonight?
How can I find hotels near Sir Bani Yas Island airport?
Where to stay in Sir Bani Yas?
Our map will help you find the perfect place to stay close to Sir Bani Yas Island airport by showing you the exact location of each hotel.