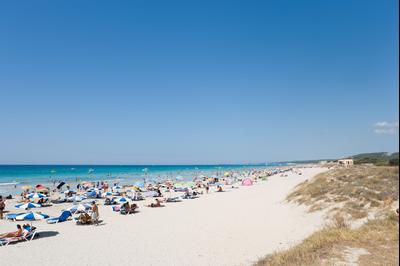 Son Bou holiday information
| | |
| --- | --- |
| Top holiday (Flight+Hotel) | £75 |
| Family holiday (Flight+Hotel) | £75 |
Son Bou is a relatively new purpose-built resort on Menorca's rugged south coast. As well as being pretty in its own right, Son Bou has two features which elevate it above other resorts of its kind: stunning natural beauty and a truly majestic beach. Indeed, the resort itself is almost hidden behind a dune-like nature reserve which gives the entire area an untouched, natural atmosphere. The beach is arguably the finest on the island; a good 2 kilometre strip of fine, white sand which slopes gently into the the crystal blue waters of the Mediterranean Sea.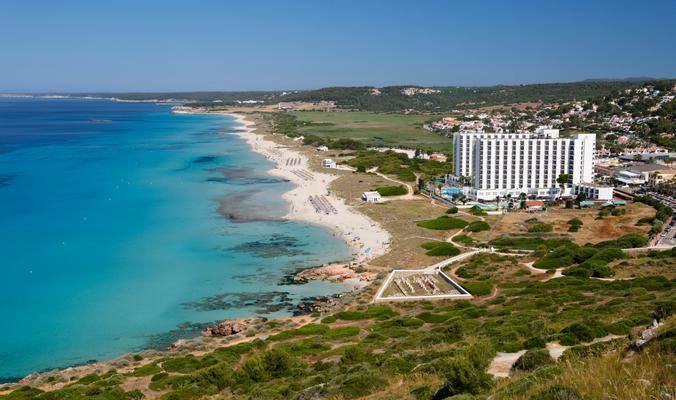 Son Bou holidays: Travel essentials
Like its Balaeric cousins Ibiza and Majorca, Menorca enjoys a classic Mediterranean climate of mild winters, warm summers and over 300 days of sunshine each year. In short, there is no bad time to visit. Son Bou is a particularly good destination for British tourists as not only are flight times from the UK short (just over two hours from London), the time in Menorca is only one hour ahead of the UK (GMT+1). After resetting their watches upon arrival, visitors can reach their hotel within half an hour, as transfers to Son Bou take just 25 minutes from Mahon airport.
Attractions on Son Bou holidays
The beach is the main attraction of most visitors' holidays to Son Bou. Needless to say, watersports abound at Son Bou, with everything from banana boat rides to scuba diving. Children are well cared for in Son Bou with water slides, bowling alleys and even a giant wooden maze, providing welcome distraction for fun-loving kids. Evenings are a treat as well, as many restaurants serve children's meals while the selection of bars and clubs is diverse enough to keep visitors of all ages entertained.
Other destinations in Menorca
Other popular destinations