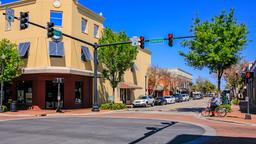 Winter Haven car hire
Search hundreds of travel sites at once for car rental deals in Winter Haven
Winter Haven, FL, United States
Winter Haven car hire information
| | |
| --- | --- |
| Pick-up location | Winter Haven |
| Hire locations | 5 |
Winter Haven car hire reviews and directory
Budget

10.0 Excellent (2 reviews)
╳
Budget reviews
Car hire locations
Budget
Locations in Winter Haven
448 Cypress Gardens Blvd Se
+1 863 299 9375
| | |
| --- | --- |
| Monday | 08:00 - 18:00 |
| Tuesday | 08:00 - 18:00 |
| Wednesday | 08:00 - 18:00 |
| Thursday | 08:00 - 18:00 |
| Friday | 08:00 - 18:00 |
| Saturday | 08:00 - 13:00 |
| Sunday | 08:00 - 13:00 |
10.0 Excellent
22 Dec 2016
Pros:
The kindness of the worker.
10.0 Excellent
8 Jun 2017
Pros:
At Winter Haven the service was great. Very helpful and friendly. A whole different experience than Fort Lauderdale.
Avis

9.0 Excellent (2 reviews)
╳
Avis reviews
Car hire locations
Avis
Locations in Winter Haven
448 Cypress Gardens Boulevard Southeast
+1 863 295 9285
| | |
| --- | --- |
| Monday | 08:00 - 18:00 |
| Tuesday | 08:00 - 18:00 |
| Wednesday | 08:00 - 18:00 |
| Thursday | 08:00 - 18:00 |
| Friday | 08:00 - 18:00 |
| Saturday | 08:00 - 13:00 |
| Sunday | 08:00 - 13:00 |
10.0 Excellent
14 Jul 2016
go with avis
Pros:
I liked the pleasantness of the rep. Very knowledgeable and kind.
8.0 Excellent
27 Feb 2018
Pros:
It was a nice, clean vehicle, easy to rent and the staff was nice
Cons:
I brought the vehicle back one day late, which I let them know about ahead of time and they told me that I would just pay for extra day, but they also added on an additional 15.00 as a late fee plus taxes which made it 85 dollars for the extra day, not 60 which is what they told me.
Enterprise

8.8 Excellent (4 reviews)
╳
Enterprise reviews
Car hire locations
Enterprise
Locations in Winter Haven
470 Cypress Gardens Blvd.
+1 863 294 8090
| | |
| --- | --- |
| Monday | 07:30 - 18:00 |
| Tuesday | 07:30 - 18:00 |
| Wednesday | 07:30 - 18:00 |
| Thursday | 07:30 - 18:00 |
| Friday | 07:30 - 18:00 |
| Saturday | 08:00 - 14:00 |
| Sunday | 08:00 - 13:00 |
10.0 Excellent
20 Dec 2016
Pros:
we arrived earlier then booked time to pick up and although they were extremely busy that morning they did not have a problem to accommodate us.
Compact car.
Pros:
The car was super clean. Dropoff and pickup were very fast.
Cons:
I thought I was supposed to get a bigger model, but was told it was a compact. The website said "specialty" vehicle. Also, the staff had differing stories about how toll roads worked, so they need to be trained on the correct answer.
8.0 Excellent
21 Mar 2017
Pros:
The person at the drop off notice the incorrect paper work and corrected the mistakes.
Cons:
The paper work at the pick up was incorrect.
10.0 Excellent
15 Apr 2017
Pros:
Prompt service, helpful staff, great vehicle for the price.
Hertz

╳
Hertz reviews
Car hire locations
Hertz
Locations in Winter Haven
460 Cypress Garden Blvd
+1 863 298 0651
| | |
| --- | --- |
| Monday | 07:30 - 18:00 |
| Tuesday | 07:30 - 18:00 |
| Wednesday | 07:30 - 18:00 |
| Thursday | 07:30 - 18:00 |
| Friday | 07:30 - 18:00 |
| Saturday | 09:00 - 12:00 |
| Sunday | |
8.0 Excellent
28 Mar 2016
Cons:
no drop box for early return/ no Sunday returns. needed the rental only one day. Had to pay for 2 days.Had to take off work to return rental causing a loss of wages
Cons:
The car was dirty and full of bugs and the customer service was not very pleasant.
had a great experience with Hertz
Pros:
First of all I would like to start our by telling u that your employee Marquita who works at the Winter Haven office was the best part of my whole experience with Hertz. She was so nice and so easy to deal with during my renting a car with Hertz. I hope Hertz knows this and keeps an employee like her. She made everything so easy. The car was clean at a level of good i wouldn't say excellent but good. the price was right and I hope it good just as smoothly the next time I rent from Hertz.
No Customer Service
Pros:
I did not like anything -
Cons:
My itinerary said pick up at noon, arrived at 12:02, office was closed, called Hertz, they said the office closes at noon, nothing they can do, asked for a supervisor they said they'd look for anything nearby. Said there was one available in Kissimmee over 25 miles away, I drove there to get it, upon arrival, there are no cars in the lot, talk to the 2 employees inside- they said there have been no cars for over 3 hours, the next closest one would be at the airport. Total opposite direction I need to go, called Hertz again and got another supervisor, still no support, no apologies and no resolution to my prepaid reservation. I was told I need to call the 800 number Monday through Friday there was nothing more they would help me with. I contacted the 800 customer service number, was told they could do nothing for me, I would need to send an email. I will NEVER attempt to rent from Hertz again
Cons:
The small office in Winter Haven had terrible customer service. When arriving I had to wait a long time to even talk to someone, then had to wait another 45 minutes for them to do an oil change. There was no one there to take the "oil change needed" off of the computer, so had to wait for that also. When returning the vehicle had to pay for 2 extra days because the location where I needed to return it was not open on Sundays. I was not aware of this and was told it was my responsibility to find something like that out. I couldn't take it to another location because to do that would have cost more than renting it for 2 extra days. Very poor customer service.
Cons:
Slow service Employees chatting with customers despite line up
10.0 Excellent
14 Apr 2018
Winter Haven, FL Hertz Rocks!
Pros:
These folks go above and beyond when it comes to customer service! I was in and out in minutes, both picking up and dropping off. I have rented from the others on that strip and can honestly say HERTZ you make renting a car in Winter Haven Florida the best there is both price and convenience.I was charged just what my kayak online reservation was made for, no surprises, It was truly a pleasure doing business with you!
Cons:
Having to talk to the 800 person to extend my reservation for a day. She was rude, didn't listen to me, and didn't have good command of the English language.If she would have been my first point of contact I would not have booked with Hertz.
10.0 Excellent
10 Nov 2018
Thanks to manager at Brooksville!
Pros:
He sorted out a problem for us when our plans changed. He is the kind of person who will make us rely on Hertz in the future. Well done, young man.
10.0 Excellent
9 Dec 2018
Awesome
Pros:
Terry was helpful. He was professional and super friendly. He asked what my plans were and suggested an upgrade that made my plans so much easier. He also arranged transportation to where I needed to go when I returned the vehicle.
Cons:
Everything was perfect
Pros:
They did not have any cars until the next day!
Cons:
To have car as promsed!
Eagle Rent A Car

Eagle Rent A Car
Locations in Winter Haven
19 travellers who hired a car in Winter Haven gave the car agency they used an average rating of 8.0
Car hire locations in or near Winter Haven
When to book a car hire in Winter Haven
Average daily price per month
Car hire prices as pick-up date approaches
Top tips for hiring a car in Winter Haven
Book your car hire in Winter Haven at least 1 day before your trip in order to get a below-average price
FAQs about hiring a car in Winter Haven