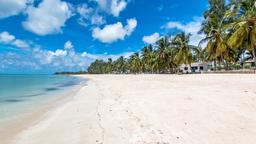 Hotels near Pemba airport
Search hundreds of travel sites at once for Pemba airport hotels
Best hotels near Pemba airport
Based on 32 reviews
All
Families
Couples
Groups
Solo travellers
Business travellers
Cleanliness
6.4
Comfort
7.4
Location
8.4
Overall
10.0
Services
7.1
Cleanliness
3.8
Comfort
5.6
Location
8.1
Services
5.0
Staff
6.3
Cleanliness
7.3
Comfort
8.0
Location
8.2
Services
7.7
Staff
7.3
Cleanliness
6.1
Comfort
7.5
Location
8.9
Services
6.8
Staff
7.1
Cleanliness
6.8
Comfort
7.5
Location
8.2
Services
7.5
Staff
7.8
Cleanliness
7.1
Comfort
7.9
Location
8.2
Services
7.5
Staff
7.8
---
Pros:
The laundry staff was atentive and the breakfast was good.
Cons:
The room was outdated, no hot water for 2 nights we stayed. There was lack of water pressure and the water was dirty. The reception did nothing to resolve the matter and on our last day we had to check out without showering. Would not recommend for anyone and it is very overpriced for the service we got. Unfortunately will not go again.
Pros:
The food was delicious.. The staff was very friendly and the view from our room was absolutely breathtaking. The room 510 was good.
Cons:
The service is a bit slow, we had to wait too long for whatever we asked for, be it food, ice or iron and ironing board.. It's like there is no sense of urgency.
Pros:
The hotel is a short taxi ride from the airport 500 meticals and is located on the beach. The beach is small but the nicer beach is around the bay. The hotel has plenty of pools around the premises. The food is good. Breakfast is a large buffet in a beautiful location and dinner is in the restaurant at the far end of the complex. I recommend the prawns in lemon and butter. The rooms are nicely furnished , good AC and a TV with a good selection of channels if you like movies and sport.
Cons:
I stayed hear twice, to and from Ibo island. The first time for reasons I will never understand they put me in the room in most disrepair . The hotel must have been only 10% full and they put me in a room With roof tiles missing above the balcony (room 409) and floor tiles loose. The second time they were kind enough to upgrade me but was disappointed by the cleanliness.
Pros:
Old hotel neds a little maintenance. Dinner Dining room a long way from the hotel central. Staff very helpful. No fans in breakfast section extremely hot.
Pros:
The friendly staff and the amazing food at Club Naval. The room was very modern and very comfortable. We also enjoyed the swimming pools and the fact that there were four of them. A very relaxing holiday.
Cons:
The beaches and town around the resort are really shabby and need taken care of. Besides this the experience was great.
Cons:
It took 1 hour to get an egg
First off, I will say that this hotel is a beachside hotel, it is not like a resort destination type of a resort, though it comes very close. That being said, I spent a night here at Avani got a small room (which was good but felt it could be better) and then a night in Nautilus (Not my style, a bit dated and need of repairs), and came right back to here. The official published rates are a little high, but this is a clean hotel that is well maintained, if you are staying for more than a few days you can speak to the front desk and they might be able to help you out on the rate. I highly recommend an apartment which has a suite. It comes complete with washer/dryer, full-size fridge/freezer, all cooking utensils and pots and pans everything you need. The one restaurant they have the Naval club has great food and the breakfast buffet is good. For the price, it was not much higher than the Nautilus hotel which is next to the beachfront hotel. This has a natural beach and is not crowded. The Hotel is huge and has many rooms. For Pemba in Mozambique, this is a very nice hotel and I always come here when I am in this area. The people leaving bad reviews just don't realize that it can get a hundred times worse if they went to any other place. I am totally satisfied with this hotel. Nothing more I could ask for just continue giving the guest the great service that you provide.
Based on 1 reviews
Pros:
Lovely location and friendly helpful staff - especially Peter
Cons:
We stayed for a week and booked a room with breakfast included, however on many days there was no food available for breakfast, and also nothing no food available from the menu for lunch or dinner. As it's in a remote location and there arent' many places nearby this was a big problem.
Pros:
We really enjoyed the friendly staff and beautiful surroundings. The cabin was clean and comfortable.
Pros:
The staff was amazing. A beautiful location in the middle of nowhere! Perfect for nature lovers. Cayaking & snorkeling was one of the highlights!
Pros:
Incredibly beautiful location, very friendly service, the fresh and different fish and local food everyday.
Cons:
It is a bit of a distance from and to Pemba, 30 minutes by taxi which easily costs 1500 MZN per day to and from
Pros:
A beautiful and quote place. Beautiful nature and fantastic dea.
Pros:
Speechless beach ! Love the bar ! Very peaceful environment !
Pros:
I liked the idea of living in a bungalow almost on the beach. The chef was preparing my meals according to my wishes and my schedule. I liked the surroundings - the empty beach.
Cons:
Nobody cleaned my room once during my 8 days stay. You must be a real animal lover to stay in a bungalow - ants, mosquitos, bats, geckos and....rats! so be prepared to live in a zoo.
Pros:
Fantastic location, beautiful accommodation, and very friendly staff. Perfect location for a secluded, romantic destination for couples. The bungalow was beautiful and spacious. The food was delicious and huge portions. It's just a short drive from Pemba airport, yet feels like a million miles away.
We enjoyed our stay at the Ulala Lodge very much! The place is kind of paradise - endless beach, beautiful sea, palm trees in the backyard and charming bungalows and restaurant including a bar and chill-out area. Perfect if you need a time-out from work and want to relax! Moreover, the food is delicious with a mix of French and international cuisine, mainly fish/seafood. Above all, its an eco-lodge, thus you can enjoy hot shower and electricity all the time without wasting energy! The room and bathroom were very clean and airy, it didn't get hot. The staff was exceptionally friendly, always smiling and very helpful. As Georges was not there, Lionel was taking care of us. He managed everything great and we enjoyed a lot chatting with him! It was a pleasure to get to know him! At the beach, you can watch the local fishermen and women, but there is enough privacy! Whenever you go for a walk, a guard is following you (safety precaution they told us). Wifi available in the restaurant area is working very well. Georges & Lionel also organize transport from/to Pemba and other places which is very convenient! Nothing more I could ask for just continue giving the guest the great service that you provide.
Based on 42 reviews
All
Couples
Groups
Solo travellers
Business travellers
Cleanliness
6.5
Comfort
6.8
Location
8.1
Services
6.4
Staff
7.5
Cleanliness
6.1
Comfort
7.3
Location
8.2
Services
6.8
Staff
7.0
Cleanliness
6.3
Comfort
6.8
Location
8.8
Services
6.3
Staff
8.5
Cleanliness
6.9
Comfort
6.7
Location
7.7
Services
6.3
Staff
7.3
Cleanliness
6.4
Comfort
6.6
Location
7.9
Services
6.0
Staff
7.2
---
Cons:
The bar staff and service isn't the best. It took them 45 minutes to give us a menu and kept saying that the person would be looking after our table was nowhere to be found. It would take them ages to give us our drinks so you have to go to the bar yourself whenever your glass was empty.
Pros:
Breakfast was great. Staff were very helpful and very welcoming
Cons:
The Hotel Raphael needs to be fumigated. My room had cockroaches and that just killed it.
Pros:
Staff very friendly and helpful, always assisting with a smile.
Cons:
The bathrooms - this is the only weak spot. The cleaning of the bathrooms is very superficial. The bathrooms need to be PROPERLY scrubbed and cleaned, with proper attention to detail, not just a superficial wipe.
Cons:
Bathroom in worse conditions
Cons:
Dirty bathrooms, dirty swimming pool, no fresh coffee at breakfast, no communication from reception staff, filthy muddy entrance to hotel (etc)
FAQs when booking a hotel near Pemba airport
How much is a cheap hotel near Pemba airport?
How much is a cheap hotel near Pemba airport for tonight?
How can I find hotels near Pemba airport?
Where to stay in Pemba?
Our map will help you find the perfect place to stay close to Pemba airport by showing you the exact location of each hotel.