You're Going to Love Sandakan
A thriving trading center for over 100 years until World War Two, Sandakan is on the rise again, this time as an appealing tropical port, with plenty of colonial curiosities and excursion destinations for visitors to enjoy.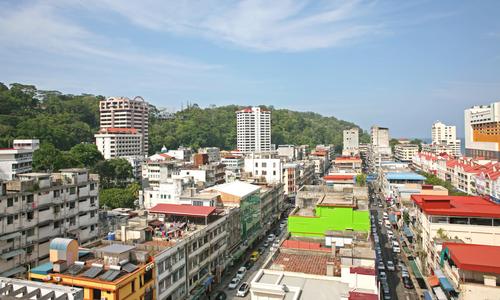 Top 5 Reasons to Visit Sandakan
1. A Wide Range of Historical Attractions
From the home of American writer Agnes Keith (author of the wartime memoir Three Came Home) to the 19th-century St Michael's and All Angels Church and Buli Sim Sim water village, Sandakan is full of historical interest.
2. Get to Know Sarawak's Orangutans
At Sepilok Orangutan Rehabilitation Centre, visitors can see orangutans that have been saved from poachers or captivity and really get to know our intelligent, charismatic cousins.
3. Cruise Down the River Kinabatangan
Cruises on the Kinabatangan are a delight for nature lovers. Drift through ecologically rich mangrove swamps, see proboscis monkeys, and glimpse elephants as you head downstream.
4. The Seafood Is Fantastic
Sandakan's cuisine revolves around the sea, with simple snacks like prawn crackers and more complex dishes like fish head curry all vying for the attention of diners.
5. It's Easy to Find the Right Souvenirs
Sandakan's New Market is a bustling commercial hub, where you'll find homemade pearl jewelry and sarongs - all at bargain prices.
When to Visit Sandakan
The best time of year to visit is in late summer, probably August and September - before the rains arrive.
How to Get to Sandakan
Plane
Sandakan Airport (SDK) is just northwest of the city. From there, a taxi will cost around RM30, and buses cost RM2.
Car
If you are coming from Penampang or any other city to the southwest, take the AH150 across the country straight to Sandakan.
Bus
Bus companies serving Sandakan include Tung Ma Express, Sida Express, and Bunga Raya Express, and link the city with Kota Kinabalu and Semporna.
Airlines serving Sandakan
Show more
Where to Stay in Sandakan
Elite accommodation options in town include the Four Points by Sheraton Sandakan and the quiet but comfortable Nak Hotel.
Popular Neighborhoods in Sandakan
Buli Sim Sim - also known to tourists as "Fisherman's Village", Buli Sim Sim is built on stilts in the traditional manner, and features some excellent seafood restaurants.
Lebuh Empat - Sandakan's "Fourth Avenue", Lebuh Empat hosts the excellent Heritage Museum and places to relax like the English Tea House and Restaurant.
Taman Tinosan - just north of Sandakan proper, this area is a nightlife center thanks to bars like Happy Castle and the Tonight Bar.
Where to stay in popular areas of Sandakan
Most booked hotels in Sandakan
How to Get Around Sandakan
Public Transportation
Buses run to most parts of Sandakan and the surrounding area, and charge from RM2 - RM5.
Taxi
Short hops in town shouldn't cost more than RM15 - RM20, and taxis to Sepilok will charge around RM40.
Car
Rental options include Borneo Express and Sandakan Car Rental Services. Expect to pay around RM55 per day.
The Cost of Living in Sandakan
Shopping Streets
Located on the seafront, Sandakan Central (or "New") Market is the place to shop, with souvenir, clothing, and food stands aplenty.
Groceries and Other
Supermarkets include Astana Heights Mini Market and Suntos Market, where you can expect to pay around RM5 for 12 eggs and RM25 for a gallon of milk.
Where to Eat in Sandakan
Seafood reigns supreme in Sandakan. Good places to check out the local cuisine include the English Tea House (an elegant colonial-style villa), Sim Sim Seafood Restaurant in the stilted village, and My Harbour Restaurant, which commands gorgeous views across the bay. Meals will cost between RM8 and RM20 per head.