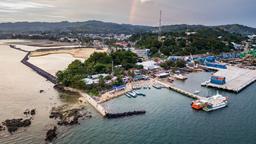 Hotels near Sorong Jefman airport
Search hundreds of travel sites at once for Sorong Jefman airport hotels
Best hotels near Sorong Jefman airport
Based on 401 reviews
All
Families with young children
Families
Couples
Groups
Solo travellers
Business travellers
Cleanliness
7.8
Comfort
7.9
Location
7.5
Overall
8.0
Services
7.4
Cleanliness
6.0
Location
10.0
Overall
7.0
Staff
6.0
Value for money
6.0
Cleanliness
7.7
Comfort
8.1
Location
7.6
Services
7.5
Staff
7.6
Cleanliness
7.7
Comfort
7.7
Location
7.6
Overall
10.0
Services
7.4
Cleanliness
8.0
Comfort
8.1
Location
7.7
Services
7.4
Staff
8.0
Cleanliness
8.0
Comfort
8.1
Location
7.2
Overall
7.0
Services
7.5
Cleanliness
7.5
Comfort
8.0
Location
7.3
Services
7.5
Staff
8.3
---
Pros:
as usal in indonesia the suff was super friendly.
Cons:
on arrival at 17:00 my room was not prepared. it was left with the old sheets from the last guest, the bed was made though. no towels, urin around the toilet, simply not cleaned after the last visitor. after i told the reception they told me very friendly that they will take care immediately. as i came back to the hotel after an hour nothing was done except a new seal on the door that indicated the room was desinfected, but it wasn't! nothing was cleaned, no fresh sheets, nothing. as i went to the reception they told my that they had not enough staff to do it... the hotel was at 10% of the capacity. they apologiesed but it did not came to their mind to give me an other room. after i got angry and asked myself, they changed my room. it was clean, but missing towels, not a big deal. i tried to order drinks at 23:30, the reception told me the kitchen was closed and there is no way to get something out the fridge. conclusion: a nice idea of a hotel with nice rooms, for papuan standards well maintained. unfortunatly a clueless mangement and overstrained staff that was not trained to work in a hotel at all. its the best adress in sorong, but its a joke. i booked the room 24h in advance, so there was plenty of time to prepare them. the room was 1,5 mio idr per night which equals around 90euros. not worth it at all.
This hotel is close to many interesting spots such as restaurant, coffeeshop, foodstalls and ofcourse the airport. Food qualities still need lots of improvement though.
Affordable (while more than other hotels in town this one is SO MUCH BETTER than the others that are only a little bit less money). The included breakfast is a HUGE BUFFET with VERY DELICIOUS food. The lobby is a lovely place to lounge.
Pros:
The rooms at this hotel are nice but the area around the pool is not very well kept and the restaurant wasn't very good. I ordered food to the room and it took them almost 1 1/2 hours to bring it up and then half of it wasn't what I'd ordered.
Cons:
The breakfast was lousy for Westerners... no toast, no jam, no butter...only one type of cerial
Pros:
The receptionist is very good and friendly
Cons:
The breakfast could have been strop up
Pros:
Reception team. The young lady that checked us in is very professional and helpful. She's also upgraded our room. Room is spacious and our second room is even slightly bigger than the previous one. Location is good too
Cons:
Here the thing, this is just a constructive suggestion - in the wake of pandemic COVID-19 everyone, everybody should always follow the health regulations regardless. The hotel provide whatever that's necessary related to the current situation but in one morning, there's a guy came with his bike in sweat to the restaurant and it was uncomfortable to look
The breakfast was not very appetising.
Cons:
The aircon was noisy
Cons:
Smelly room, hair dryer broken, AC very loud and not working well, no towels until 4pm, loud neighbours, messy breakfast, dirty pool.
Pros:
Everything was quite fine, nothing outstanding. Rooms pretty nice, beds comfy, general areas including pool fine, food ok.
Cons:
The beer was extremely overpriced - 115K IDR for a warm beer in a can!
Hotel is ok, cleanliness could be improved. Food and beverage took ages to come.
Based on 2 reviews
Cleanliness
9.0
Location
9.0
Overall
9.0
Staff
9.0
Value for money
9.0
---
Pros:
Property looked pleading to the eye
Cons:
Out of reach to many stores
Pros:
The bed was nice , clean and confortable. The room had an air system in the bathroom and a kettle. The side lamps were easy to switch . The restaurant staff was nice helped me to get some vegan food at the restaurant.
Cons:
1- no sign at the breakfast to indicate what is vegetarian and or vegan. A simple colour code would suffice. 2- there were some stain in the bathroom. I'm not sure if that meant that it was dirty. 3- the walls between the rooms were really thin. I wasn't able to sleep because someone was listening to some music until late and then someone else woke up around 5 am and made some noise as well. 4- the Aircon automatically starts at 18degrees c. Could the starting temperature be set at 23 or 25? This was mean better management of the resources and less impact on the climate. 5- instead of having complementary water bottles, could you have a water refill system?
Pros:
Location good and the rooms facing out over the harbour are the best. Breakfast is average and the roof top restaurant is nice.
Cons:
Check out could be smoother.
The open air third floor restaurant has the greatest view of the harbour and sunsets! Food tasty! And staff were so helpful and friendly!
Pros:
Very clean comfortable room. Loved the breakfast and the rooftop bar/restaurant.
Cons:
I would not typically pay this much for a night stay while traveling in Indonesia but after being on a boat for a week, it was a nice treat.
Based on 2 reviews
All
Young couples
Couples
Cleanliness
3.0
Location
6.0
Overall
3.5
Staff
2.0
Value for money
2.0
Cleanliness
2.0
Location
2.0
Overall
2.0
Staff
2.0
Value for money
2.0
Cleanliness
4.0
Location
10.0
Overall
5.0
Staff
2.0
Value for money
2.0
---
Sya pesannya kamar jenis apa,yg d kasih jenis apa..Seharusnya free sarapan ehh in mlah nggak d tanggepin ,nnti d tlfon bru d anterin mkanannya... Tlong yahh lbih teliti
Cons:
No toilet paper in bathroom Dirty walls Stains on towels Stains on bed Stains and holes on pillow case No window Extremely expensive taxi to airport (100k) while on grab I was able to find a car for 35k Please avoid
Pros:
The staff allowed us to check in when we arrived at 7:00 in the morning after our red eye flights, which was a huge pleasant surprise to us.
Cons:
Facilities of the hotel are not as well-maintained as the pictures.
Pros:
Comfy beds. Good breakfast.
Cons:
Pretty run down. Some rooms are stenched in cigerette so much sure you ask for clean room. Air conditioning drips into bathroom floor at door access, i slipped over badly and it was lucky i wasnt badly hurt.
Pros:
Good location not far from the airport and walkable to the places I want to go. Grocery next door. Pool is big enough to do real laps! Quiet at night. Not much English spoken, but staff really tries to help. Good place for an overnight!
Cons:
Needs some TLC, tiles in hallways are broken, all of it needs a paint job.. In room Safes have not worked the 2 times I have stayed here. Plugs are limited and the fridge is not plugged in, nor can you plug in kettle at the serving area.
Cons:
Friendly staff basic breakfes and noisy room good shower fairly comfortable bed
Pros:
Only one restaurant staff was very kind and cooperative.
Cons:
Many facilities in this hotel were broken and not repaired. Finally I moved to Marina Mamberamo Hotel for my 2nd night at Sorong, and felt their tariff is cheaper but their all facifilies are much more clean and comfortable than Hotel Mariat. I think Hotel Mariat should improve much.
Pros:
Staff are really helpful and welcoming. Two thumbs up.
Cons:
Internet doesn't working properly
FAQs when booking a hotel near Sorong Jefman airport
How much is a cheap hotel near Sorong Jefman airport?
How much is a cheap hotel near Sorong Jefman airport for tonight?
How much is a cheap hotel near Sorong Jefman airport for this weekend?
How can I find hotels near Sorong Jefman airport?
Where to stay in Sorong?
Our map will help you find the perfect place to stay close to Sorong Jefman airport by showing you the exact location of each hotel.