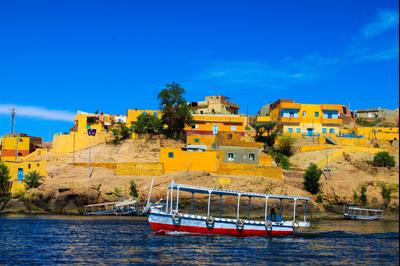 Upper Egypt is in Southern Egypt, stretching from Luxor to the Nubian boarder. On Upper Egypt holidays you will see some of the world's ancient temples and tombs and experience Egyptian history firsthand.
Planning Upper Egypt holidays
The best airport to arrive at is Luxor International (LXR). From here it is around 220 km to Aswan. You can choose to take a Nile cruise up river, hire a car or take an organised tour. Upper Egypt is very hot since it is desert country, so the best time to go is actually winter. November-March temperatures are 23-30°C, while April-October are the hottest months (35-41°C).
What You'll Find In Luxor, Upper Egypt
The great temple complex at Karnak is dedicated to the Egyptian Gods Amun, Mut and Khonsu and took over 2,000 years to build. In the Valley of the Kings you can explore many tombs, including the famous tomb of King Tutankhamun (at an extra cost). A short bus ride away is the huge temple of Queen Hatshepsut, a powerful queen who ruled longer than any queen of Egypt. Hot air balloon rides over the Valley of the Kings are highly recommended for a bird's-eye view of the historical complex. The rarely visited workers' village of Deir el-Medina housed the artists who decorated the pharaohs' tombs. The workers' own tombs look like they were painted yesterday!
Upper Egypt: Further along the Nile
On Upper Egypt holidays, visitors may wish to visit Edfu, the second largest Egyptian temple after Karnak, which is dedicated to the god Horus. There is also Kom Ombo, a unique ""double temple"" dedicated to the gods Horus and Sobek; or Philae, a quiet temple situated on a small island on the Nile. The city of Aswan also has several attractions, including its scenic islands. From there visitors can take a camel ride through the desert and visit the 7th century Coptic monastery of St Simeon's.