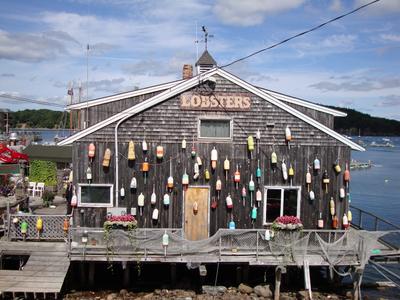 Located on Mount Desert Island on the east coast of Maine, Bar Harbor has been drawing travellers to its rugged coastal landscape for over a hundred years. Today the town attracts 2.5 million annual visitors and is best known for its extensive outdoor recreation opportunities, picturesque waterfront, and charming downtown area.
Planning Bar Harbor Holidays
The best time to visit Bar Harbor is during the summer, when temperatures are in the mid 20's and the greatest majority of activities can be enjoyed. Alternatively the pleasant weather and quieter crowds of autumn also make it an excellent time to witness the foliage turning colour. With only small airports nearby, most visitors elect to fly into Boston Logan International Airport and make the scenic 4.5 journey from there by car. Alternatively, Bar Harbor can be reached by cruise ship. In most cases a car is necessary to reach Bar Harbor, however once settled in, visitors can feel free to leave the car parked and explore downtown on foot or use the shuttle buses to get to the surrounding points of interest. Bar Harbor is in the Eastern Time Zone (GMT-5).
Bar Harbor Holidays: Activities & Excursions
Outdoor enthusiasts will find ample opportunity to kayak, cycle, or mountain climb, whilst those brave enough can hike some of the tallest mountains on the east coast on Bar Harbor holidays. In addition, the town isn't just for active visitors; enjoy a boat tour, try fresh seafood in the many excellent restaurants, or spend the day relaxing in Agamont Park overlooking the water. Nature lovers should most definitely plan to spend at least a day of their trip at the stunning Acadia National Park located just 2 miles from downtown. Bar Harbor holidays are ideal for families seeking a fun-filled getaway in a picturesque and historic New England destination.
Other destinations in Maine