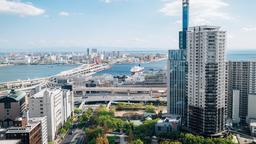 Kobe car hire
Search hundreds of travel sites at once for car rental deals in Kobe
Kobe car hire information
| | |
| --- | --- |
| Pick-up location | Kobe |
| Hire locations | 26 |
| Airport locations | 9 |
Kobe car hire reviews and directory
Times

1, Kitano-cho, Chuo-ku
+81 782 515 656
1, Kobe Kuko, Chuo-ku, Kobe-shi
1-4-28, Mizuki Dori, Hyogo-ku
+81 785 781 744
3-10, Higashi Yanagihara-cho, Hyogo-ku
+81 786 718 200
5-1-27, Onoe Dori, Chuo-ku
+81 782 516 421
Nissan Rent-A-Car

Nissan Rent-A-Car
Locations in Kobe
Hanshin Nishinomiya Ekimae
Europcar

Europcar
Locations in Kobe
Go To Times Car Rental Counter
+81 782 516 421
Go To Times Car Rental Counter
+81 782 516 421
Go To Times Car Rental Counter
+81 782 515 656
Hertz

3 10 Imazaikecho
+81 798 373 100
| | |
| --- | --- |
| Monday | 09:00 - 18:00 |
| Tuesday | 09:00 - 18:00 |
| Wednesday | 09:00 - 18:00 |
| Thursday | 09:00 - 18:00 |
| Friday | 09:00 - 18:00 |
| Saturday | 09:00 - 18:00 |
| Sunday | 09:00 - 18:00 |
3-2 Kobekuko Chuo-ku
+81 783 020 600
| | |
| --- | --- |
| Monday | 08:00 - 22:00 |
| Tuesday | 08:00 - 22:00 |
| Wednesday | 08:00 - 22:00 |
| Thursday | 08:00 - 22:00 |
| Friday | 08:00 - 22:00 |
| Saturday | 08:00 - 22:00 |
| Sunday | 08:00 - 22:00 |
4 2 12 Isobedori Chuoku
+81 782 220 100
| | |
| --- | --- |
| Monday | 08:00 - 20:00 |
| Tuesday | 08:00 - 20:00 |
| Wednesday | 08:00 - 20:00 |
| Thursday | 08:00 - 20:00 |
| Friday | 08:00 - 20:00 |
| Saturday | 08:00 - 20:00 |
| Sunday | 08:00 - 20:00 |
keddy by Europcar

keddy by Europcar
Locations in Kobe
Go To Times Car Rental Counter- 1 Kobekuko, Chuo-Ku
Go To Times Car Rental Counter- 5-1-27,Onoedori, Chuo-Ku
Go To Times Car Rental Counter- Shin-Kobe Oriental Av B1 1 Kitano-C
Sunnycars

Sunnycars
Locations in Kobe
Budget

Kobe Dtn 2-2-13
+81 782 718 511
| | |
| --- | --- |
| Monday | 08:30 - 19:30 |
| Tuesday | 08:30 - 19:30 |
| Wednesday | 08:30 - 19:30 |
| Thursday | 08:30 - 19:30 |
| Friday | 08:30 - 19:30 |
| Saturday | 08:30 - 19:30 |
| Sunday | 08:30 - 19:30 |
National

National
Locations in Kobe
3-1-2 Ashahi-dori
+81 782 310 911
| | |
| --- | --- |
| Monday | 00:00 - 23:59 |
| Tuesday | 00:00 - 23:59 |
| Wednesday | 00:00 - 23:59 |
| Thursday | 00:00 - 23:59 |
| Friday | 00:00 - 23:59 |
| Saturday | 00:00 - 23:59 |
| Sunday | 00:00 - 23:59 |
Nippon Rent-A-Car

Nippon Rent-A-Car
Locations in Kobe
Kobe airport
+81 782 310 911
ORIX Rent a Car

ORIX Rent a Car
Locations in Kobe
Kobe airport
+81 782 610 543
Toyota Rent a Car

Toyota Rent a Car
Locations in Kobe
Kobe airport
+81 783 020 150
Car hire locations in or near Kobe
FAQs about hiring a car in Kobe
Which car hire companies will pick you up at the airport: Kobe airport (UKB)?
Car hire companies that offer shuttle or pick-up services from Kobe airport to off-airport locations include Nissan Rent-A-Car, Times, Europcar and Nippon Rent-A-Car.
How can I find a car hire near me in Kobe?
Take a look at our extensive car hire location map to find the best car hire deals near you.