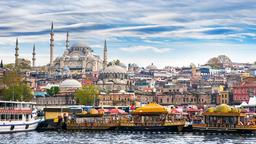 Hotels near Istanbul Ataturk Airport
Search hundreds of travel sites at once for Istanbul Ataturk Airport hotels
Best hotels near Istanbul Ataturk Airport
Based on 82 reviews
Amenities
10.0
Vibe
9.3
Comfort
8.0
Room
8.0
Location
6.6
---
Pros:
Very nice place, great sport hotel with various facilities. Rooms are nice. Good bathroom. Restaurant was rather good. The location close to the new terrible Istanbul airport is brilliant.
Cons:
Wifi did not work well at all. The room automation is laughable. The room temperature cannot be controlled. Temperature was 29C. We had to keep the door to the balcony open the whole stay. What a waste of energy! Breakfast was not that impressive.
Cons:
No transportation available from the airport. And from the hotel. No room service after 22h. The food en the restaurant. And the menu not Clair en English.
Pros:
Nature and big silence around.
Cons:
Very cold restaurant, poor breakfast.
Pros:
Perfectly located close to the airport 20-25 minutes but still in a very quiet and nice surroundings. We played golf and the hotel was located on the golf course, very convenient. The staff at the hotel and golf club were friendly and helpful. Easy to take a taxi to Istanbul and enjoy fantastic restaurants and a great city.
Cons:
The hotel restaurant and the bar could have been more busy and open longer in the evenings.
Cons:
More English TV channels or movie options would be good
Pros:
Very clean, spacious rooms, nice terrace Nice bathroom Close to the airport, green surrounding Very friendly personal
Cons:
Cold floor in the bathroom
Pros:
Excellent location and exclusive setup Amazing 18 holes Golf Course and the horseriding facilities
Cons:
Last dinner in the Resort bistrot was disappointing, no one in the room and the service was absent. Ordered a Rare Tagliata end got served two small slices of beef way overcooked. Reaction of service was slow and under level. Probably they were busy for a local event at a nearby location.
Based on 2,044 reviews
All reviews
Families
Couples
Solo
Business
Vibe
8.8
Value
8.6
Service
8.0
WiFi
7.9
Room
7.7
Vibe
8.6
Value
8.6
Service
8.0
Room
7.0
Breakfast
6.9
Value
8.8
Vibe
8.6
Service
7.8
Room
7.4
Breakfast
6.7
Value
8.8
Vibe
8.5
Service
8.4
Room
7.6
Breakfast
7.2
Service
8.0
Cleanliness
7.8
Room
6.8
Comfort
6.4
Location
6.3
---
Pros:
Yacub, our front desk staff member was the nicest person we met in Turkey. Facilities were adequate or above...way too far from international airport which we did not understand with "4-mile" Descriptor in write-up. Cost $40 USD to get to and from new airport. PLEASE IDENTIFY THIS BETTER IN YOUR DESCRIPTION!!!
Cons:
Turkey is a beautiful city that is not easy to navigate for women who are traveling alone. Hotel did its best with that reality and called us cab back to airport in AM!
Pros:
Close to the Int.airport and as well the city of Istanbul is not far
Cons:
The room is really really small.
Pros:
Kind , helpful and cooperative staff who can speak English
Cons:
Some times electronic card not working properly
Pros:
Very nice staff at the reception. They totally get all the hardships related to the traveling during these crazy times and let me check in early and check out late, so I didn't spend much time waiting at the crowded airport.
Cons:
There was a slight smell of smoke in the room.
Pros:
Everything is perfect especially their customer service from front desk to the kitchen. It's close to the airport. Best place for foreigners to stay.
Cons:
To be frankly honest, there's nothing that I didn't like.
FAQs when booking a hotel near Istanbul Ataturk Airport
How much is a cheap hotel near Istanbul Ataturk Airport?
How much is a cheap hotel near Istanbul Ataturk Airport for tonight?
How much is a cheap hotel near Istanbul Ataturk Airport for this weekend?
How can I find hotels near Istanbul Ataturk Airport?
Where to stay in Istanbul?
Our Heatmaps tool will help you find the perfect place to stay in Istanbul by showing you how close hotel options are to major activities
Popular in Istanbul
Accommodations
Airports in Istanbul
Neighbourhoods in Istanbul