Whilst travellers heading to hedonistic San Antonio and party-mad Ibiza Town can expect wild nightlife it is certainly not the case in Es Cana. Tucked nicely out of the way on the island's east coast, Es Cana is a pretty resort with a laid back attitude. Along with its idyllic crescent shaped beach, the resort's charming little harbour and whitewashed buildings help to reinforce the view that this is the kind of place where relaxation is a wayof life.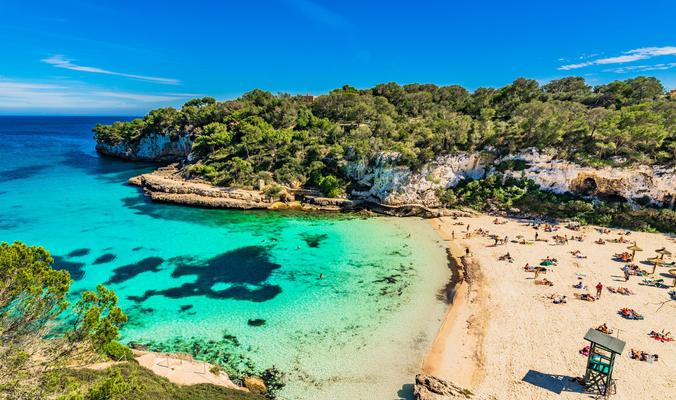 Es Cana holidays: Travel essentials
The island of Ibiza is very fortunate in the fact that it enjoys a typical Mediterranean climate of long, hot summers and short, mild winters. This, along with the case Ibiza is little more than a two and a half hour flight from London, makes Es Cana an especially good choice for British holidaymakers. The fact that the time in Ibiza is just one hour ahead of the UK (GMT+1) and the resort is only a thirty five minute bus ride away from the airport only adds to the Es Cana's appeal.
Es Cana holidays: Highlights
The resort's stunning beach, with its gentle, child-friendly slope and professional lifeguards, is understandably the main highlight of most people's holidays in Es Cana. Indeed the plethora of ringos and banana boat rides, as well as the plentiful opportunities to safely indulge in a spot of waterskiing, parasailing and snorkelling is more than enough to keep most visitors happy. The only real time the focus of the resort shifts away from the beach is when the famed hippy market comes to town once a week. Without doubt, visitors should ensure they are in town on a Wednesday as the people, stalls and street performers that set up for the day really are a sight to behold.
Other destinations in Ibiza Island