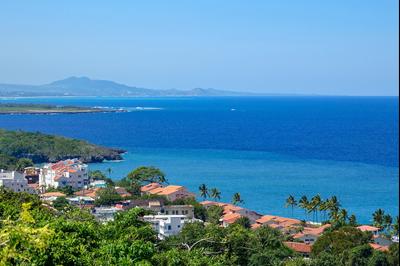 The Dominican North Coast (Amber Riviera) is situated between Haiti and the Dominican Republic on the Caribbean island of Hispaniola. It is surrounded by the deep blue waters of the Caribbean Sea on one side and the Atlantic Ocean on the other, which makes for warm breezes and sunny skies year round. During your Dominican North Coast holidays, enjoy the scenic coastline which seems to go on forever, with miles of beaches for relaxing, swimming and sunbathing. Nature enthusiasts and thrill seekers can explore mountain trails and nature walks or take in the grand views, high altitudes and fresh mountain air while on horseback or paragliding.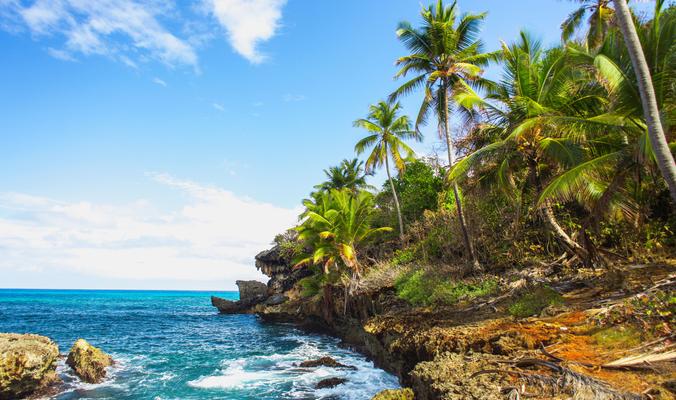 Getting in and around on Dominican North Coast holidays
The Caribbean's version of the Riviera is a favourite sunny destination for European tourists on holiday, because travel is easy, convenient and affordable. Major European carriers and smaller charter flights connect through the Puerto Plato and Samana Airports. For your excursions or day trips you can travel by bus, taxi or private car rental. If you wish to experience the local form of transport, use the "guaguas," the local buses.
Destinations on the Dominican North Coast
The resort town of Puerto Plata has all-inclusive hotels, villas and beaches in Playa Dorado and Playa Grande. Cabarete is a popular tourist attraction in the nearby town of Sosusa, which offers a wide variety of water sports including surfing, sailing and windsurfing. The nightlife in Cabarete is plentiful, with clubs, restaurant and bars that stay open late. In the morning, hire a guide and explore the 27 waterfalls at Los Charcos de Damajagua. The Samana Peninsula at the north-eastern end of the island is worth exploring. Finish your Dominican North Coast holidays by watching the humpback whales. On the Dominican Coast, every visitor can relax and enjoy the natural beauty of this Caribbean coastline, where time seems to stand still.
Other destinations in Dominican Republic
Locations in Dominican North Coast