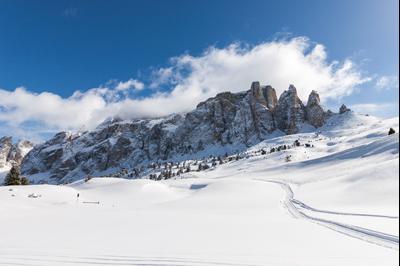 The Dolomites are an alpine region in the north of Italy. Although not as high as the French and Swiss Alps, the mountains of the Dolomites are very dramatic and distinctive with their jagged outlines. With excellent transport connections and infrastructure, Dolomites holidays are ideal for hiking or skiing, or for taking a relaxing break from hectic city life.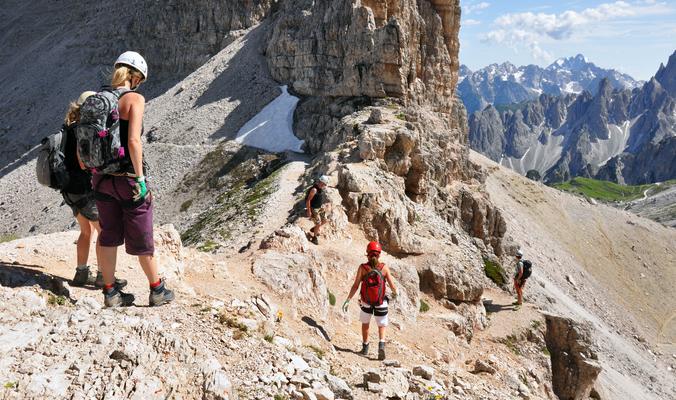 A hike in the Dolomites makes you feel like you're on top of the world
The Dolomites make for a great destination at any time of year. Peak season is the summer, but spring and autumn are also good options and much less crowded, and winter offers excellent skiing. The closest airports to the Dolomite region are Innsbruck, Treviso, Venice and Verona. There are some train lines but hiring a car or joining a coach trip is preferable. Continental European Time is used in the area, one hour ahead of GMT.
Dolomites holidays combine Italian landscapes with Germanic quality and infrastructure
The town of Cortina d'Ampezzo is an excellent base for Dolomites holidays, offering a wide range of hotels. You can get a ride on a local bus to the top of the mountain passes, and there are hiking and biking trails to suit all ages and levels of experience. There are plenty of chair lifts and ski slopes too.
The lakes, waterfalls and forests in the valleys, as well as cable cars to the summits, make for unforgettable outings. For the more adventurous there are tunnels and via ferrata (steel cable) trails. Another option is to spend the night in a mountain chalet at an altitude of 3000 metres - getting up for sunrise is highly recommended. Whether you opt for a sedate stroll, taking in the breathtaking views from a mountaintop restaurant, or a challenging climb across scree and glaciers, Dolomites holidays will not disappoint.
Other destinations in Italy
Locations in Dolomites