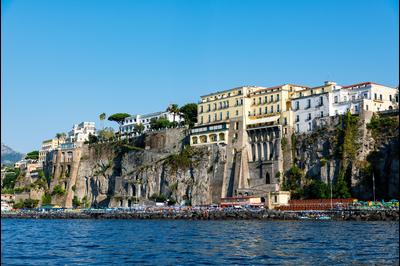 Gulf of Naples holidays in the Campania Region of South Western Italy invite the visitor to enjoy the Islands of Capri, Ischia and the less touristy Procida, all of which are accessible by ferry from Naples the port of Molo Beverello or Sorrento.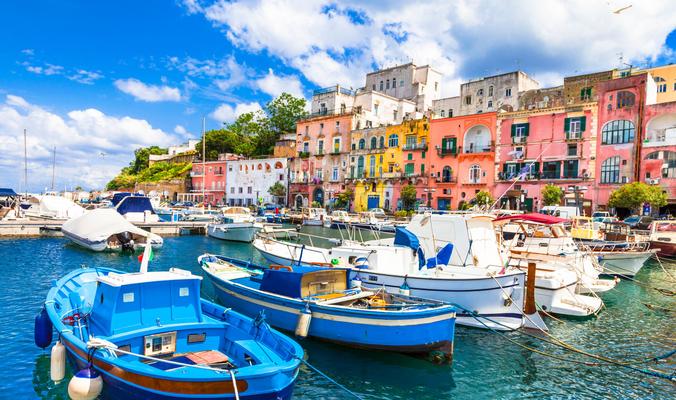 Gulf of Naples holidays: When to visit and how to get there.
The Mediterranean climate of the Gulf of Naples is dry and warm in summer and wetter but still mild in winter. March to May are the most favourable months to visit, the weather is pleasant and not as humid as June through August. Gulf of Naples holidays are the perfect last minute getaway as they are just over two and a half hours from London, with a one hour time difference. The city is served by Naples International Airport which is approximately 3 km north of the city centre.
Things to see and do on your Gulf of Naples holidays.
Built on the ruins of an Imperial Roman Villa in the 1930s, Giardini Di Augusto in Capri is famous for the beauty of its gardens and views of Isole Faraglioni with its three limestone pinnacles. Another of the islands's attraction is the Blue Grotto, a sea cave so named for its apparently iridescent waters, caused by a trick of the light.
Ischia is one of the oldest spa resorts in the world, with hot springs in abundance. The island has a range of beaches from Chiaia, a great expanse of sand that is good for families due to its clean shallow water, to Maronti, which has a number of caves along the cliffs with hot springs that produce steam for a natural outside sauna. The most unique of these is Le Fumarole where thermal activity makes it possible to cook food by burying it in the sand.
Locations in Gulf of Naples