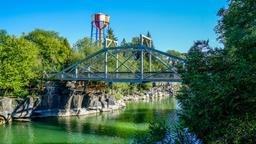 Idaho Falls car hire
Search hundreds of travel sites at once for car rental deals in Idaho Falls
Idaho Falls, ID, United States
Idaho Falls car hire information
| | |
| --- | --- |
| Pick-up location | Idaho Falls |
| Hire locations | 8 |
| Airport locations | 7 |
Idaho Falls car hire reviews and directory
Hertz

╳
Hertz reviews
Car hire locations
Hertz
Locations in Idaho Falls
2140 N. Skyline
+1 208 529 3101
| | |
| --- | --- |
| Monday | 07:00 - 23:59 |
| Tuesday | 07:00 - 23:59 |
| Wednesday | 07:00 - 23:59 |
| Thursday | 07:00 - 23:59 |
| Friday | 07:00 - 23:59 |
| Saturday | 07:00 - 23:59 |
| Sunday | 07:00 - 23:59 |
All Hertz reviews
Hertz reviews in Idaho Falls
National

10.0 Excellent (1 review)
╳
National reviews
Car hire locations
National
Locations in Idaho Falls
2140 N Skyline Dr
+1 208 522 0340
Monday
08:00 - 17:00
20:00 - 22:00
Tuesday
08:00 - 17:00
20:00 - 22:00
Wednesday
08:00 - 17:00
20:00 - 22:00
Thursday
08:00 - 17:00
20:00 - 22:00
Friday
08:00 - 17:00
20:00 - 22:00
Saturday
09:00 - 12:00
Sunday
12:00 - 22:00
10.0 Excellent
7 Aug 2019
Enterprise
8.5 Excellent (29 reviews)
2 locations in Idaho Falls
╳
Enterprise reviews
Car hire locations
Enterprise
Locations in Idaho Falls
2140 N Skyline Dr
+1 208 552 3090
Monday
08:00 - 17:00
20:00 - 22:00
Tuesday
08:00 - 17:00
20:00 - 22:00
Wednesday
08:00 - 17:00
20:00 - 22:00
Thursday
08:00 - 17:00
20:00 - 22:00
Friday
08:00 - 17:00
20:00 - 22:00
Saturday
09:00 - 12:00
Sunday
12:00 - 22:00
898 Northgate Mile
+1 208 523 8111
| | |
| --- | --- |
| Monday | 08:00 - 17:00 |
| Tuesday | 08:00 - 17:00 |
| Wednesday | 08:00 - 17:00 |
| Thursday | 08:00 - 17:00 |
| Friday | 08:00 - 17:00 |
| Saturday | 09:00 - 12:00 |
| Sunday | 00:00 - 00:00 |
Nice Crysler - But needs a Tutor along to help wit
Pros:
Newer car - But too many gaggits/dials I'm not familiar with - Esp in the dark. Took too long to figure out where the light and other important items were. this made my experience unsafe. I did like the seat warmers - but it too a lot of time to figure out the digital control panel. I think it was a Chrysler 200 - very nice - but large learning curve on figuring out all the gaggits - esp the rotating gear shift knob and parking break
Cons:
I thought I was renting the car from IDA airport - but when I got there 5:00 pm (In the dark) they said it had been booked from a lot in downtown Idaho Falls and I had to pay a 12% transfer charge. About $15. There was no Snow scraper or brush to clear off the Snow on the windows - so I had to go back into the airport to get one (It was about 15-20 degrees and wind blowing.
Lousy!
Cons:
You messed up the reservation! I called them the day before and they had NO reservation for me. I therefore mad a reservation through the Enterprise website AND at a lower price! You guys are worthless!
9.6 Excellent
14 Jun 2016
Pros:
I picked up my car from the Idaho falls airport, they were very nice, accommodating, answered questions, not pushy. All around great.
Great service, though car was expensive
Pros:
The customer service was excellent, as usual with Enterprise. I had even made a mistake and rented a car from a location off the airport lot, and though they couldn't move the reservation to the airport because they had no more cars to rent, they did allow me to return it to the airport at the end of rental for no additional charge.
Cons:
The car was a Jeep Compass SUV, which had very little power. It was also expensive - and not just because it was an SUV. The compact cars were the same price, over $60/day. However, it seemed as though Idaho Falls rental car companies were mostly comparable.
Cons:
Kayak has the wrong address for the airport enterprise location so I was told i'dbhave to take a cab downtown! Not possible as a single mom with luggage, car seat, toddler, etc. so cancelled this rental and got another. Fix this issue.
Not at Airport
Pros:
It was clean and they gave me a ride back to the airport when I returned the car.
Cons:
We thought we could pick up the car at the airport but they would not honor our reservation for the price. We had to take a taxi across town to pick up the car we had reserved. They were annoyingly unhelpful.
Car not at airport location - caused clusterfuck
Pros:
Everything about Enterprise was excellent
Cons:
Kayak's algorithim needs a fix if you regularly sell people airline tickets then book them cars at another location! I figure Kayak owes me 2 hours of my life back and at least $30 for the Uber fair over to get and return the car.
10.0 Excellent
3 Oct 2016
Enterprise, Roll With Us....
Pros:
Cody was the agent at the airport and he was most helpful, friendly, and knowledgeable about the area.
Cons:
Everything was fine.
Pros:
Very easy return experience with a pleasant employee
9.2 Excellent
16 Oct 2016
Pros:
Car was an upgrade, easy to drive. Pick up was relatively easy, usually my wife is picky about the configuration of her seat (back issues ). This car exceeded expectations
Cons:
I had thought that pickup was in the airport, but was a 10 minutes taxi ride away. Ended up being much cheaper and with more car choices.
╳
Alamo reviews
Car hire locations
Alamo
Locations in Idaho Falls
2140 N Skyline Dr
+1 208 522 0340
Monday
08:00 - 17:00
20:00 - 22:00
Tuesday
08:00 - 17:00
20:00 - 22:00
Wednesday
08:00 - 17:00
20:00 - 22:00
Thursday
08:00 - 17:00
20:00 - 22:00
Friday
08:00 - 17:00
20:00 - 22:00
Saturday
09:00 - 12:00
Sunday
12:00 - 22:00
Lousy customer service.
Cons:
I called and cancelled a day after making it but a credit still has not come through. I'm not very happy about it. I made the reservation for my son but under my name. I called back to make sure he could be the driver on my credit card and was advised he could not but they could cancel mine and book him so I called and got his information, called back and changed the reservation. Not only were we both billed but he was charged $50 more for the same rental. I was told by the book agent he'd just change the information on the original booking. I'm not very happy about my $$$$$ expensive car rental.
10.0 Excellent
4 Jan 2018
Idaho Falls SUV
Pros:
We went skiing at Grand Targhee and opted for the mid-size SUV. We had a Toyota 4Runner that was absolutely great. The folks at the counter were great and we will be renting from Alamo again.
Counter agent was less than pleasant
Cons:
Our counter agent was very sharp. Her customer service skills were lacking.
Upgrade was a downgrade
Cons:
The minivan I reserved wasn't available, so they put us in a giant SUV. It ended up costing us 150 more in gas for our trip, so the upgrade wasn't an upgrade at all.
Non fuctioning equipment
Cons:
The cruise control and collision avoidance systems did not work and were constantly flashing "saying take to dealer immediately" when Alamo was told about this they just blew it off !!
10.0 Excellent
11 Apr 2018
Pros:
Drop off is convenient.
10.0 Excellent
6 Jan 2019
Avis

╳
Avis reviews
Car hire locations
Avis
Locations in Idaho Falls
2140 North Skyline Drive
+1 208 523 6066
Monday
09:00 - 17:00
21:00 - 22:00
Tuesday
09:00 - 17:00
21:00 - 22:00
Wednesday
09:00 - 17:00
21:00 - 22:00
Thursday
09:00 - 17:00
21:00 - 22:00
Friday
09:00 - 17:00
21:00 - 22:00
Saturday
09:00 - 17:00
21:00 - 22:00
Sunday
09:00 - 17:00
Pros:
The upgrade to a LIncoln MKX was great!
Cons:
didn't like the overage charge on mileage when it was for a vacation that crossed borders of USA to Canada one way rental. Not reasonable when you are there for a vacation of a lifetime. It made us always keeping an eye on mileage and considerations for activity. That Sucked!
Cons:
The initial agent was 20 minutes late to open so our plans to leave on time were postponedoing immediately. When we gave her the information to obtain the vehicle she said it kept blanking out the information entered. I asked if she had had a customer service number she could call for help she said she didn't. So I Googled a number and told her I would call. At that point she picked up her phone and called someone. She talked on the phone for an hour withe someone and kept giggling and talking about things that were not related to the issue . She was not to the point and did not make time of the essence in the least bit. She didn't even apologize or say anything about what poor service we received
Cons:
We had reserved car seats after making the booking but they weren't available at the time of rental. In the end, they gave us one booster seat and one old convertible from the garage (we had reserved two convertibles for our toddlers).
╳
Budget reviews
Car hire locations
Budget
Locations in Idaho Falls
2140 North Skyline Drive
+1 208 522 8800
Monday
09:00 - 17:00
21:00 - 22:00
Tuesday
09:00 - 17:00
21:00 - 22:00
Wednesday
09:00 - 17:00
21:00 - 22:00
Thursday
09:00 - 17:00
21:00 - 22:00
Friday
09:00 - 17:00
21:00 - 22:00
Saturday
09:00 - 17:00
Sunday
09:00 - 17:00
21:00 - 22:00
Fast check out,
Pros:
Returning the rental car was fairly easy. The counter employees was friendly and efficient
Cons:
Not enough parking spaces for rental car return, not clearly marked. Ended up being more money than I planned.
10.0 Excellent
30 Dec 2017
Pros:
Sales person indicated she would have batteries on key remote replaced.
Pros:
The young woman at Idaho Falls gave us a Durango for two people. She said that she did not have the suv we requested. The Durango wouldn't lock so we had to take time out of our first day of vacation to drive to W. Yellowstone to exchange it for a smaller vehicle which had not been cleaned!!!
Cons:
If someone orders a specific type of vehicle it should be available at pickup not told to drive an enormous car they don't want. I ordered the car 2 weeks in advance so it shouldn't be difficult to have it available and clean.
Sunnycars

Sunnycars
Locations in Idaho Falls
44 travellers who hired a car in Idaho Falls gave the car agency they used an average rating of 8.0
Car hire locations in or near Idaho Falls
Good to know
| | |
| --- | --- |
| Most popular car type | Compact |
When to book a car hire in Idaho Falls
Average daily price per month
Car hire prices as pick-up date approaches
Top tips for hiring a car in Idaho Falls
Book your car hire in Idaho Falls at least 1 day before your trip in order to get a below-average price
FAQs about hiring a car in Idaho Falls
What is the best car hire agency in Idaho Falls?
Based on ratings and reviews from real users on KAYAK, the best car hire companies in Idaho Falls are Alamo (8.7, 6500 reviews), Enterprise (8.5, 12859 reviews), and National (8.5, 11 reviews).
How can I find a car hire near me in Idaho Falls?
Take a look at our extensive car hire location map to find the best car hire deals near you.
How much does a Compact car hire cost in Idaho Falls?
A Compact car hire in Idaho Falls costs £27 per day, on average.