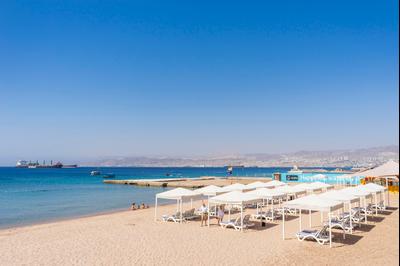 Jordan holiday information
| | |
| --- | --- |
| Top holiday (Flight+Hotel) | £292 |
| Family holiday (Flight+Hotel) | £276 |
| Romantic holiday (Flight+Hotel) | £326 |
| Luxury holiday (Flight+Hotel) | £377 |
| Budget holiday (Flight+Hotel) | £284 |
Formally a British Mandate following the fall of the Ottoman Empire, Jordan sits on the East Bank of the Jordan River and the Dead Sea. Jordan borders many Middle East states, including Syria, Iraq, Israel, Palestine and Saudi Arabia. A large part of the country is covered by desert. Holidays in Jordan tend to include visits to sites of historical and archaeological significance, notably Petra and Jerash, while further to the south Aqaba offers seaside tourism.
Holidays in Jordan: Climate and travel.
Jordan uses Arabia Standard Time (UTC+3) with no daylight saving time. In the most inhabited areas the climate is fairly Mediterranean, with dry hot summers and colder winters. In general, the further inland from the Mediterranean the dryer the climate. Travelling to Jordan is possible via a number of routes. International flights are available to two airports, Amman in the north and Aqaba, Jordan's only port.
Holidays in Jordan: Ancient civilization in Petra and Jerash, swimming in the Gulf of Aqaba
Holidays in Jordan would be incomplete without a visit to the iconic ancient city of Petra, a World Heritage Site. Petra is famous for the staggering size of the buildings that have been cut out of rock, as well as for its water conduit system. Jerash, meanwhile, is famous for the ancient Roman and Greek structures that still stand there, including the Corinthium column, two Temples to the Ancient Greek Gods Zeus and Artemis, Roman baths and a hippodrome.
The Gulf of Aqaba connects Jordan to the Red Sea. Aqaba is well known for its strategic importance and during the Battle of Aqaba in 1917, T. E. Lawrence and Sharif Hussein's Arab forces captured it from the Ottomans. Nowadays, Aqaba's dazzling beaches and coral filled sea offer luxury beach hotels and resorts for those with a preference for the seaside. Watersports and activities such as scuba diving and wind surfing are widely available.