Québec City holiday information
| | |
| --- | --- |
| Top holiday (Flight+Hotel) | £269 |
| Family holiday (Flight+Hotel) | £241 |
| Romantic holiday (Flight+Hotel) | £308 |
| Luxury holiday (Flight+Hotel) | £282 |
| Budget holiday (Flight+Hotel) | £307 |
Quebec City (known simply as 'Quebec' by locals) is undoubtedly the jewel in the crown of the Quebec region of Canada. Spread across the gloriously picturesque Cap Diamant promontory and the banks of the St Lawrence River, this walled city - the only one north of Mexico City - is so beautiful UNESCO fell over itself to confer World Heritage status upon it. With an estimated 90 percent of the city's 750,000 inhabitants citing French as their mother tongue, it's small wonder visitors sometimes forget which continent they're actually on, more so when they're biting into a nice, hot crocque-monsieur outside a Parisian-style café in the evening.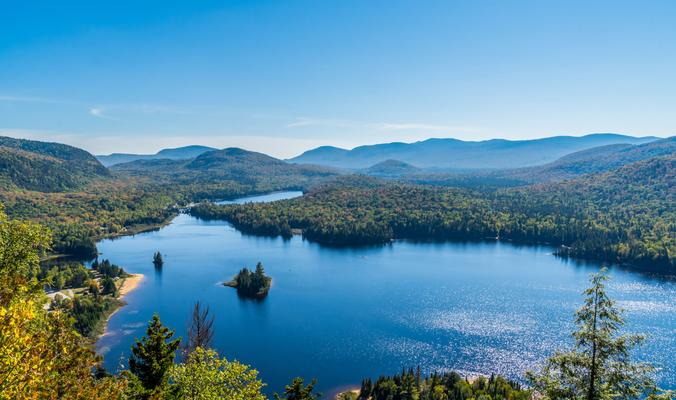 Quebec holidays: Travel essentials
The weather and climate in Quebec City varies significantly season by season, with hot and humid summers contrasting with cold, snowy winters. Although nights can be cool during the summer, the days are usually warm and quite sunny (maximum temperatures range from 20-25°C from June to August). Winters in Québec City are not for the faint-hearted with snowfalls up to four metres deep and temperatures dropping as low as -17°C! Flights to Quebec City from the UK take around 7½ hours whilst getting around is quick and relatively inexpensive thanks to the city's efficient and affordable public transportation system. The time in Quebec is five hours behind that of the UK (GMT -5).
Quebec holidays: Highlights
Strolling around the old city and taking in the sights which remain within the its walls is understandably the highlight of most visitors' holidays to Quebec. With its meandering cobbled streets, elegant parks and squares and 17th and 18th century stone houses and churches, the old city is every bit as evocative as Paris, Bruges or Avignon. Exploring the huge Citadelle fort and taking in the majestic views from the Terrasse Dufferin are also highlights. Needless to say, no visit to Quebec is complete without sampling the region's French-inspired (and contemporary crossover) cuisine.
Other destinations in Quebec