Canada holiday information
| | |
| --- | --- |
| Top holiday (Flight+Hotel) | £276 |
| Family holiday (Flight+Hotel) | £240 |
| Romantic holiday (Flight+Hotel) | £404 |
| Luxury holiday (Flight+Hotel) | £416 |
| Budget holiday (Flight+Hotel) | £200 |
Canada holiday price trends
Estimated flight+hotel price
Canada in
{1}
2 travellers
Flight to Canada
3 nights at hotel
Median hotel rate + median airfare from United Kingdom
Much of Canada's appeal (and fortune) comes from its gargantuan size. As the second largest country on Earth, Canada manages to keep its natural resources well protected, its wilderness truly pristine, its cities well-sized, and its people quite content. Because of this, the Canadian way of life is very positive and Canadians themselves radiate an optimism that Europeans in particular find very appealing.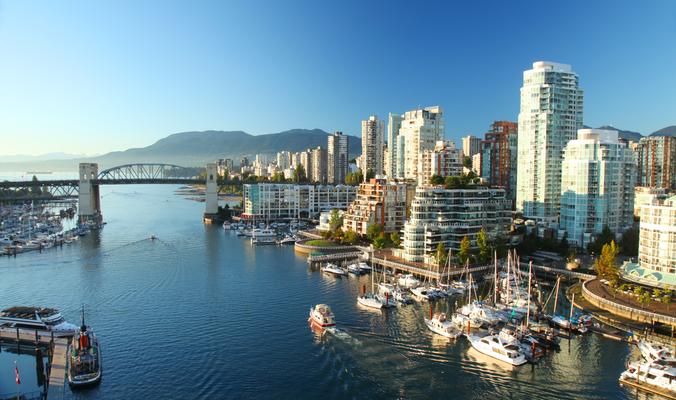 Holidays to Canada: Climate & time
Although there is never really a bad time to book holidays to Canada, most tourists (aside from those looking to ski in the Rockies) tend to avoid making trips in the height of winter, as Canadian winters really can be quite harsh. Summers are generally mild across most of the country, as is late spring and early autumn. As well as making themselves aware of regional climates and seasonal weather events, visitors who are keen to travel across this huge country by train, car or motorhome will need to bear in mind that Canada has six different time zones (from GMT-9 in the west to GMT-4 on the easternmost coast).
Canada Holidays: Natural wonder
With pristine Arctic tundra, immense prairie lands, scenic boreal forests, rugged coastlines and majestic mountain ranges, it is fair to say that Canada is blessed with some of the most awe-inspiring natural sights in the world. Moreover, the creatures that like to call this vast land home (bears, whales, wolves, elk, bison and caribou, for example) really are something special to behold.
Holidays to Canada: Urban appeal
Canadian cities are often seen as being much the same as their American counterparts south of the border. This is a huge injustice as cities like Toronto, Vancouver, Calgary, Montreal and Ottawa are not only very friendly and incredibly safe; they are also equipped with supremely efficient public transport systems which make getting around town an absolute breeze.
Locations in Canada
Other popular destinations