This Saturday (20 July) marks 50 years since the first human set foot on the moon. With a few small steps and a not-always-giant leap of a flight, it is possible to find amazing lunar landscapes on Earth
 July 20th, 1969 saw the lunar module 'Eagle' land on the surface of the moon, and Neil Armstrong became the first human to set foot on it.
But 50 years later, it is possible to relive this historic event by visiting one of the few places on earth with a lunar landscape reminiscent of the moon. Here are travel search engine KAYAK.co.uk's top ten lunar landscapes on the planet:
Zhangye National Park, China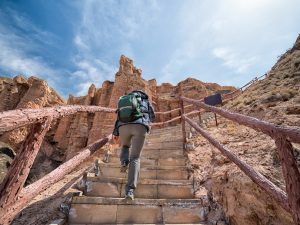 Located in the northern foothills of the Qilian Mountains, in the counties of Linze and Sunan, Zhangye National Geopark covers 322 square kilometers. Famed for its unusually-coloured 24 million-year-old rocks, it's an out-of-this-world experience. With no direct flights from the UK, this is one for the adventurous traveler.
Haleakalā National Park, Hawaii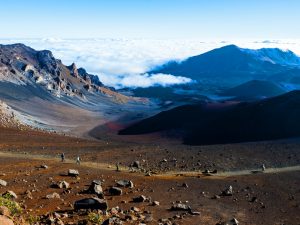 Located on the island of Maui, the national park covers over 33,000 acres, and translates as 'House of the Sun'. A dormant 720m-deep volcano helps to create the lunar landscape which can be found here. Average flight prices to Hawaii from the UK cost £995.
Landmannalaugar, Iceland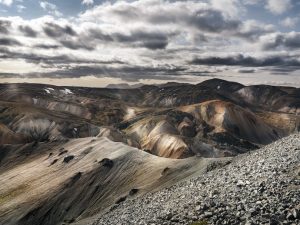 Located in the Highlands of Iceland, Landmannalaugar is one of the most famous lunar landscapes on Earth. Featuring rugged mountains and deep valleys, in its centre is an active volcano, dried lava from which gives the surrounding area an unmistakably lunar vibe. One of the cheapest lunar-likes, flights to its nearest airport Reykjavik average £161.
Salar de Uyuni, Bolivia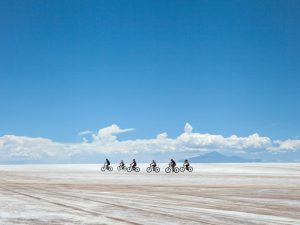 Bolivia's lunar landscape comes courtesy of the world's largest salt flat, formed due to the transformation of prehistoric lakes. Whilst not quite as far away from sea level as the moon, it has an impressive elevation of 12,000ft. If there happens to be rainfall during a trip there, the layer of water transforms it into the world's largest mirror.
Valle de la Luna, Chile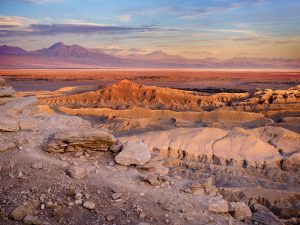 Located in the Atacama Desert, its stone and sand landscape has been shaped by wind and water over the millennia, which gives it its moon-like quality. In fact, its landscape is so out-of-this-world that a Mars rover prototype was tested here due to the resemblance. Flights to Santiago cost an average of £736 .
Bardenas Reales, Spain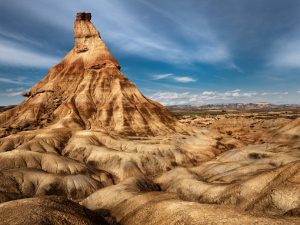 The Bardenas Reales in northern Spain is a semi-desert made up of ocher clay, limestone and sandstone. The landscape is dominated by the Barrancas, dried riverbeds that zigzag through the area. It can be cheaply reached via Zaragoza airport, average flights to which cost £114 from the UK.
Bisti/De-Na-Zin Wilderness Area, New Mexico, USA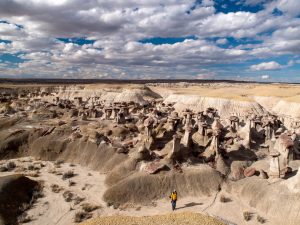 A 45,000 acre wilderness area, it is a desolate and heavily eroded landscape that, as recently as this year, was extended by 1,250 acres. Known as 'badlands', it is most easily accessed via Las Vegas – making it a location worth gambling on. Average flight prices come in at £534.
White Island, New Zealand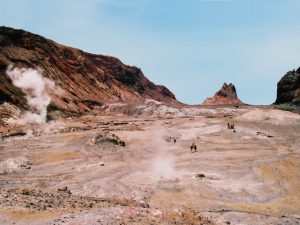 A long trip – but closer than the actual moon at least – White Island is the only volcanic island in New Zealand. Measuring just 1.2 miles across and located 30 miles off the coast of the main North Island, its volcano has been continuously releasing volcanic gas since the 1700's. The best route is via Auckland, which costs an average of £862.
Fish River Canyon, Namibia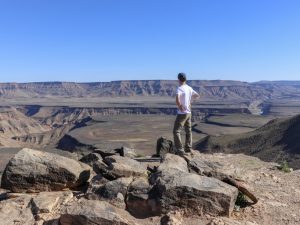 Found in South Namibia, Fish River is the largest canyon in all of Africa. Its ravine measures 100 miles long and is up to 550m deep, with viewing platforms allowing visitors to get a perfect view of the lunar-esque landscape. Flights to this lesser-known wonder cost an average of £720.
Timanfaya National Park, Lanzarote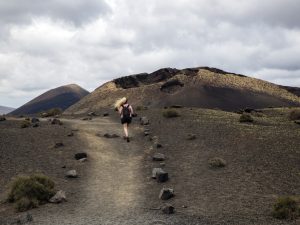 Found on the popular tourist island of Lanzarote, Timanfaya National Park is one of the most accessible lunar landscapes for Brits. It is made up entirely of volcanic soil and geysers of steam are an attraction for tourists. Average prices are £237 but there will be cheaper flights to be had for those who can avoid peak holiday seasons.
Notes to editors:
Prices based on searches made on kayak.co.uk between 2018.06.01-2019.06.01 for return flights in economy class for travel between 2019.07.01-2022.07.01 – prices are subject to availability, are not guaranteed and may no longer be available.