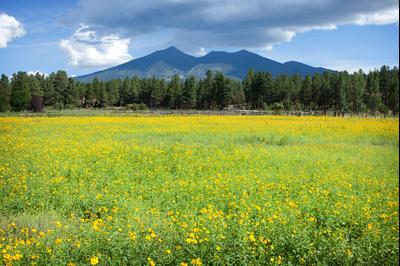 Flagstaff holiday information
| | |
| --- | --- |
| Top holiday (Flight+Hotel) | £2297 |
| Family holiday (Flight+Hotel) | £2309 |
| Romantic holiday (Flight+Hotel) | £2369 |
| Budget holiday (Flight+Hotel) | £2253 |
Flagstaff is a city in northern Arizona. Located near the San Francisco Peaks, Flagstaff is at an altitude of 6,990 feet. Surrounded by forests of ponderosa pine trees, Flagstaff has some great landscapes for visitors to explore: from mountain canyons to cliff dwellings.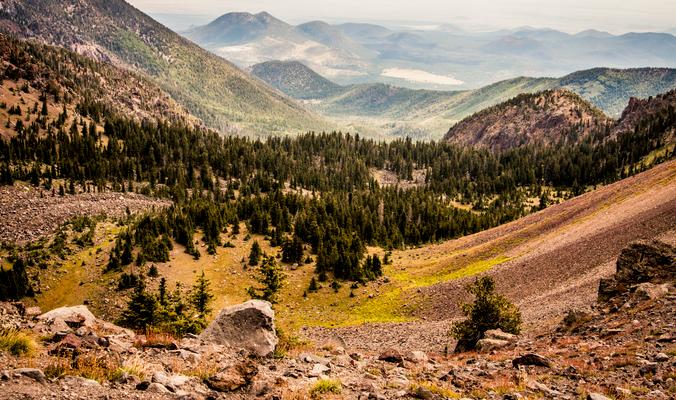 Flagstaff holidays: Essentials
The Flagstaff Pulliam Airport is a regional airport, with regular flights to Phoenix. The nearest international airport is about 150 miles away, in Phoenix. Meanwhile, the Amtrak Chicago-Los Angeles rail line and various coach services both serve downtown Flagstaff. However, it's easiest to see the attractions in the region with a rental car. Flagstaff, Arizona is in Mountain Time Zone (GMT-7). It has a dry continental climate with cold, snowy winters. Those hoping for warmer weather should book Flagstaff holidays for the summer months, when the city also hosts several Native American festivals, but winter is ideal for skiing holidays.
Flagstaff holidays: National monuments, natural history
The triumvirate of national monuments around Flagstaff encompasses more than 40,000 acres of canyon and mountain landscapes. Visitors should explore the Sunset Crater Volcano, with hiking trails that skirt the Bonito Lava Flow. In the Walnut Canyon National Monument, Walnut Creek has carved 600-foot deep canyons into the limestone. The visitor centre has a museum and panoramic views of the canyon. Other attractions include the Wupatki National Monument, near Sunset Crater Volcano, which is rich in native American ruins, along with the Montezuma Castle National Monument, whose highlight is one of the best-preserved cliff dwellings in North America.
Stargazers should check out the Lowell Observatory in Flagstaff, which features an Alvan Clark Telescope, and has guided tours for visitors. The Museum of Northern Arizona covers the natural history of the region. In warmer weather, check out the Arboretum at Flagstaff, a 200-acre botanical garden with a large collection of high country wildflowers. In winter, skiers should make a trip to the Arizona Snowbowl in the San Francisco Peaks.
Other destinations in Arizona