Santa, sleigh bells, and sunshine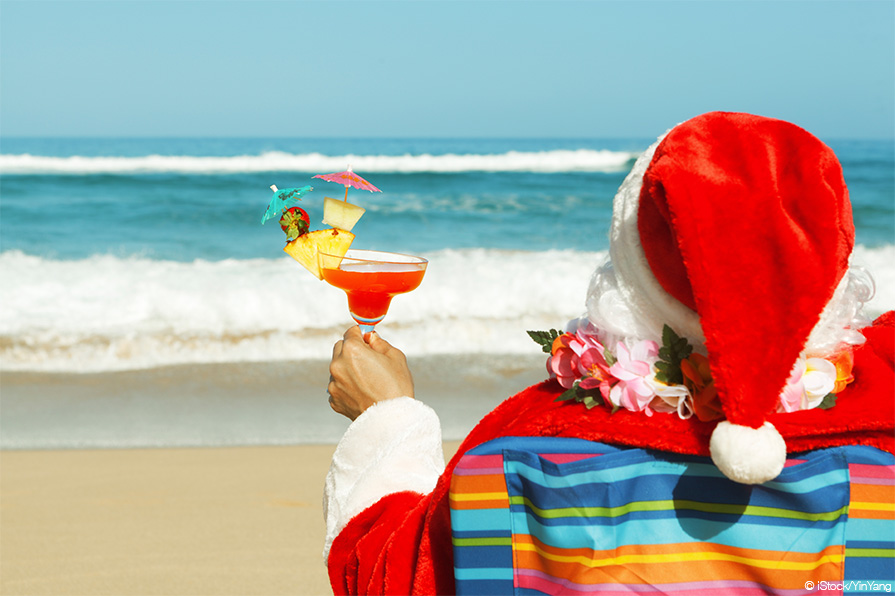 Europe during Christmas can be cold, dark and blanketed in snow, but all is not lost! In some parts of the world, the sun is still shining and Christmas markets flourish under its golden rays. No need to daydream of an escape each year. We've gathered a collection of destinations for any budget, from a weekend jaunt in Mallorca to a Christmas beach parade in Hawaii. All you have to do is choose.
Tradition in Barcelona
One of the oldest and most established Christmas markets in Barcelona is the Fira de Santa Llúcia. Historically, the location was used as a marketplace for crib-building supplies. These days the market is a vibrant mix of music, parades and hundreds of stalls. Find flight deals to Barcelona.
A royal pre-Christmas season
Near the French Côte d'Azur, the Christmas market in the principality of Monaco offers gourmet products and countless Christmas gifts. Alongside the myriad of trinkets is a model railway, a Ferris wheel and plenty of games. Find flight deals to Nice.
Viva España on Tenerife
Since 2007 in Santa Cruz, a Christmas market has been held on Plaza de la Concepción in front of the Iglesia de la Concepción church. The beautifully decorated stalls are packed full of candles and other Christmas goodies, making this the perfect place to enjoy the festive atmosphere and grab a couple of last minute gifts. Find flight deals to Tenerife.
A different side of Mallorca
Over the first weekend in December, in the Mallorcan capital Palma, a traditional Christmas market takes place at Pueblo Español. Visitors can experience the lively Christmas spirit every day from midday to 11pm. Find flight deals to Palma.
Arabian Christmas nights
In December, the "Dubai Christmas Fest" brings the Christmas experience to the city, wrapping an amphitheatre in festive cheer. Keep an eye out for local celebrities while shopping for Christmas gifts or dining in one of the superb restaurants. Find flight deals to Dubai.
Grüezi Abu Dhabi
Abu Dhabi says "Grüezi" each December with its "Swiss Christmas Market" on the beach of Rotana. A special highlight comes in the form of daily performances by the "Original Appenzeller Streichmusik Alder", one of the most well-known Swiss folklore bands. Find flight deals to Abu Dhabi.
Fair Christmas
In the Australian city of Melbourne, a very special Christmas market comes to life at Federation Square, selling a range of fair trade gifts and souvenirs. Check off your Christmas list then enjoy a wander through the small "forest" of around 150 trees at Fair@square. Find flight deals to Melbourne
All the Christmas you can handle
It may come as a surprise that "Santa's Enchanted Forest" in Miami is the biggest Christmas market in the world. From late October to early January each year, visitors can delight in attractions including an amusement park, shows, and a petting zoo. Find flight deals to Miami
German Christmas in Africa
Refreshing drinks, stalls with Christmas gifts, and German specialties – that's the mixture you can find at the numerous Christmas markets in the second biggest city of South Africa: Cape Town. Find flight deals to Cape Town
Christmas parade on the beach of Hawaii
Hawaii doesn't host a traditional Christmas market – here, the season is celebrated with a parade. On 20th December, the "Festival of Lights" boat parade creates its own Christmas glow. You can even buy a special event t-shirt to prove you were there. Find flight deals to Honolulu
It's not too late for a sneaky pre-Christmas getaway. Why not take a festive detour as a little gift to yourself.
Where in the world would you like to celebrate Christmas this year?
(Preview photo cred: iStock.com/Csondy)