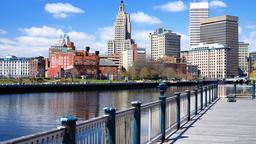 Providence car hire
Search hundreds of travel sites at once for car rental deals in Providence
Providence, RI, United States
Providence car hire information
| | |
| --- | --- |
| Pick-up location | Providence |
| Hire locations | 6 |
| Airport locations | 1 |
Providence car hire reviews and directory
Hertz
3 locations in Providence
╳
Hertz reviews
Car hire locations
Hertz
Locations in Providence
400 Silver Spring St.
+1 401 274 4043
| | |
| --- | --- |
| Monday | 08:00 - 18:00 |
| Tuesday | 08:00 - 18:00 |
| Wednesday | 08:00 - 18:00 |
| Thursday | 08:00 - 18:00 |
| Friday | 08:00 - 18:00 |
| Saturday | 09:00 - 12:00 |
| Sunday | |
630 Taunton Ave
+1 401 431 5176
| | |
| --- | --- |
| Monday | 08:00 - 18:00 |
| Tuesday | 08:00 - 18:00 |
| Wednesday | 08:00 - 18:00 |
| Thursday | 08:00 - 18:00 |
| Friday | 08:00 - 18:00 |
| Saturday | 09:00 - 12:00 |
| Sunday | |
700 Jefferson Blvd
+1 401 738 7500
Monday
00:00 - 00:30
06:00 - 23:59
Tuesday
00:00 - 00:30
06:00 - 23:59
Wednesday
00:00 - 00:30
06:00 - 23:59
Thursday
00:00 - 00:30
06:00 - 23:59
Friday
00:00 - 00:30
06:00 - 23:59
Saturday
00:00 - 00:30
06:00 - 23:59
Sunday
00:00 - 00:30
06:00 - 23:59
10.0 Excellent
1 Aug 2016
All staff were great
Pros:
The gentlemen who rented to me (I wish I could remember his name) chatted with me at the counter at pickup, was very friendly, and went over the insurance options clearly. Carlos, who drove me home after I finished my rental, was a fascinating guy with a fascinating story, which he shared with me appropriately, at my asking. Amount charged was amount quoted. No problems!
8.0 Excellent
26 Sep 2016
Good but No cameras
Pros:
In good working order and clean (no smoke smell is most important to me). Pickup and drop off were easy; staff were friendly and helpful.
Cons:
A bigger car than I wanted and it was hard to get used to especially without a backup camera or proximity sensors. Not a big deal, but would have been a nicer feature than the extra room.
9.6 Excellent
11 Oct 2016
http://www.nba.com/kings/news/kings-announce-2016-
Pros:
Pickup and drop off was very easy,very clean and nice car for a ride.good customer service too
Cons:
I founded it a little expensive with the insurance
Cons:
Car was disgusting dirty
Will not use Kayak.com for rental cars anymore
Cons:
The rates I get upon arrival don't match what Kayak advertises
Pros:
Car didn't smell like smoke at least
Cons:
They didn't clearly spell out all my options so I ended up paying extra for things I didn't realize I was going to be charged for (like gas). Also the fees for a young driver were not what I had found online. Basically don't book online
10.0 Excellent
9 May 2017
Nice recovery by Hertz
Pros:
Kayak kind of messed me up, by giving me a great deal on a rental car for a location OTHER THAN the airport where I was landing. I would have had to take a taxi into town to get the car. There is no reason for this confusion on the website. Hertz did a good job of getting me into the same car at the airport, only charging me the extra airport taxes. Nice job, Hertz. Kayak can do better.
8.0 Excellent
19 Oct 2019
Cons:
Car was smaller than what we reserved. It still suited our needs, so I didn't object. I would have if I needed the extra space.
8.0 Excellent
18 May 2017
Cons:
When booking only mid size available. Compact was available on arrival but couldn't get the price sincebooking on line
Worst car rental of my life!
Pros:
The guy at check-in was courteous, pleasant, and helpful. The woman that assisted me with the fiasco of check-out was nice and polite, helping me in any way she was able.
Cons:
There was no one present to move cars into the lot at checkout! The drop off area was completely overflowing, leaving no space to pull in and leave my car. I drove to and then back out of Car Return area 6 times before being barely able to drop off car. I missed my scheduled flight, ending up with a 7 hour delay as well as rearranging my established pick up at my destination. By the time I arrived, I had lost a day of my vacation as well as having to forego previous time spent with family ...the whole reason I was on vacation!
Enterprise
8.4 Excellent (8 reviews)
╳
Enterprise reviews
Car hire locations
Enterprise
Locations in Providence
1 Sabin St
+1 401 861 4408
| | |
| --- | --- |
| Monday | 08:00 - 18:00 |
| Tuesday | 08:00 - 18:00 |
| Wednesday | 08:00 - 18:00 |
| Thursday | 08:00 - 18:00 |
| Friday | 08:00 - 18:00 |
| Saturday | 09:00 - 16:00 |
| Sunday | 09:00 - 14:00 |
Cons:
The cost of renting the car for one week during a time when demand for rental cars typically is relativelt slack.
Cons:
Was charged more than $200 over what I was quoted. I will avoid Enterprise and carrentals.com in the future
8.0 Excellent
11 Oct 2016
Cons:
30-minute delay in picking up car
9.2 Excellent
15 Oct 2016
Cons:
Our pickup was unexpected because we were at the wrong location. If you fly into Providence, RI, you won't pickup your car at the Providence, RI location. There is a separate location in Warwick, RI that is attached to the airport.
10.0 Excellent
24 Oct 2016
A great experience
Pros:
Problem free.Clean and reliable vehicle.Fast and courteous service.Will rent from Enterprise again.
10.0 Excellent
18 Nov 2016
Pros:
The service was amazing and the manger was great!
10.0 Excellent
16 Jan 2017
Feedback
Pros:
The customer survive was amazing. Very friendly staff with great professional engagement. The only area of improvement was in car presentation. The vehicle was not externally cleaned well. The detail staff left the entice bottom half of the vehicle dirty. You could actually see where they stopped cleaning. Looked very bad.
9.6 Excellent
24 Apr 2017
Clean, comfortable, resonable price
Pros:
All around great experience. Brand new Dodge Grand Caravan. Ran great. Easy pick up and drop off.
╳
Budget reviews
Car hire locations
Budget
Locations in Providence
17 Eddy Street
+1 401 751 5401
| | |
| --- | --- |
| Monday | 08:00 - 18:00 |
| Tuesday | 08:00 - 18:00 |
| Wednesday | 08:00 - 18:00 |
| Thursday | 08:00 - 18:00 |
| Friday | 08:00 - 18:00 |
| Saturday | 08:00 - 16:00 |
| Sunday | 08:00 - 16:00 |
Cons:
They tried to overcharge me and violate the agreement. Very dishonest.
Car reeked of cigarette smoke.
Cons:
I didn't realize it until I had left the highway that the car reeked of cigarette smoke. Rental locations near my destination were inconvenient and the day I would have been able to switch vehicles, they were closed. When I returned the car, all they would do for me is give me a $10 discount on my next rental. I am allergic to cigarette smoke and was travelling with small children. We had to borrow a family member's car for our stay and only used the rental to drive 1 hour 15 minutes to and from the airport. I'm very disappointed Budget did not do the right thing.
10.0 Excellent
14 Sep 2016
Great price great service
Pros:
Once I contacted budget, they were super helpful about making sure I got the car from their downtown location but was able to return it at the airport location without additional cost. Budget, both the local office I went to on Eddy street, and the national location I called when I was fixing my reservation, went above and beyond to make sure I got the best rate and the car and arrangements that I needed.
Cons:
It's not budget's fault, but the KAYAK site included rates and results different from what I was searching for. I was very specific that I wanted to pick up and return at the Providence airport (TF GREEN) ONLY, but I kept getting not only BOSTON LOGAN airport rentals in my search result, but also pricing for various locations all over Providence. That turned out to be so much cheaper in the long run ($145 vs $400, total) and that's peachy, but I only figured that out AFTER I already made the reservation. So, it all came out ok in the end, but it felt disconcerting and a little misleading/difficult to navigate.
Cons:
Forced to use a smoking car. Employee at pick up location very rude.
9.6 Excellent
26 Nov 2016
10.0 Excellent
24 Jun 2017
Great price, easy transaction
Pros:
Helpful but fast and concise staff, upgraded though I was happy with price for original class.
8.8 Excellent
22 Aug 2017
Pros:
Was also to promptly drop-off the vehicle
Cons:
Didn't appreciate being told, when I mentioned that fact that the USB port didn't charge my phone, that it's not supposed to charge the phone (if it's supposed to do that, then what purpose does it serve?)
10.0 Excellent
8 Nov 2017
Pros:
Staff was helpful and nice.
9.6 Excellent
13 Nov 2017
fast, easy rental- friendly staff
Pros:
clean car, efficient rental experience. price was not bad given one-way rental
8.0 Excellent
14 Jun 2018
Pros:
easy check in and pick up. Employees were helpful and professional
Cons:
the car was not in good condition i.e. when on the freeway, the car would shake.
╳
Avis reviews
Car hire locations
Avis
Locations in Providence
1 Dorrance Street
+1 401 521 7900
| | |
| --- | --- |
| Monday | 07:00 - 19:00 |
| Tuesday | 07:00 - 19:00 |
| Wednesday | 07:00 - 19:00 |
| Thursday | 07:00 - 19:00 |
| Friday | 07:00 - 19:00 |
| Saturday | 08:00 - 16:00 |
| Sunday | 08:00 - 16:00 |
Cons:
Scott, the man at the desk, overcharged me and when I pointed out that it was a 2 day rental, not 3, he absolutely refused to fix the problem. He was horrible, very rude, making me wrong. I had my service dog with me & he yelled at me about her. The man should not be around customers.
Avoid this company
Cons:
They have canceled my reservation without my concent.
Pros:
That the place I went to was able to accommodate me with a standard car. When I returned the car to the airport the lady at the desk was able to help me with my issues at no extra charge.
Cons:
When I arrived I was told that my rental was downtown and so took an hour long bus ride there. When the office opened I was told that my reservation had been cancelled and that they did not have the vehicle type (SUV) that I had rented. The person accommodated me, but then called me on the final day and was telling me if I didn't get the car back I would be charged extra. He then told me he was not going to be able to honor me returning the vehicle to airport as I was originally told I could.
Inconvenient and Unclear
Pros:
The car itself was fine, although the back seat needed cleaning. And it was ready at the arranged time.
Cons:
The agency did not provide any kind of map, and this was the first time I've experienced that in many years with many car rentals from other companies. The local person was not familiar with local roads to help me get started on the trip. He was not as helpful or polite as I'd expect. Another issue is that I was headed to Massachusetts and planned to take the toll road, and the agent in Rhode Island did not know - or at least did not tell me - of the major change in toll collection there. Since it is not possible to pay cash on I 90, I will be receiving a bill for those tolls, plus additions from Avis and possibly fines. When I dropped the car off in Chicago, the office desk had handouts explaining their e-toll fees. But nothing of the sort was offered in RI where it would have actually helped. I will not rent from Avis again, or Budget, which seems to have merged with it.
8.0 Excellent
22 Aug 2017
Didn't get Car Reserved but......
Pros:
Honored rental price/cost from Kayak.....got me in Auto that was satisfactory.
Cons:
Reservation was cancelled without my notification......Avis couldn't honor Kayak price for SUV/large rental. I was quite upset!
AVIS OWES ME MONEY
Cons:
I returned the car one full day earlier than expected and I was still charged for the full three days (even though I had only had the car rented for two). I was told I'd get a call about my refund and, to date, haven't heard from Avis -- despite calling them countless times. Never again.
Pros:
Staff was slightly apologetic about not having my requested vehicle.
Cons:
I showed up on the day of pickup, and they didn't have my car?! All they had was mini-vans, when I had reserved a compact/mid-size. I ended up having to get a last minute rental from another company.
Cons:
I went to pick up the car and was told that I needed a major credit card. I didn't have one and they said I would need to leave a deposit (which was fine) and they would run my credit. My credit score wasn't good enough apparently and that was basically the end of the transaction. Stranded.
67 travellers who hired a car in Providence gave the car agency they used an average rating of 6.7
Car hire locations in or near Providence
When to book a car hire in Providence
Average daily price per month
Car hire prices as pick-up date approaches
Top tips for hiring a car in Providence
Discover the cool city of Providence with Brown University and many more places of interest. Get the most out of your visit by renting a car upon your arrival and explore every nook and cranny this city has to offer. For a pleasant day trip, try venturing down to the coast, which will take about 2 hours of driving, and then take a ferry to the popular island of Martha's Vineyard. Boston is also only 1 hour away via the I-93 S and I-94 S, and Cape Cod can be reached in just over an hour.
Green Airport is about 10 miles from Providence's center and has a car hire center right there. Simply follow signs to the hire car service desks and pick up the car of your taste. Various agencies are stationed here including Alamo, Avis, and Hertz, and the way out of the airport is sign-posted. The I-95 N will take travelers directly into the city in just over 10 minutes.
Rhode Island has introduced a "hands-free" driving law and speaking on the phone while driving is strictly prohibited and can be severely fined. When needing to operate a GPS, rent one along with the car and make sure it has a mount. Always plan routes in advance or let other car passengers deal with the navigation system while you are driving.
Driving in snowy conditions is part of the Southern New England experience during the winter months. Usually, when properly equipped and prepared, driving in winter should be no problem -- but make sure the hire car has snow tires and consider renting snow chains if you plan to venture out of the urban areas. Having an emergency kit with a blanket, flashlight, water, and snacks in the car also does not hurt.
Book your car hire in Providence at least 2 weeks before your trip in order to get a below-average price
FAQs about hiring a car in Providence
What is the best car hire agency in Providence?
Based on ratings and reviews from real users on KAYAK, the best car hire companies in Providence are Alamo (8.7, 6472 reviews), Enterprise (8.5, 12842 reviews), and Budget (8.1, 32 reviews).
Which car hire companies will pick you up at the airport: Logan Intl airport (BOS)?
Car hire companies that offer shuttle or pick-up services from Logan Intl airport to off-airport locations include Alamo, Avis, Budget, Hertz, Dollar, Thrifty, Enterprise and National.
How can I find a car hire near me in Providence?
Take a look at our extensive car hire location map to find the best car hire deals near you.
How much does a Economy car hire cost in Providence?
A Economy car hire in Providence costs £34 per day, on average.
How much does a Full-size car hire cost in Providence?
A Full-size car hire in Providence costs £49 per day, on average.
What is the most popular car hire location in Providence?
In Providence, cars are most frequently hired at Alamo 700 Jefferson Blvd (6.73 miles from city centre).
What type of car is recommended for driving in Providence?
Providence is mostly easy to navigate but, especially when coming in the winter time, a 4-wheel drive car is recommended. An SUV will give you enough space and traction to make it a smooth driving experience. In the summer months, a convertible gives the right summer feeling and maximum sunshine exposure.
What's the speed limit in Providence?
In Providence, 20 mph is permitted in school zones and 25 mph in residential areas, unless indicated otherwise. Outside built-up areas, the maximum speed limit is 50 mph and freeways allow up to 65 mph. Always heed posted signs and adapt speed to the weather conditions.
How are gas prices in Providence?
Drivers needing a refill should expect to pay an average price of $2.80 per gallon, which is roughly the average in the United States. Khout or Geko are often cheaper with rates going as low as $2.40 per gallon. Always plan ahead of your next refill so you are not stuck with opting for an expensive petrol station, and get informed which kind of petrol is required for the hire car in advance.
Where are the best places to park in Providence?
On-street parking in Providence is metered and varies in time restrictions. Mostly, there is a time limit of 2 hours, but check at the allocated sign to be sure. Alternatively, opt for a parking garage like Providence Place or Metropark Park Row East, where cars can be parked over a longer period of time.