Chile holiday information
| | |
| --- | --- |
| Top holiday (Flight+Hotel) | £284 |
| Family holiday (Flight+Hotel) | £284 |
| Romantic holiday (Flight+Hotel) | £379 |
| Luxury holiday (Flight+Hotel) | £405 |
| Budget holiday (Flight+Hotel) | £281 |
Start your holidays in Chile on top of white peaks, work your way down the slopes and find metropolitan cities bursting with culture. Move to the coast to experience the beach, or bike through the wine country and taste some of the finest wines Chile has to offer.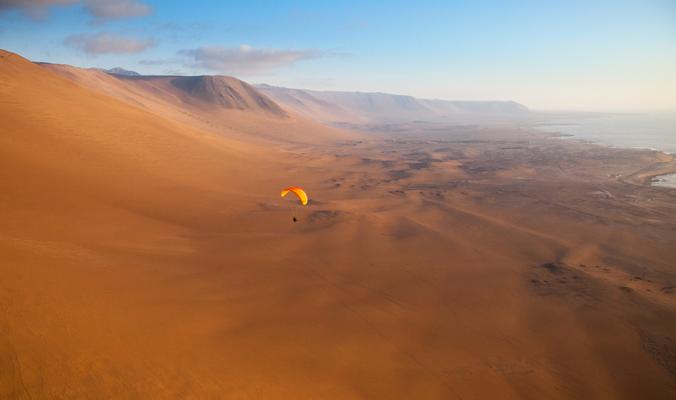 Planning Holidays in Chile
Flights are widely available to Chile's capital, Santiago. Buses are a convenient way to get around Chile. When travelling within cities, visitors can use the system of mini busses and taxis. A little Spanish will go a long way when navigating public transit. When planning holidays, keep in mind the seasons are reversed. Southern Chile is most accessible in summer (December-February), whereas spring (September-November) and autumn (late February-April) are the best times to visit middle Chile. January and February are an ideal time to visit Chile's many local and regional festivals.
Must-see regions on holidays in Chile
There is an incredible amount to see on your holidays in Chile's five regions. In the North you'll find the Atacama desert and the Andean Highlands. Central Chile features the main cities, along with several vineyards and ski resorts. Southern Chile features lakes, rivers and the famous Chiloé Island, where you'll find hundreds of wooden churches built by the 16th century Spanish. Western Patagonia is found in the extreme South. Hike and kayak around the island of Tierra del Fuego or visit the Maipo Valley for wine tastings. Famous for its monumental statues, Easter Island holds the remains of an enigmatic civilization in the Pacific Ocean. The island also offers diving, surfing, volcanic craters, and sandy beaches.
Chile's cultural capital
Santiago, the cultural and economic centre of Chile, offers many sights to take in and makes an excellent base for day trips to the mountains or wine country. For breathtaking views, take a hike or cable car to the top of Cerro San Cristóbal, a hill in the north of Santiago.
Locations in Chile
Other popular destinations