Key Biscayne holiday information
| | |
| --- | --- |
| Top holiday (Flight+Hotel) | £568 |
| Romantic holiday (Flight+Hotel) | £568 |
| Luxury holiday (Flight+Hotel) | £568 |
Key Biscayne holidays are perfect for an active getaway, as the town offers multiple parks and dozens of sport and recreational facilities. This lush, flat island boasts sparkling turquoise waters and powdery white sand, as Key Biscayne sits just off the tip of Miami Beach. Its many parks and green spaces, tropical climate and superb beaches have made Key Biscayne holidays popular with holiday-makers for decades.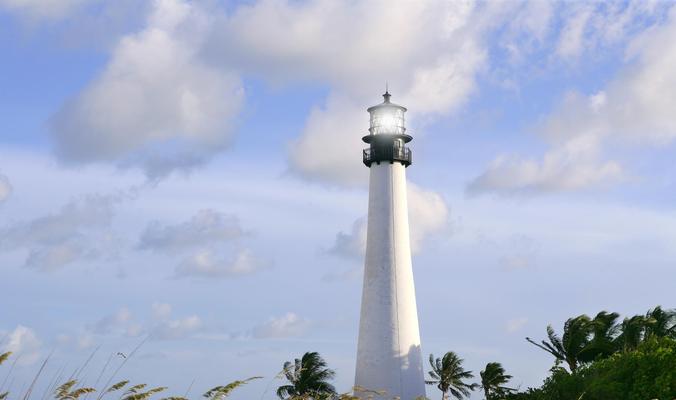 Planning Key Biscayne Holidays
The easiest way to begin Key Biscayne holidays is from Miami Airport, which is joined to Key Biscayne by car, bus or taxi over a short bridge. Hundreds of destinations and airlines offer flights to Miami from throughout the US, UK and Europe. Because Key Biscayne sits just above the Tropic of Cancer, Key Biscayne holidays are always hot and sunny; perfect for a beach holiday at any point during the year. Situated in the Eastern timezone (UTC-5, -4 in summer), Key Biscayne holidays offer several beachside accommodation options for visitors.
Key Biscayne Highlights
Key Biscayne enjoys a laid-back, relaxed atmosphere. Simply stroll around the area and soak up the sun at the Bill Baggs Cape Florida State Recreation Area with its picturesque lighthouse. To get acquainted with the local area, visit the local Cultural Center for an introduction to the region, or head towards the sprawling Crandon Park and its many facilities at Calusa including a large tennis court and golf course. Above all, sun and fun rule on Key Biscayne holidays; visitors can be sure that they will never be too far away from a spectacular white-sand beach, warm crystalline waters, and a selection of fabulous restaurants, bars and cafes offering all the quality of nearby Miami with half the crowds.
Other destinations in Florida