Morro Bay is a laid-back fishing village in California, which is located on the Pacific coastline between Santa Barbara and Monterey, in San Luis Obispo County. The region includes the impressive Morro Rock, and a lagoon and bay which are home to several species of birds and marine animals (such as sea otters and sea lions), expansive parks and a variety of cafes and shops around a scenic harbour. Nature lovers can also visit Morro Bay's State Park and the nearby Montana de Oro State Park.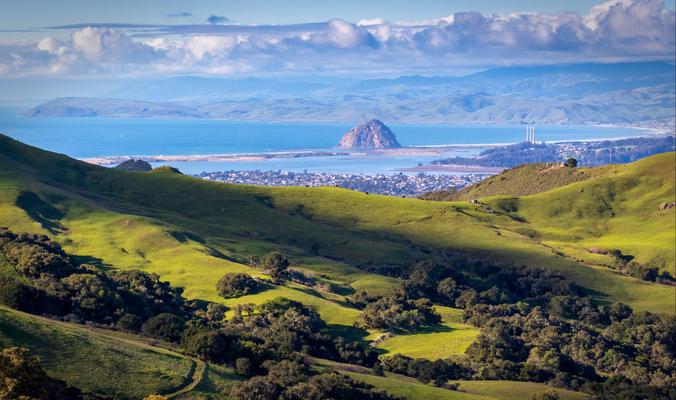 Morro Bay Holidays: Travel essentials
The closest airport for visitors to arrive at on their Morro Bay holidays is San Luis Obispo County Regional Airport, which serves San Francisco, Phoenix and Los Angeles. There is also an Amtrak station in San Luis Obispo. Morro Bay (GMT +8) has a Mediterranean climate, with little annual rainfall and lots of sunshine. Overall, it's probably best to visit during the late spring and summer, when there is the least rainfall.
Destinations around Morro Bay
Morro Bay holidays include the famed Morro Rock, an extinct volcano which rises 576 feet above the bay. Although climbing is not allowed, there is a good beach north of Morro Rock. The Morro Rock Beach, a pristine beach ideal for sand castles and surfing, has a wide stretch of sand that ends at the rock. Further north is Atascadero Beach, with two miles of sand and coastal wetlands. Visitors can also check out the Coleman Park Beach, which extends along the Embarcadero waterfront. It includes picnic spots, BBQ pits and ocean wildlife.
Nature lovers should visit Morro Bay State Park, where the Museum of Natural History overlooks the Morro Bay estuary, featuring panoramic views of the coastline. Near the museum is the Heron Rookery Natural Preserve, where great blue herons and snowy egrets roost. The park also includes a golf course with over 6,000 yards of tree-lined fairways along the Pacific coastline.
Other destinations in California